KitchenAid Professional 7-Quart Largest Lift Stand Mixer Candy Apple Red Only $269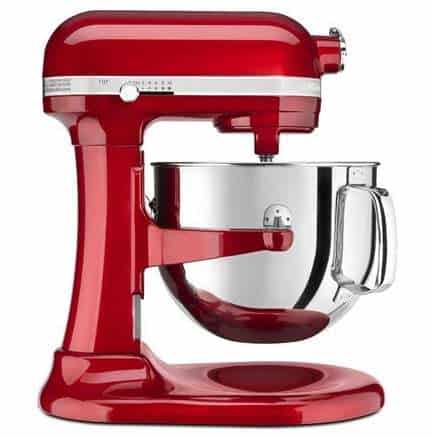 Woot! has the
KitchenAid Professional 7-Quart Super Big Biggest Capacity Large KSM7581CA 7-Quart Bowl Largest Lift Stand Mixer Candy Apple Red
marked down to $269.99 and it ships for FREE with your Prime Membership.
These are $397 on Amazon right now!
The KitchenAid 7 Qt Bowl Lift Stand Mixer is designed to provide professional-style results. It's KitchenAid's most powerful, best performing, longest lasting, quietest, and largest capacity mixer. 14 Dozen Cookies. Over 8 lbs of Dough. No Problem.
Largest Capacity Residential Bowl-Lift Available 7-Quart (6.6 L) – Handles 8.5 lbs of mashed potatoes,  8.5 loaves of bread, 14 dozen cookies.
7-Quart Stainless Steel Bowl Largest Capacity Residential Bowl-Lift Available: 7-Quart (6.6 L) – Handles 8.5 lbs of mashed potatoes,  8.5 loaves of bread, 14 dozen cookies.
KitchenAid's Most Powerful, Quietest Available 1.3HP high efficiency DC motor is  designed to run longer and delivers optimum torque with less heat build-up.  Easily handles recipes requiring longer mixing, kneading and whipping times. The all-metal, precise gear design produces a smooth, quiet sound.
KitchenAid's Longest Lasting  Designed for long life of high performance
KitchenAid's Most Efficient Advanced feedback control communicates in micro seconds to the motor to ensure optimal power is delivered to the bowl
Professional Bowl-Lift Design For sturdy bowl support and stability when mixing heavy ingredients or large batches. The lever smoothly raises the mixing bowl into position for efficient beater-to-bowl contact.
10-speed slide control Ranges from a very fast whip to a very slow stir
Includes Dishwasher Safe Accessories: Maximize bowl coverage with the stainless steel 11-wire elliptical whip, coated metal flat beater and power knead dough hook. Handles small and large jobs equally well.
Professional-Style Attachment Power Hub – Fits all current KitchenAid attachments
Direct Drive Transmission, All Steel Gears, and All-Metal Construction
Woot items normally sell out quick so don't wait if you want this one!

More Deals You Don't Want to Miss...