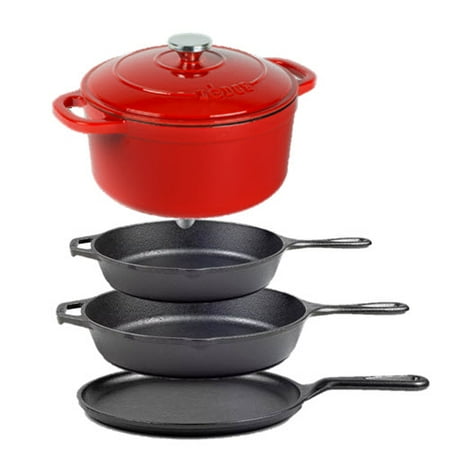 Walmart has the 
Lodge 5-Piece Seasoned & Enameled Cast Iron Cookware Set
marked down to $59.64 with free shipping to your home!
Lodge 5.5 Quart Enameled Cast Iron Dutch Oven
An amazing compliment to any season, impress your guests with sumptuous soups and stews or delicious, buttery cobblers. This Lodge Enameled Cast Iron 5.5 Quart Dutch Oven is the perfect addition to your collection allowing you to marinate, refrigerate, cook and serve. Choose the Lodge Enameled Cast Iron 5.5 Quart Dutch Oven next time you broil, braise, bake or roast in the oven. You can also use it to sauté, simmer or fry on any stovetop. Now let's eat!
Lodge 10.5″ Seasoned Cast Iron Round Griddle
This round cast iron griddle pan is the perfect tool for cooking pancakes, pizza or quesadillas. The slightly raised edges keep oil, batter and other ingredients neatly contained. Cast iron can be used on a stovetop, in an oven or over a campfire.
Lodge 10.25" Seasoned Cast Iron Skillet, l8sk3
Hailed as an "essential kitchen tool" (Martha Stewart 2008), the Lodge 10.25 inch cast iron skillet is crafted to cook memorable meals for generations.
Lodge logic 8″ Seasoned Cast Iron Skillet, l5sk3
The classic size for scrambled eggs or a batch of cornbread, the Lodge 8 inch skillet combines timeless design and flawless function.
Check out all of the Walmart Deals we have posted recently!