Old Navy Jeans Deals – Additional 40% Code – Boys Jeans as low as $6.96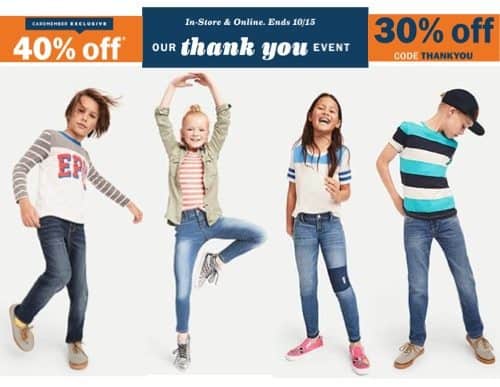 WOW it's stock up time! There are some SUPER HOT Old Navy Jeans Deals right now!
You can score an Additional 40% off with your Old Navy card or 30% off without when you use the promo code THANK YOU at checkout. This is valid on most items although some items like deals of the day are excluded.
Boys and girls jeans start as low as $6.96 with the additional 40% off discount. The highly rated Slim Built-In Flex Max Karate Jeans for Boys are only $9 with the 40% or $10.50 with the 30% discount and the Ballerina Jeggings for Girls are as low as $8.97 with the promo code. These jeans are rarely included in the promo code deals!
Here are just a few more of the awesome deals that I see:
Girls Dresses 50% off
Boys and Girls Graphic Tees as low as $3.89 after promo code
Classic Flannel Shirt for Women as low as $17.99 after promo code
Women's Tops as low as $3.58 after promo code
Men's Khaki Pants as low as $11.38 after promo code
Girls Boots 50% Off
Long Sleeve Bodysuits for Baby only $5.00
To make this deal even better, you will get $10 in Super Cash for every $25 you spend!
These offers are valid TODAY ONLY!!!

More Deals You Don't Want to Miss...