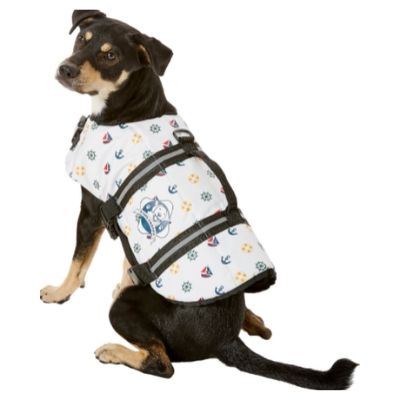 Chewy.com has the Paws Aboard Nautical Dog Life Jacket marked down from $64.99 to $34.37. Add it to your cart and get another 60% off which drops the price to only $13.75. Shipping is free on any $49 purchase or a flat $4.95.
Remember to measure your pet for the paw-fect fit. Keep your furriest mate safe with the Paws Aboard Nautical Dog Life Jacket. Made for dogs and owners who love water sports, this life jacket provides incredible buoyancy to keep dogs safe while out for a swim or a day on the boat. Featuring an advanced breathable mesh underbelly, the innovative design promotes proper draining and drying that will help keep him cool and comfortable. And with a bright color and reflective strip, you can easily keep an eye on your nauti-dog while he goes offshore. The heavy-duty fuzzy fastener straps provide a secure fit, which means you can sail peacefully into the sunset.
Life vest to keep your active dog safe while out on the boat or in the water.
Advanced, breathable mesh underbelly for proper draining and drying to prevent heat exhaustion.
Bright color and reflective strip for maximum visibility while swimming.
Top handle for quick and easy grabbing on the go.
Heavy-duty fuzzy fastener provides a secure and comfortable fit with adjustable nylon straps and quick-release buckles.