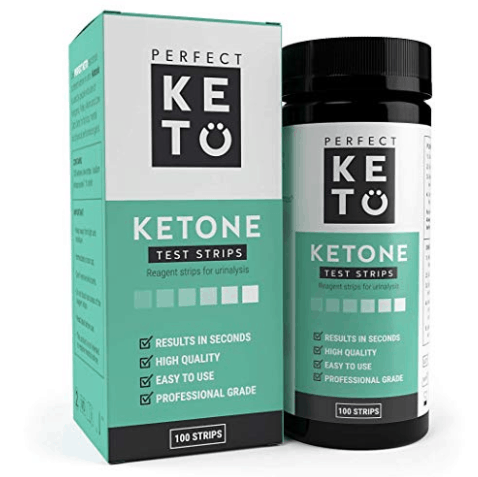 Amazon has the
Perfect Keto Ketone Testing Strips: Test Ketosis Levels on Low Carb Ketogenic Diet, 100 Urinalysis Tester Strips Best for Accurate Meter Measurement of Urine Ketones Tests: by Perfect Keto
priced at $9.99. Get $5.99 off w/coupon 
LFEAFSBL
and check out using Subscribe & Save to get this for only $1.60 with free shipping.
Perfect for measuring state of ketosis in the ketogenic diet using a simple ketone strip. This ketones test is easier to use than other keto kits like a keto blood meter or breath analyzer ketone monitor.
Lab grade doctor developed highest quality keto strips. Convienent and easy to use for on-the-go ketosis testing.
Quick easy and reliable urinalysis testing for ketosis after you have had a keto snack or other keto products. Easy for on-the-go testing analysis after keto diet supplements or low carb food.
100 strips per bottle with accurate results and measurement of ketone levels without the mess of having to use a keto blood testing kit.
Not just for the keto diet. These ketosis strips can also be used to measure ketones for those on the Atkins diet or Low Carb diet. Takes only 40 seconds to measure your ketosis levels.
Instructions:
GO HERE and click on the "Subscribe & Save" option on the right side of the item page.
Use code LFEAFSBL at checkout
Check out for $1.60 with free shipping.
Once your order ships, go to "Your Account" and cancel any future shipments if you don't need them. Don't worry they will email you before they ship out the next order!
Amazon pricing changes frequently, so this deal may expire at any time.
New to Subscribe & Save? Learn more about it here!
Find More Subscribe & Save Items: