ScoreBig: FREE $10 Credit = Possible FREE Event Ticket!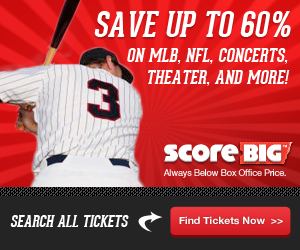 ScoreBig is offering a FREE $10 Credit to everyone that signs up for their emails. There is NO MINIMUM to use this code – so any $10 ticket is FREE!
In case you don't know, ScoreBig is the place to save this summer on sports, concert and theater tickets without paying any fees or shipping charges for the privilege. ScoreBig's tickets are below box office price and 100% guaranteed. In exchange for great tickets at great prices, at ScoreBig, you do things a little differently. They don't tell you what to pay, you decide…how much you save is up to you. So check out ScoreBig to save up to 60% on tickets!