Set of 10 Sarcastic Greeting Cards $12.99 + Free Shipping!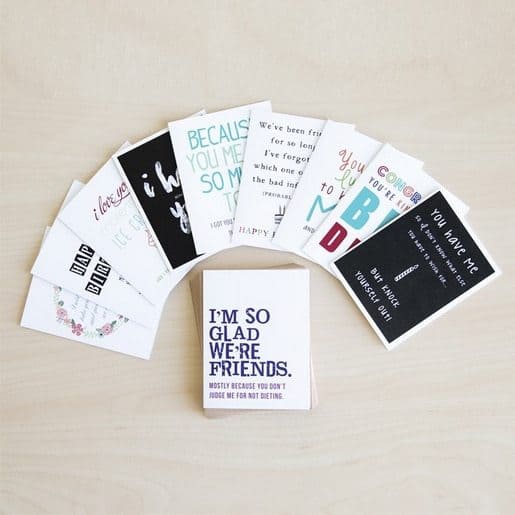 Jane.com has this Set of 10 Sarcastic Greeting Cards for Only $12.99 with Free Shipping!
Everyone loves getting cards, but you will really bring it up a level when you give one of these. You might be so excited for them to read it, that you'll want to open the envelope up for them!
Each set includes 10 funny, sarcastic sayings for occasions like birthdays, friendship, sympathy and more!
Comes with 10 kraft envelopes!
Card sayings:
"We've been friends so long, I've forgotten which one of us is the bad influence. (Probably you) Happy Birthday!"
"Congrats! You're kind of a big deal"
"I hate (being away from) you"
"I love you more than ice cream – and I really love ice cream"
"Happy Birthday – may you live so long that your driving terrifies people."
"You're lucky to have me (and vice versa)"
"I wish I could take your pain away and give it to someone we really hate."
"You have me so I don't know what else you have to wish for… but knock yourself out!"
"I'm so glad we're friends. Mostly because you don't judge me for not dieting."
"Because you mean so much to me, I got you this piece of paper that's folded in half."
Product Details
10 cards & 10 envelopes
Printed on thick, quality cardstock
Less money than store-bought cards!

More Deals You Might Like...