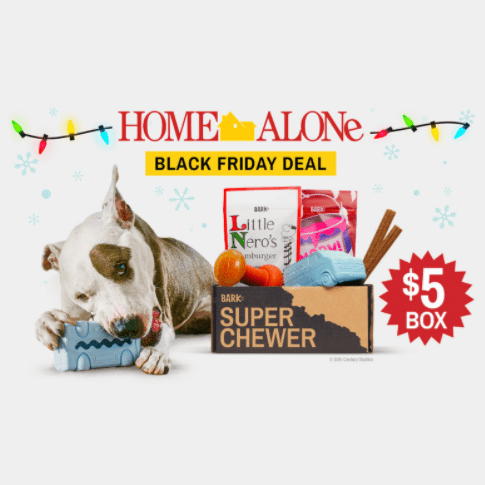 TODAY ONLY you can get a Super Chewer Bark Box for only $5 shipped!
Every BarkBox has at least 2 Tough Toys always fluff-free, 2 Full-Size Bags of Treats always made in the USA or Canada, and 2 Meaty Chews always all-natural. The National Dog Day Bonus only lasts until Friday August 28th!!
To get this awesome deal:
GO HERE and select your dog size
Select a 6 month or 12-month subscription plan
Accept or decline for the option of a premium toy in each monthly box
Sign up using an e-mail address or Facebook
$5 for your first BarkBox will automatically be applied
Enter shipping and billing information and check out (Paypal or Credit Card accepted)
If your dog isn't 100% happy with their BarkBox, they'll work with you to make it right. No muss, no fuss, no disappointed pups.

How to cancel BarkBox:
You have the first 30 days to cancel if you are not happy. Otherwise, they will bill you for the subscription. It's easy to cancel if you need to.
1.) Log into your BarkBox account.
2.) Click on the "Subscriptions" on the bar at the top of the page.
3.) Click on "All Subscriptions" (if you have more than one)
4.) Click on "Edit" next to the subscription you want to cancel.
5.) Scroll down the page and click the "Cancel Renewal" button.
To cancel online, go to https://barkbox.com/login
To cancel over the phone, call: 1-855-944-2275