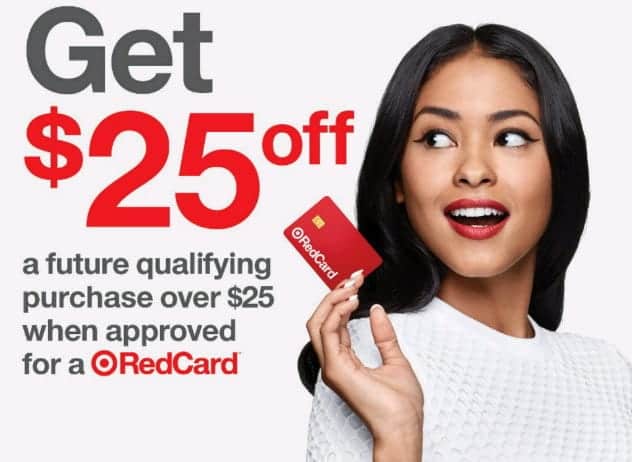 WOW if you don't have a Target REDCard yet….now is the time to get one!
Target is offering $25 Off a Future Qualifying Purchase of $25 or more to newly approved customers that apply for a Target REDcard until 2/29/2020. This is for DEBIT and credit cards. Yes, you can get this awesome deal WITHOUT a credit check!!!
I personally have the Target Debit REDCard. It's easy to get and not a credit card. You link it to your checking account and when you use the card at checkout it drafts that amount from your checking account. Just like paying cash!
You can use this coupon on almost anything. Skies the limit!
Upon approval, a coupon for $25 off a qualifying $25 purchase will be mailed/issued with your REDcard
The $25 off $25+ coupon will be valid on eligible purchases through 3/1/20.
Overview of the Debit Card Application Process:
You must be 16 years of age and have a United States address to apply for a Target Debit Card online. You must have a United States based checking account.
The Target Debit Card is issued by Target Corporation and can only be used at Target stores in the United States and on Target.com.
Keep in mind, you'll need to have handy your Social Security number; valid driver's license, state ID or military ID; personal checking account and bank routing numbers; and other personal information.
They'll have to verify your personal checking account number before you can use your card.
Card Benefits:
An Extra 5% Off most items at Target and Target.com
Free 2-Day Shipping for eligible online orders at Target.com
Extended return period (30 extra days)
15% Off + free shipping on select diapers, wipes & formula subscription orders
Save an extra 5% at any in-store Starbucks location when you use your REDcard