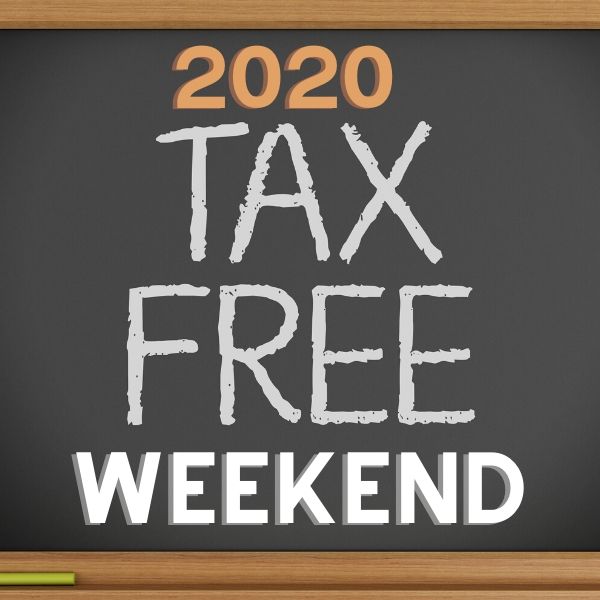 Get ready for the 2020 Tax-Free Weekends!
These are weekends where you don't have to pay sales tax on certain items. In the past, they have been mainly for back to school shopping, but many states are offering more to prepare for hurricane season. Most are in August but some are this month so make sure to take note of the days!
Here in Florida tax is 6% – 7% (depending on location) so its a great chance to save a little extra!  Of course, this list of 2020 Tax-Free Weekends may not be complete and may vary a little by location so make sure to check your local paper!
Alabama: 7/17- 7/19
Clothing ($100 or less), Computers ($750 or less)
School supplies ($50 or less), Books ($30 or less)
FULL DETAILS HERE
Arkansas: 8/1- 8/2
Clothing ($100 or less), School Supplies and Textbooks
FULL DETAILS HERE
Connecticut: 8/18-8/24
Clothing and Footwear (less than $100 ea.)
(official dates have not been released but it is assumed… CHECK HERE FOR DETAILS when they come out)
Florida: 8/7-8/9
Clothing ($60 or less), School Supplies ($15 or less)
Computers ($1000 or less)
FULL DETAILS HERE
Iowa:  8/7-8/8
Clothing & footwear ($100 or less)
FULL DETAILS HERE
Maryland: 8/9-8/15
Clothing & Footwear ($100 or less), Backpack (first $40)
FULL DETAILS HERE
Massachusetts: 7/29-7/30
First $2500 of personal property
FULL DETAILS HERE
Mississippi: 7/31-8/1
Clothing, School Supplies & Footwear ($100 or less)
FULL DETAILS HERE
Missouri: 8/7-8/9
Clothing ($100 or less), Computers ($1,500 or less),
School Supplies ($50 or less), Computer Software and Accessories ($350 or less), Graphing Calculators ($150 or less)
FULL DETAILS HERE
New Mexico: 8/7-8/9
Clothing & Shoes ($1oo or less), Computers ($1,000 or less)
Computer Software and Accessories ($500 or less)
School Supplies ($30 or less)
FULL DETAILS HERE
Ohio: 8/7-8/9
Clothing ($75 or less), School Supplies ($20 or less),
FULL DETAILS HERE
Oklahoma: 8/7-8/9
Clothing & footwear ($100 or less)
FULL DETAILS HERE
South Carolina: 8/7-8/9
Clothing & Footwear, Computers
School Supplies, Bed & Bath Linens
(no price limits)
FULL DETAILS HERE

Tennessee: 7/31-8/2
Clothing ($200 or less), Computers ($3,000 or less)
School Supplies ($200 or less)
FULL DETAILS HERE
Texas: 8/7-8/9
Clothing and Footwear ($100 or less)
Backpacks and School Supplies ($100 or less)
FULL DETAILS HERE
Virginia: 8/7-8/9
Clothing & Shoes ($100 or less), School Supplies ($20 or less)
Hurricane Prep Items & Energy Star Appliances
FULL DETAILS HERE