I got to try it out last week and I am in LOVE!!!
As I stated last week, the Walmart Grocery Service is now in my area AND they are offering $10 off any $50 purchase with code REALEASY. Save money without coupons…Yes please!!!
While I am not a fan of Walmart, I am a fan of this service. Our stores are crowded and it is always a hassle to go shopping. This way I can avoid the stores completely and only get the items I need – no impulse purchases! Plus the $10 off $50 promotion didn't hurt either. Especially since the prices online matched the prices in the store.
If you have kids, imagine NOT having to take all of them into the grocery store. You can pick your stuff up and STAY in the car. How cool is that??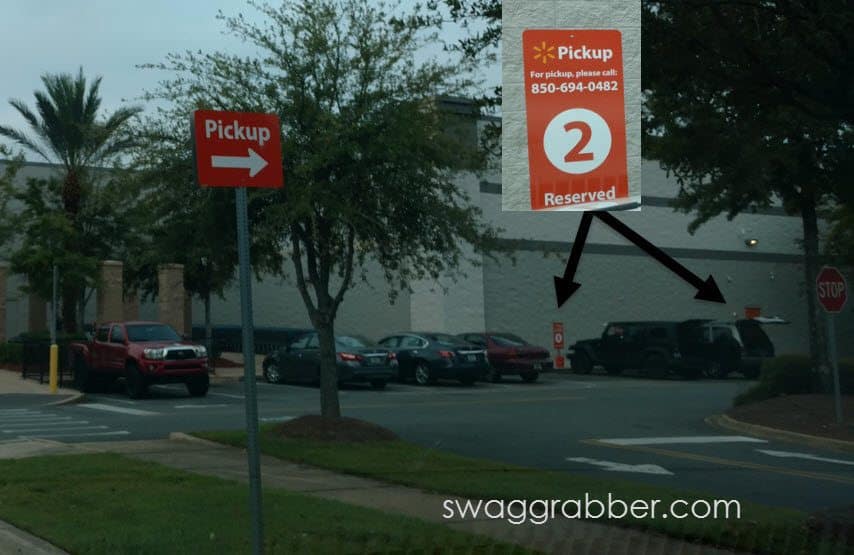 I ordered online Friday to pick up early Saturday morning. They called to remind me about half an hour before my appointment. There is a designated area on the side of the store and there were a few other cars waiting for the service. I called the number when I got there and they came out.
They were very nice, I mean REALLY nice, actually a LOT nicer then the people that work IN the store!! They were running behind and apologized over and over – even the manager came out. This was the first three days of being open, I expected there would be delays.
I didn't mind because I would much rather sit in my car then fight Walmart on a Saturday morning. Plus they brought me flowers…and a gift bag!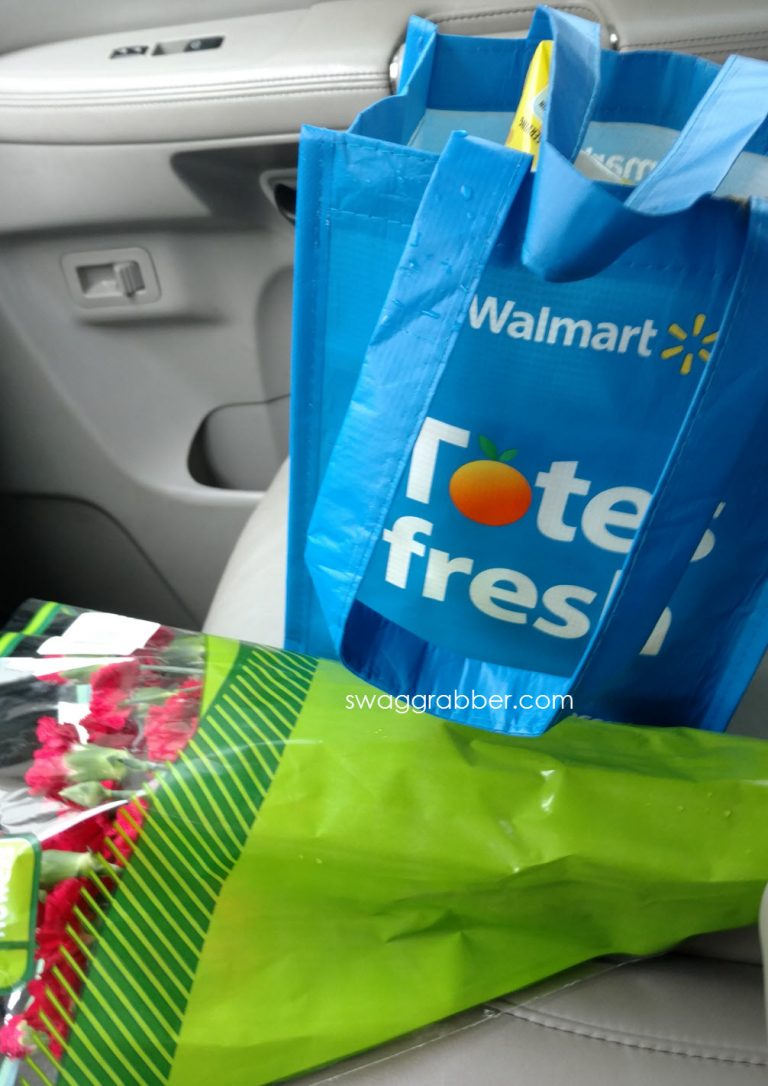 Honestly, I wasn't expecting much, maybe my stuff slapped in a bag. I was super impressed with this service even with the wait. My order was correct and the produce looked good. I was worried about smashed or bruised bananas so I was happy to see bananas I would have picked. The items that were not in stock were upgraded. For example, they didn't have one pound of strawberries, so I got three!
Overall I am a happy camper and will be going back again. Especially since it appears I can get just about everything through pick up – including fishing lures!!
So how do they keep this service free?
I couldn't understand how they can offer this service for free. It didn't make sense because it seems like they would be losing money due to the man hours involved. Then it dawned on me…they are stealing business from other stores. Like I said, I will probably be using this service quite a bit just for the convenience factor. I normally don't shop at Walmart. That means the dollars I spend at Walmart was money I would have spent at Publix or Trader Joe's…now I get it!
Kind of hoping this encourages other stores to start offering this service, it really does make grocery shopping a lot easier if you don't use a lot of coupons.
In case you don't know, your friends can also Save $10 off any $50 purchase with code REALEASY. Once you log in, grab your link and share it with your friends. They get $10 off $50 and you get another code when they make a purchase. Easy savings 😉
To get this deal: GO HERE and enter your zip code to see if this service is available in your location. If so, add the items you want to your cart and enter code.
Have you tried this service yet?
FYI – I wasn't paid to write this but I do get a code for $10 off $50 if you use my referral link above to sign up.