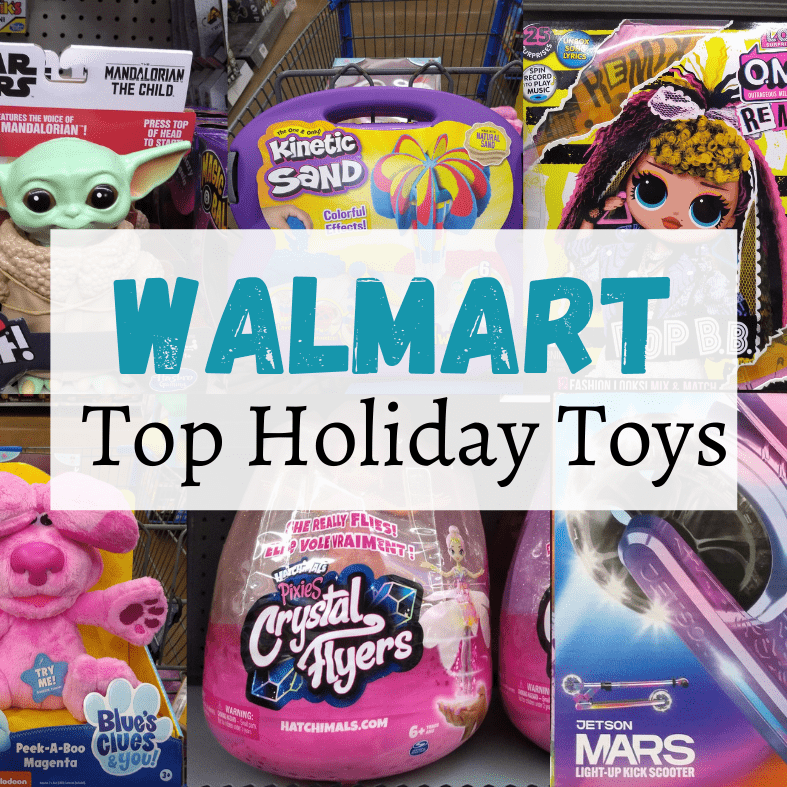 Have you started your holiday shopping yet but no idea what to buy for the kids? Walmart has released their Top Holiday Toys for 2020 and it has a wide range of choices for kids of all ages and all interests! Best thing? We found a ton of these in stock still right now! Beat the crowds and grab them now before it's hard to find them with the shopping craze.
We've also given you a couple of choices on where you can actually get these online too so if one place is out you can check the other just in case. Be sure you select Store Pick-up if possible to save on shipping costs! If shopping on Amazon make sure you have Amazon Prime to get that awesome 2 Day Shipping for FREE!
Character Toy Gift Ideas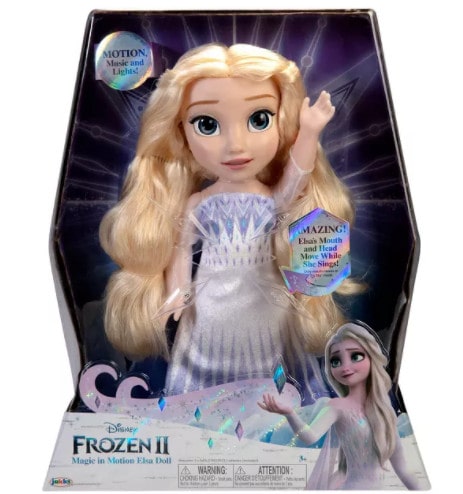 Frozen 2 – Magic in Motion Elsa Doll $59.00
Get it on Amazon Here
Get it at Target Here
Inspired by Disney's Frozen 2! Relive your favorite scene when Elsa discovers the source of her powers! Elsa's head and mouth move in synchronization to the music, as she sings "Show Yourself", from Disney's Frozen 2. Authentic film details and designs for Disney's Frozen 2 fans!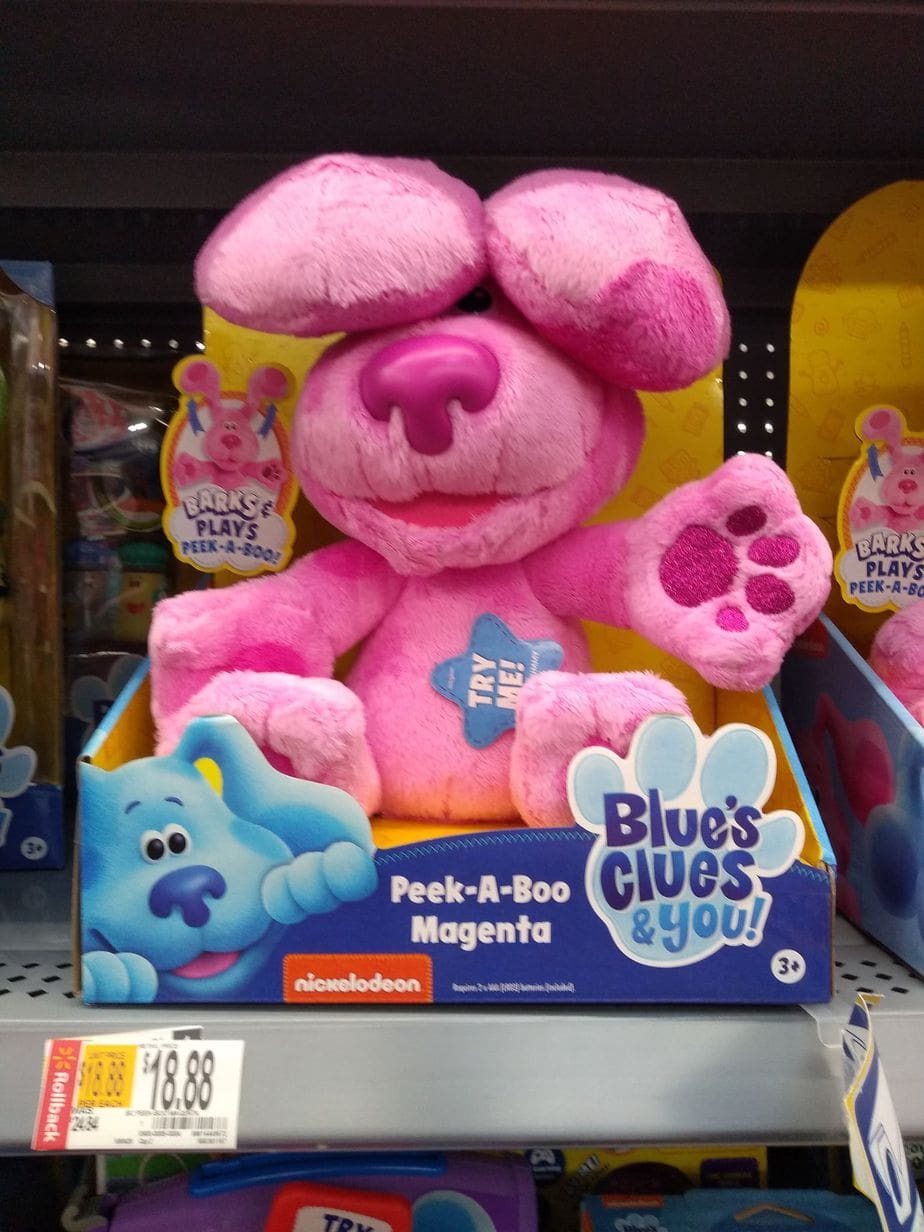 Blue's Clues & You Peek-A-Boo 
Get it on Amazon Here (Get Magenta on Amazon Here)
Step by step and clue by clue – it's Blue's Clues & You! Kids will love playing peek-a-boo with their plush Peek-A-Blue. Standing 10 inches tall, this adorable animated plush Blue is made with super soft fabrics and even features Blue's signature paw print. Squeeze Blue's belly and she will bark and raise her ears. Bring home this Peek-A-Blue plush and the rest of the Blue's Clues & You! toys to help your little clue-finder use their mind, take a step at a time, and do anything that they want to do.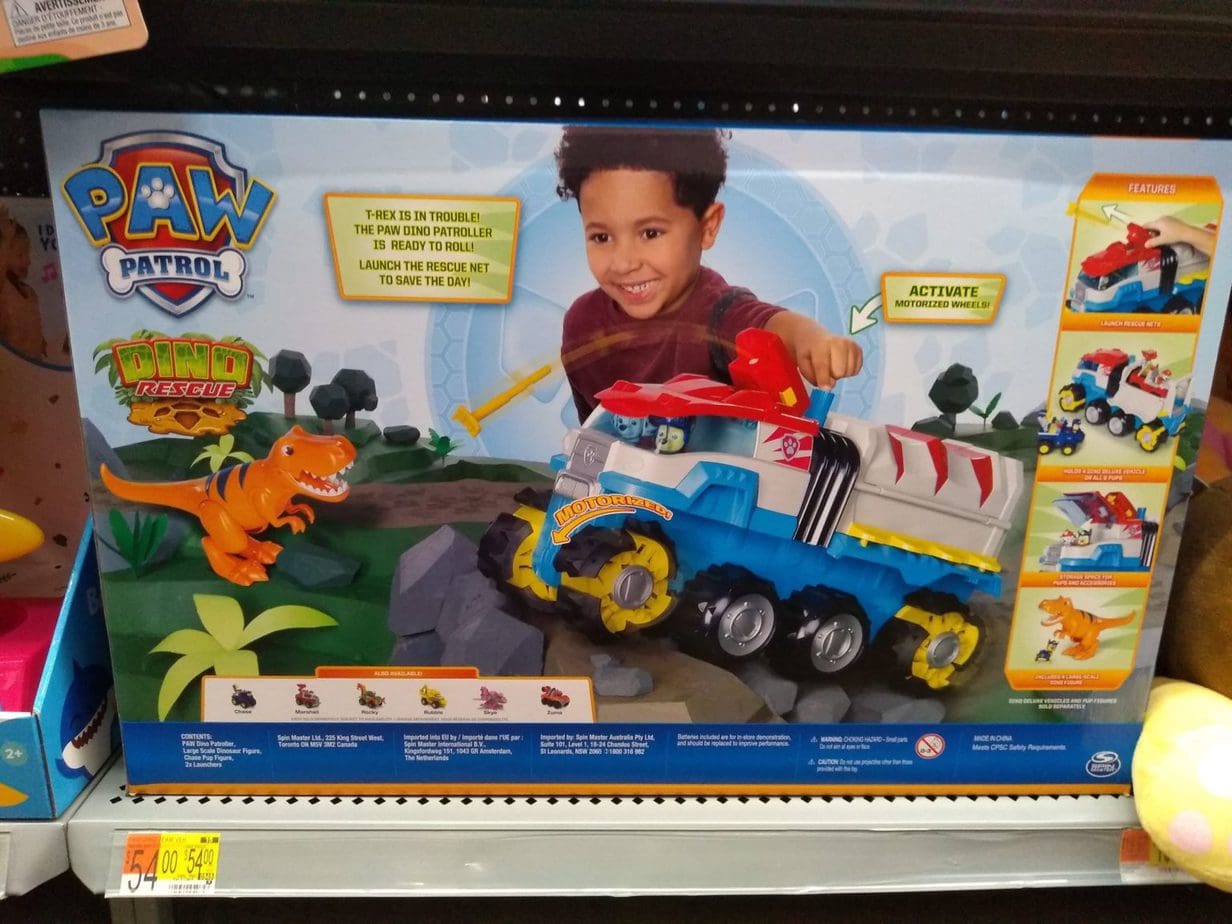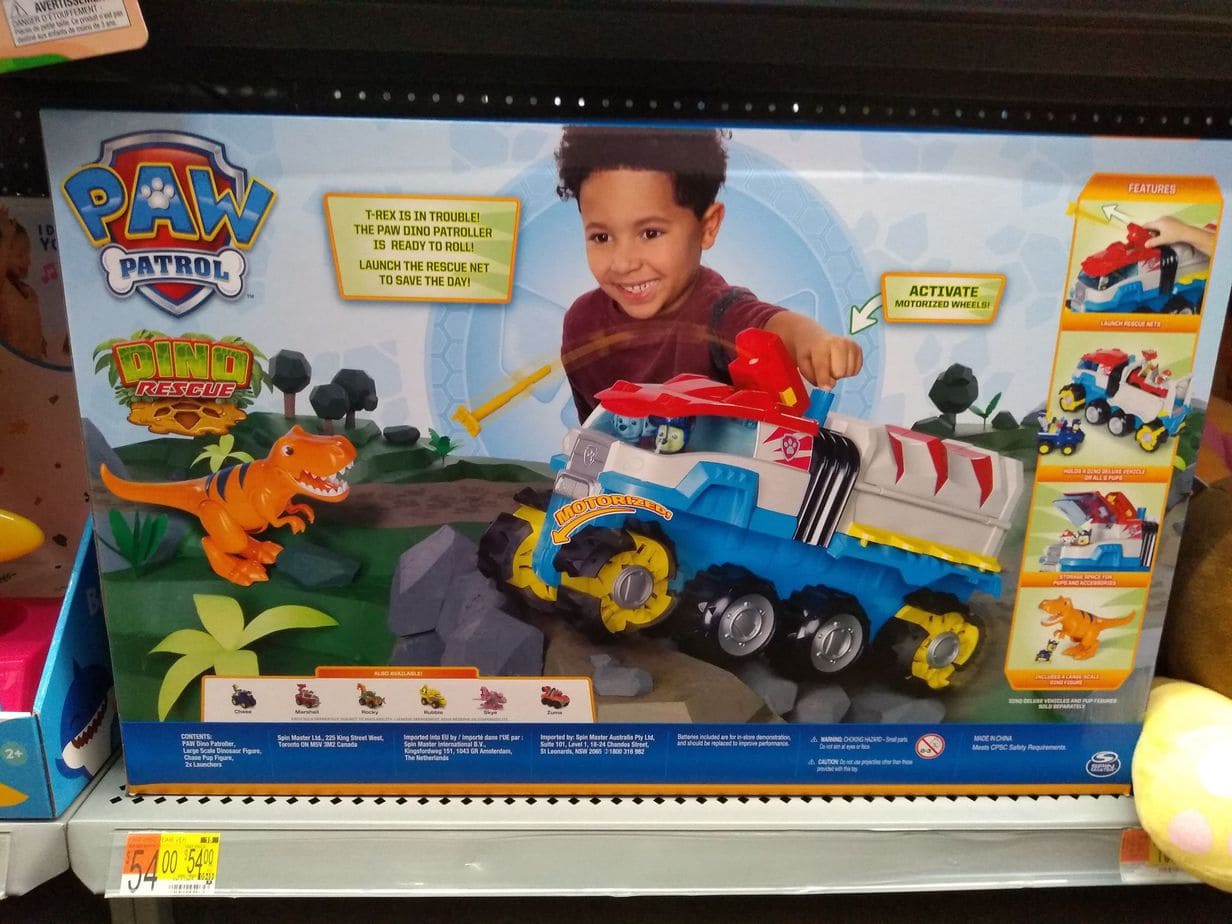 Paw Patrol Dino Patroller $59.00
Get it on Amazon Here
Get it at Target Here
The Dino Patroller is the first-ever motorized PAW Patrol team vehicle! With the push of a button, watch it go! When you spot a dino in trouble, launch the rescue nets! Equipped with oversized all-terrain wheels, the Dino Patroller can conquer any terrain to reach the dinos in trouble! Dressed in his Dino Rescue uniform, the exclusive Chase collectible figure is on the case! Plus, the large-scale T. rex dino's mouth and tail really move for full storytelling play!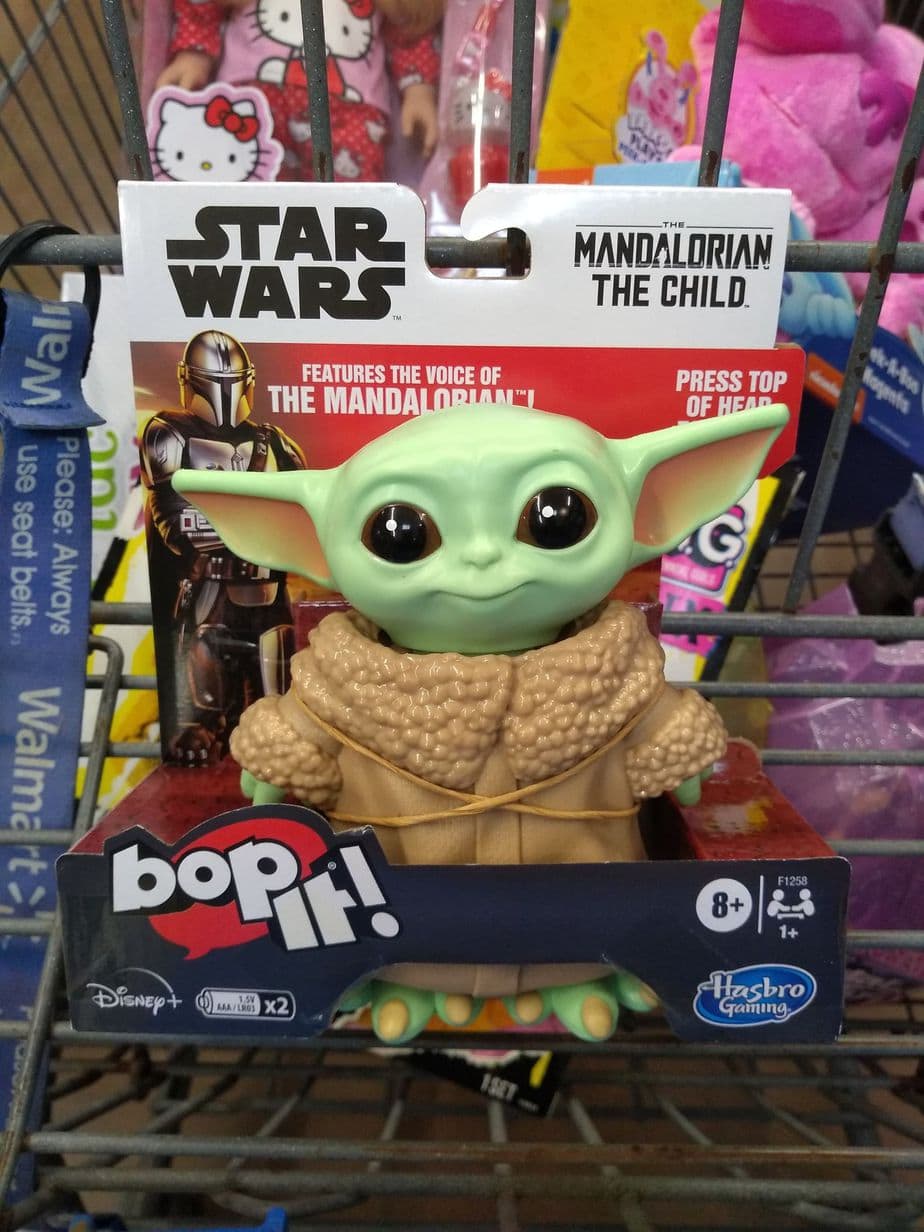 The Child Bop It $14.88 – Walmart Exclusive
This edition of the Bop It! game is designed to look like The Child, (the adorable character fans call "Baby Yoda") as seen on The Mandalorian live-action TV series on Disney Plus. The Bop It! Star Wars: The Mandalorian The Child Edition game features gameplay like the original, but with an intergalactic twist. This electronic game commands players to take 3 actions in the voice of The Mandalorian and they need to respond correctly and as quickly as possible. If a player gets it right, they get another chance, but if they don't they're out!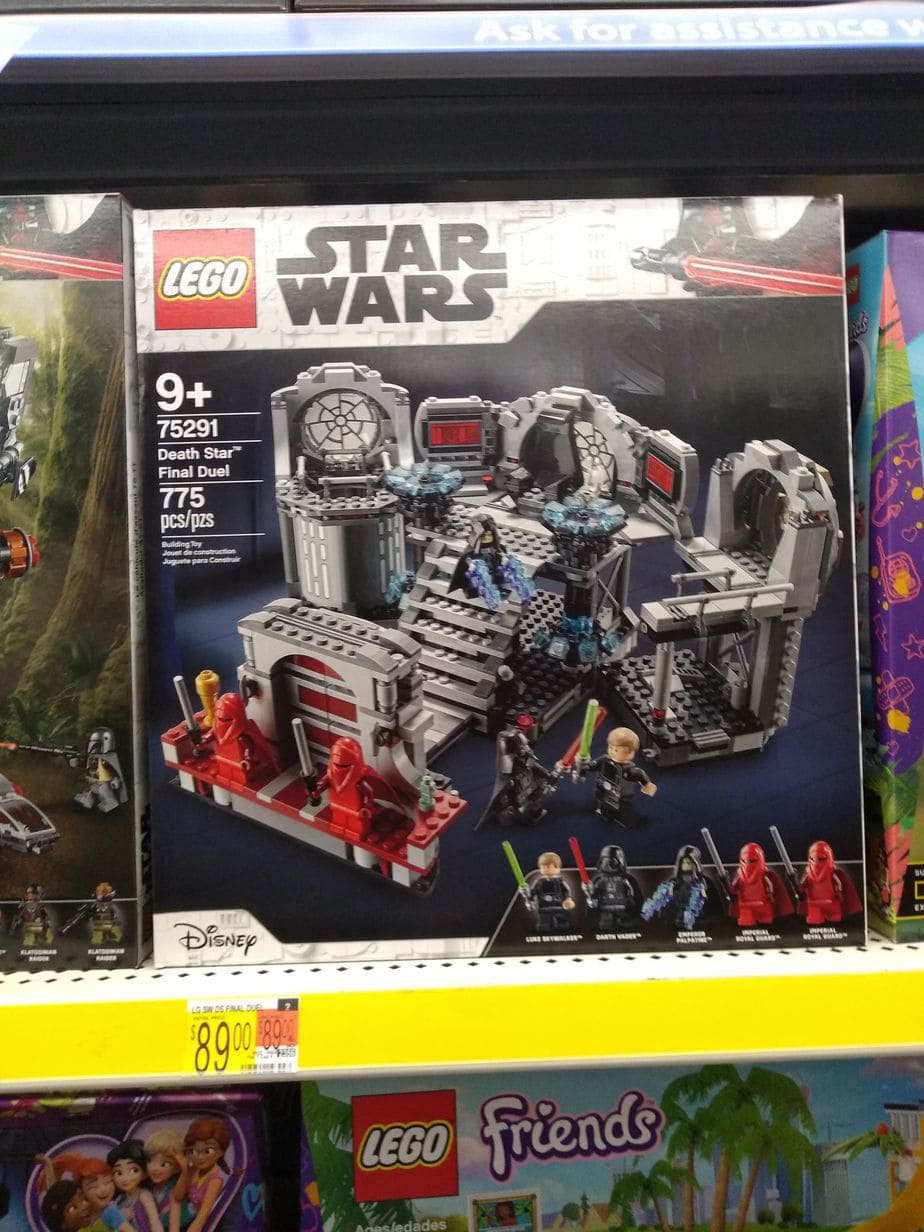 LEGO Death Star Final Duel $89.00 
Get it on Amazon Here
Kids can play out the epic Death Star Final Duel (75291) between Luke Skywalker and Darth Vader with this LEGO Star Wars: Return of the Jedi building set. Emperor Palpatine's throne room has many cool features to inspire creative fun, including a LEGO minifigure Force-jump function. The stairs and bridge can also be collapsed, and Darth Vader can throw the Emperor in the reactor shaft just like in the classic scene.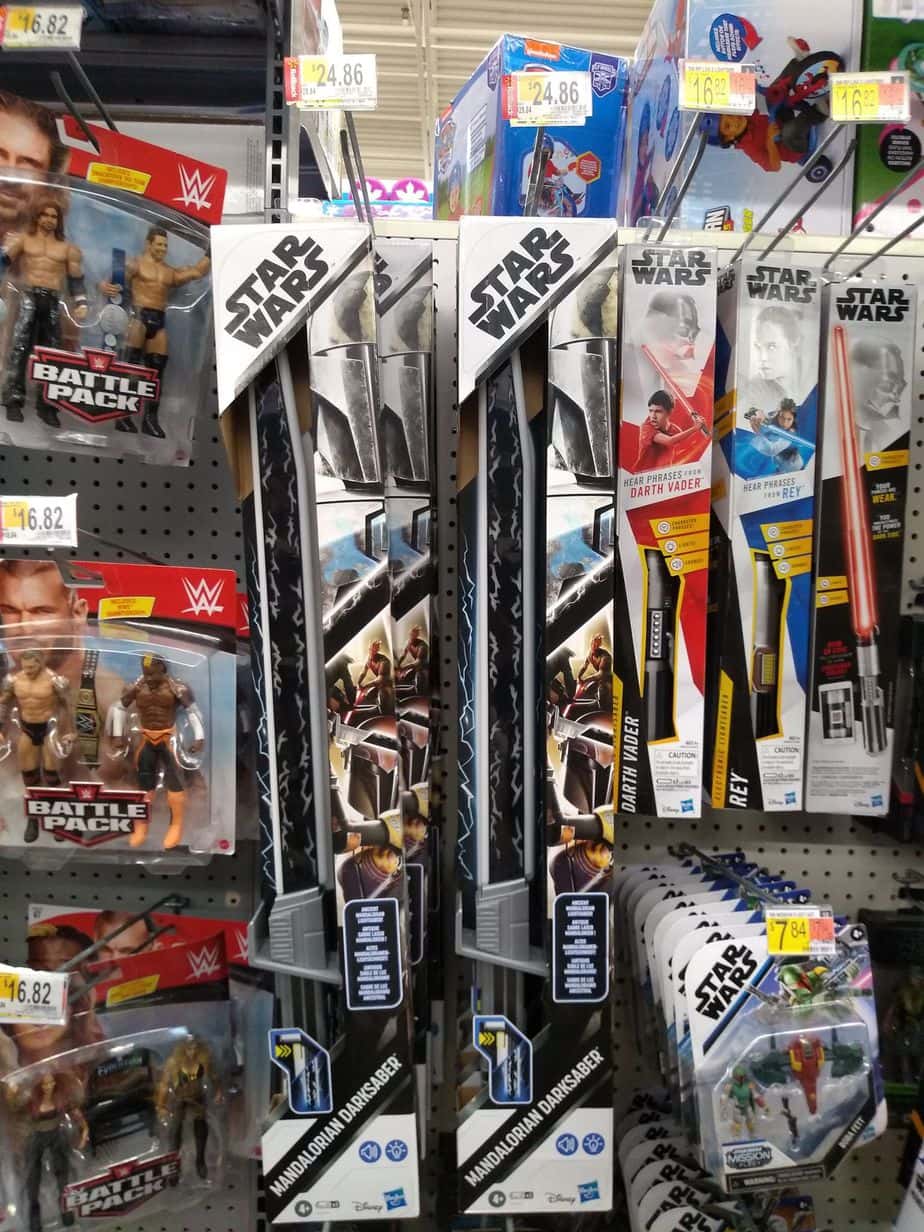 Star Wars Dark Saber $29.84
Get it on Amazon Here
Get it at Target Here
Imagine wielding a black-bladed Lightsaber with exciting electronic light and sound effects! The Star Wars Mandalorian Darksaber Lightsaber toy features electronic light effects, classic Lightsaber effects, awesome battle sounds when kids swing the Lightsaber, and crackling lightning sound and light effects when they hold down the button on the hilt! Imagine ruling over Mandalore with the Mandalorian Darksaber!
High Tech Toy Gift deas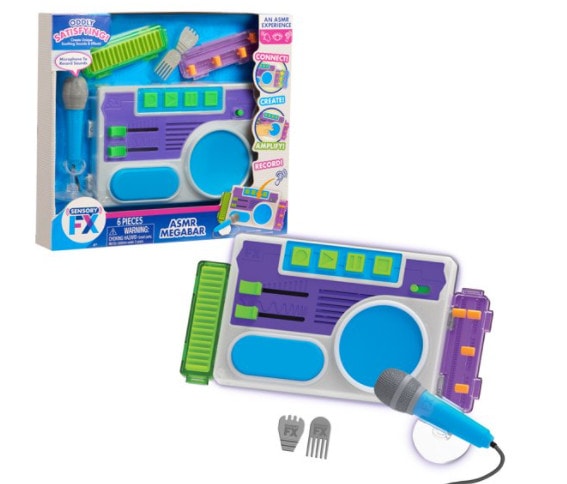 Sensory FX ASMR Mega Bar $19.88 – Walmart Exclusive
Get it on Amazon Here
It's Oddly Satisfying! The Sensory FX ASMR Mega Bar gives children the chance to create their very own ASMR experience. Create and record unique sounds with different textures and movements using this fun on-the-go recording station. The ASMR Mega Bar set comes with two exclusive sensory bars, Crease and Click, two activator picks, a microphone and stand. Your child will love their role as a sound engineer as they create their very own made-up sounds. Their imagination will be rocking as they produce slow or fast rhythmic patterns by changing the movement and speed while strumming the sensory bars. Connect the bars to the frame to create a customized sensory board or drum the tap pads to make your own beat.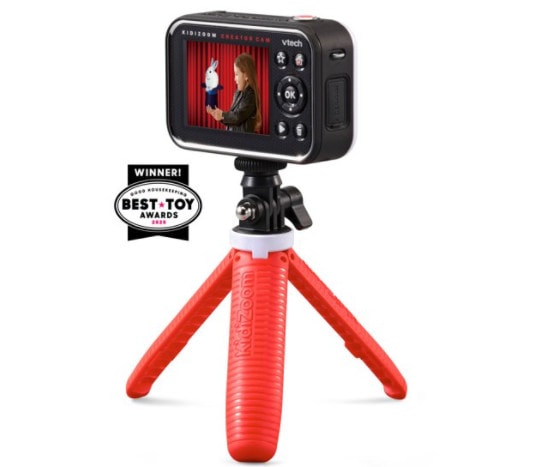 VTech KidiZoom Creator Cam $59.00
Get it on Amazon Here
Get it at Target Here
Be a kid creator with the KidiZoom Creator Cam digital camera! Create awesome videos with this high-definition video camera kit. Use the included green screen and 20+ animated backgrounds to get chased by a T-Rex, go to outer space or make yourself disappear! Set up your shot with the tabletop tripod/selfie stick and built-in microphone, then use the easy on-screen editing and creativity tools to create trick shots and time-lapse video. Intended for ages 510 years. Video can only be uploaded via included USB cable at parent's discretion.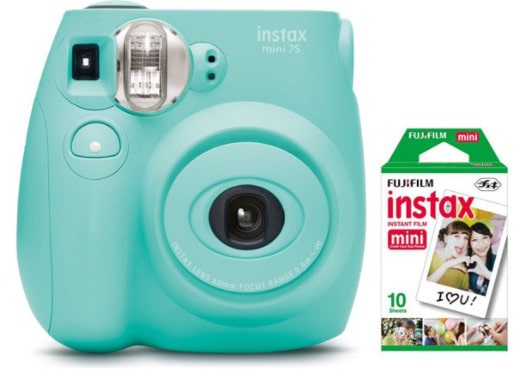 Instax Mini 7S Seafoam Green $59.00 – Walmart Exclusive
Captures memories instantly with the Fujifilm Instax Mini 7s Instant Camera. With its exposure control adjustment this camera is a fun, easy instant camera that will no doubt become a family favorite. The set includes a pack of film with 10 exposures. The credit-card sized film makes it easy to store or carry around in your purse or wallet. The classic white frame is perfect for adding a special message to the image. Use it for scrapbooking, to capture memories at baby or bridal showers, or to jump start your photography hobby.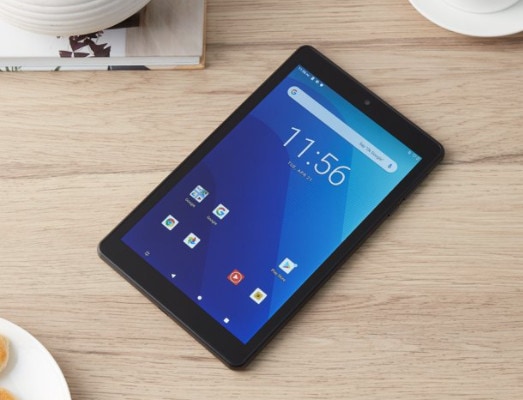 onn. 8" Tablet Pro $99.00 – Walmart Exclusive
Take it with you! Mobile computing has never been easier than with our 8″ Tablet Pro. Great for everyday use, we've given it a crystal-clear display plus 10 hours of battery life. Surf, work, socialize, play games or even stream content from the web. Running the Android 10 operating system, this Tablet Pro has a familiar smartphone-like feel, but with added kick for all of your surfing needs. Surf onn.
Interactive Toy Gift Ideas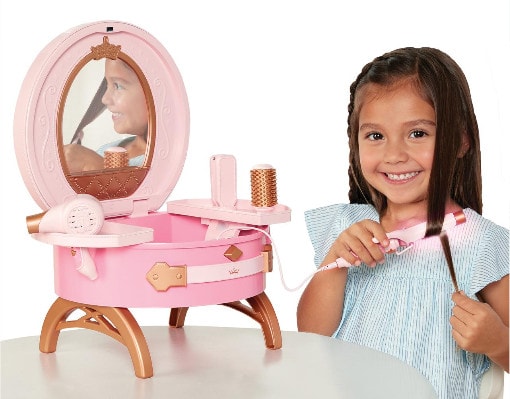 Disney Princess Vanity $49.88
Sleek unique and oh so fun, the Disney Princess Style Collection combines everyday play with a contemporary Disney Princess flair. This collection of real-life inspired toys is meant for the modern girl with big goals and great style. She's a go-getter, a globe-trotter, a fashionista, and most of all, a girl who sets her own trends! Get ready to take on the world with the Disney Princess Style Collection! Sleek, chic, and oh so fun, the Disney Princess Style Collection Light Up & Style Vanity, is meant for every modern girl with big goals and great style!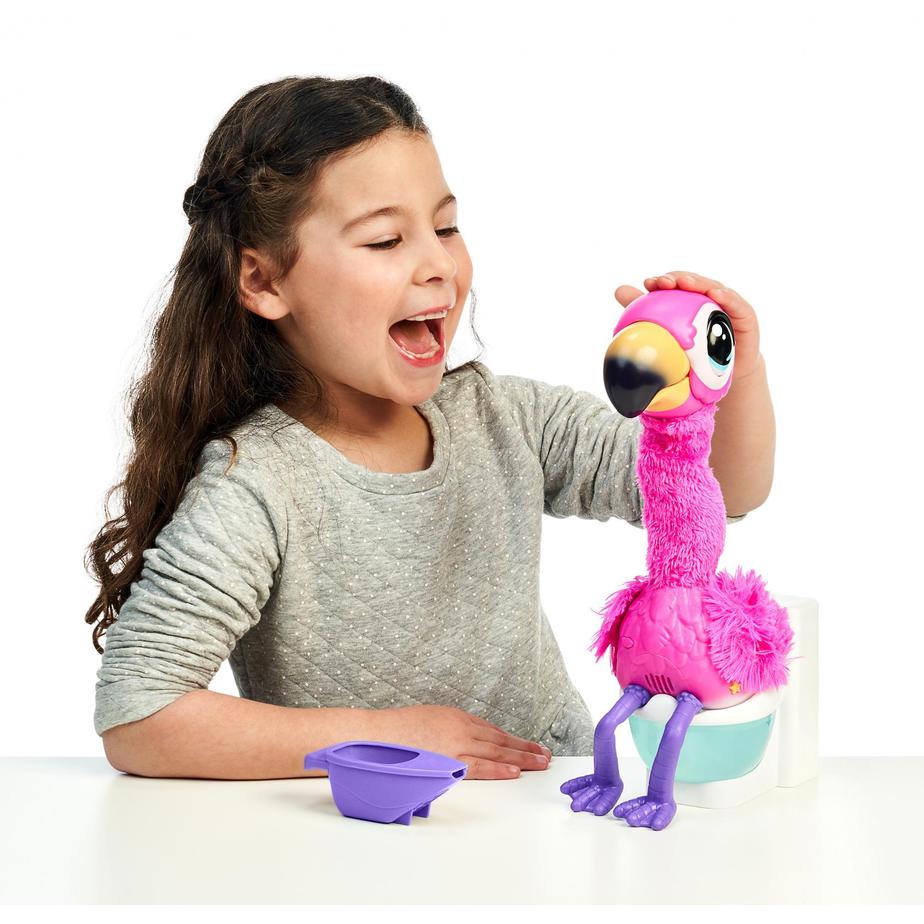 Gotta Go Flamingo $28.82
Get it on Amazon Here
Get it at Target Here
Your Hilarious New Best Friend: Sherbet is an interactive, toilet-trained flamingo who loves to sing, wiggle, chat back, eat, and poop – on the toilet! Reusable Magical Quick-Dry Food: Empty the contents of the toilet bowl back into the scoop and watch as the poop magically dries back into Flamingo Food. Funny Toilet Song: Feed Sherbet his Flamingo Food then listen as he chews and watch as his long neck wiggles. When he sings "Uh Oh! Gotta Go!", you'll know it's time to place him on the toilet and watch as he poops!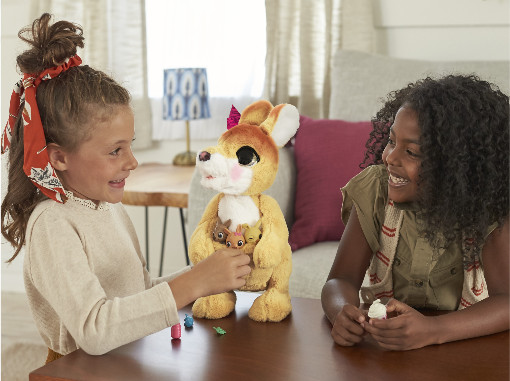 FurReal Mama Josie Kangaroo Pet $67.00
Get it on Amazon Here
Get it at Target Here
MAMA JOSIE THE KANGAROO LOVES HER 3 BABIES: One's a boy, one's a girl, and one's a surprise – unbox all 3 to solve this sweet little mystery. RESPONDS TO TOUCH WITH 70+ SOUND-AND-MOTION COMBINATIONS: Mama Josie the Kangaroo interactive pet toy can move her head and arms, does a little hopping dance to music, and makes loving sounds when holding or kissing one of her babies.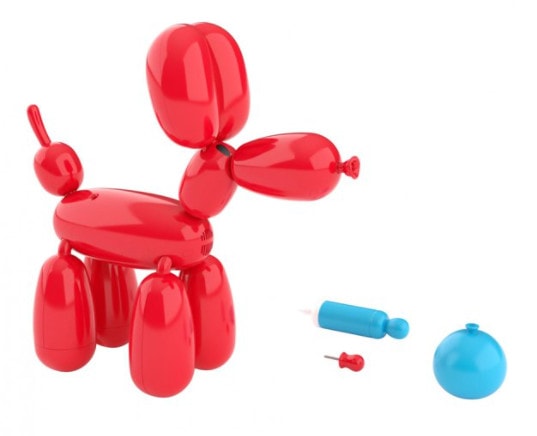 Squeakee $58.00
Get it on Amazon Here
Get it at Target Here
Meet Squeakee! The first ever balloon pet thats inflated with personality! He'll WOW you as he comes to life just like a real pup! Squeakee is so interactive and loves to play with you! This very playful toy responds to your voice, is full of sound and movement and looks just like a real Balloon Dog! Watch him sit and stand as you pet his head or tickle his tummy to make him happy! Squeakee comes with a range of fun accessories for you to interact and play with. Use his Pump to feed him. Place the Pump in his nose and hear him inflate! But be careful, when he's full he may pee or fart! Squeakee loves his Squeaker Toy and gets very excited when he hears it! Use his Squeaker Toy to train him to sit or beg! Feed him, teach him, even POP him with his Pin and watch him deflate! Youll be blown away at all his reactions and what he can do! Squeakee is your interactive balloon best friend!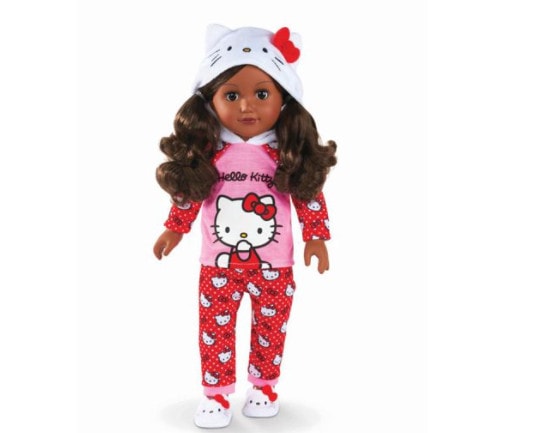 My Life As Hello Kitty Dolls $35.00 – Walmart Exclusive
The My Life As 18" Poseable Hello Kitty Doll is perfect for anyone that is a fan or collector of Hello Kitty! This fully poseable doll has a soft torso, beautiful brown eyes that open and close, and long brown hair that is fun to brush and style. This doll features an adorable pink, red, and white Hello Kitty-themed pajama set, slippers with Hello Kitty's face on them, and black glasses with a cute red bow on one corner.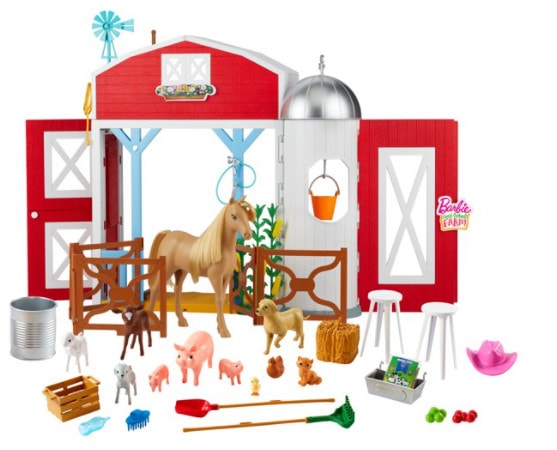 Barbie Farm Barn Playset $74.00 – Walmart Exclusive
Get it on Amazon Here
On Barbie Sweet Orchard Farm, everyone is welcome to lend a helping hand — it makes the work easier and the stories more fun! Pet lovers will be kept busy, and happy, caring for the 11 animals that live in Sweet Orchard Farm barn — a pony, a calf, a lamb, a baby goat, a pig and two piglets, a hen, a chick, a cat and a dog. The farm-themed playset inspires endless storytelling with lots of fun features and 360-degree play. There's a barn with grain silo (and grain!), a windmill that really spins, a loft with ladder and working pulley for hay, cornstalks with pickable corn, a dining area with fold-out table, a stable for the pony and fencing to create an animal pen.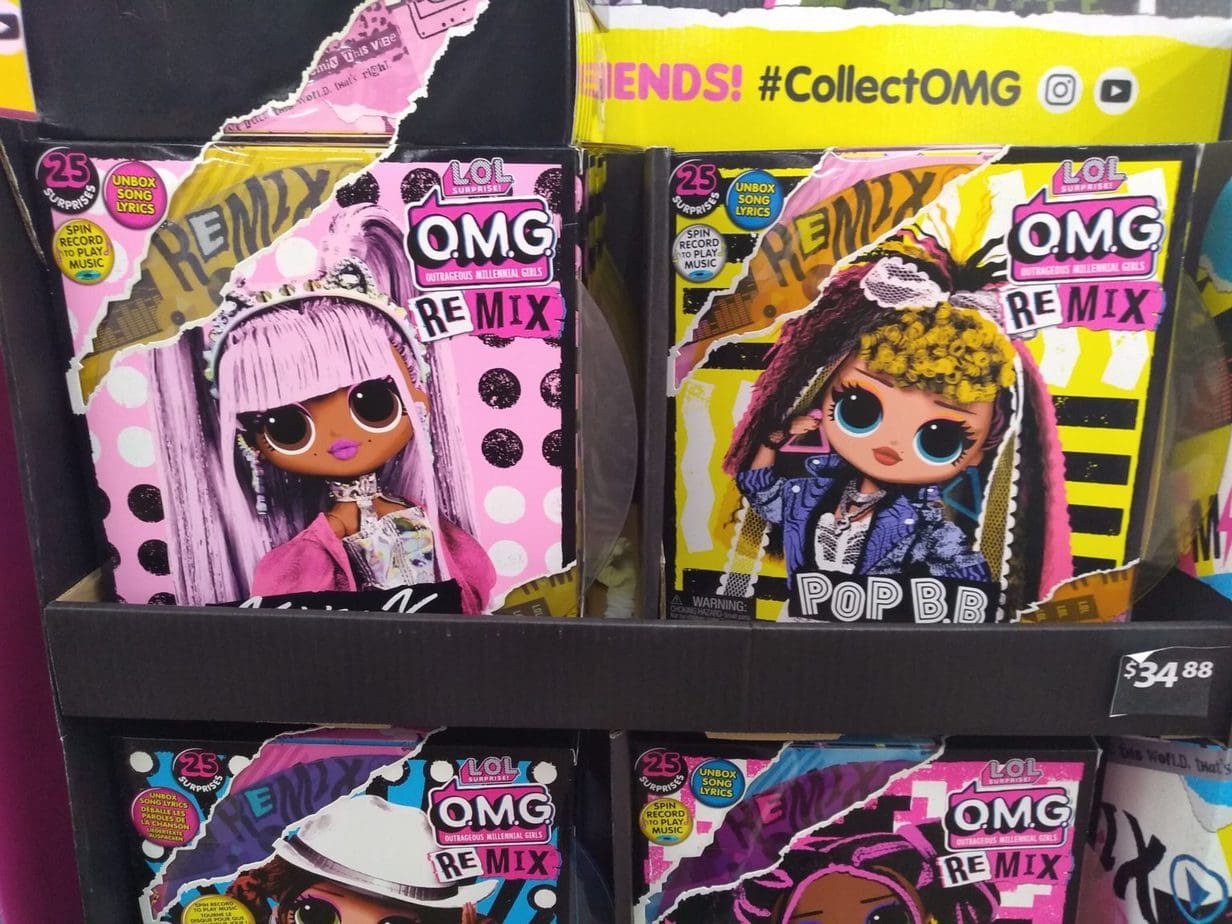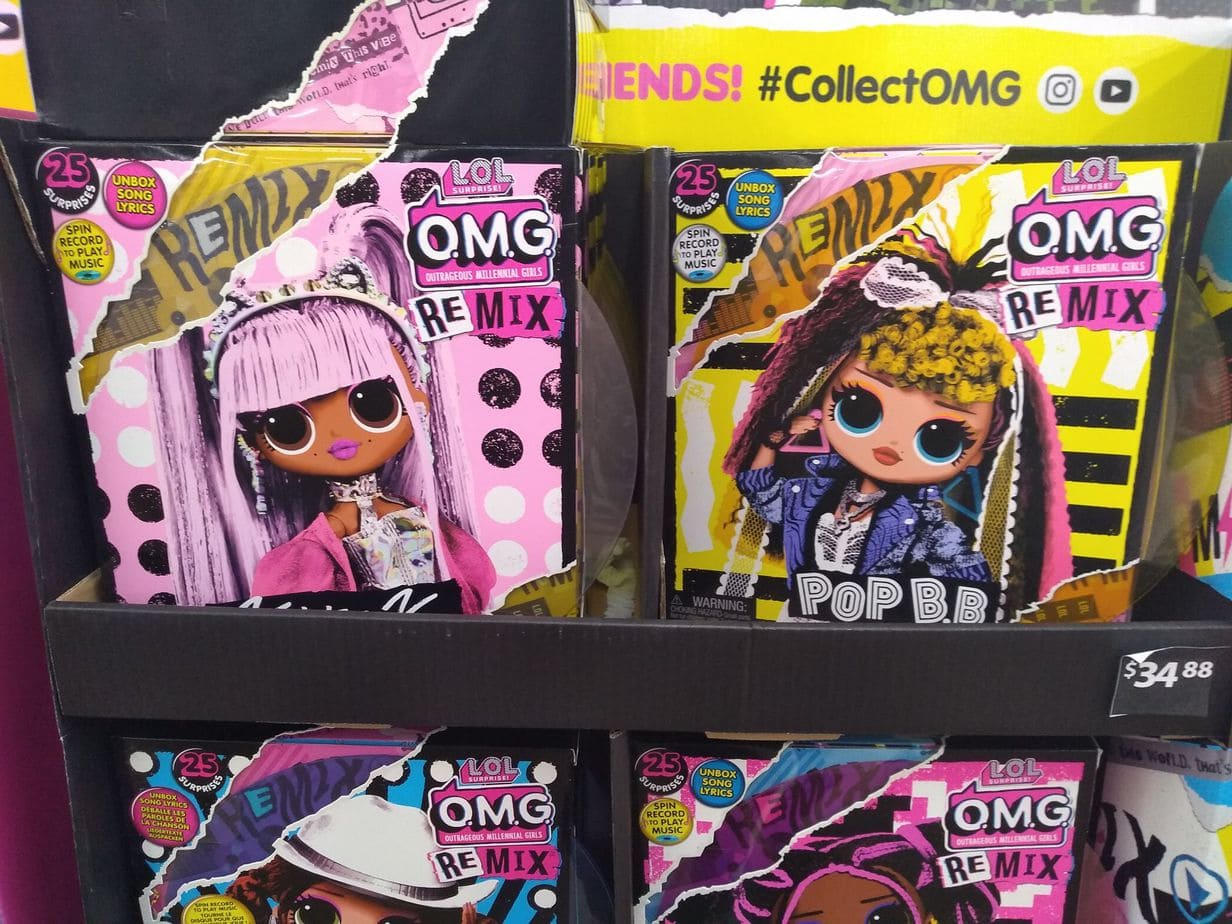 L.O.L. Surprise OMG REMIX Dolls $34.88
Get it on Amazon Here
Get it at Target Here
Mystery Toy Gift Ideas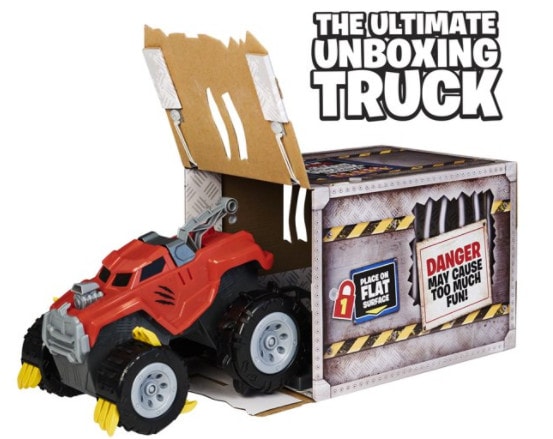 The Animal $34.88
Get it on Amazon Here
Get it at Target Here
Can you release the beast? The Animal is a powerful interactive truck that breaks out of its own package! The ultimate unboxing experience begins when you tear off the outer layer of the package and pull the tab to reveal the key. Unlock the crate and awaken The Animal inside! It's up to you to make The Animal angry enough to claw out. Yell and it will roar back! Knock and it will knock back – The Animal is listening! Continue to knock and yell and watch the crate start to shake back and forth as The Animal comes alive with glowing eyes and sounds! Aggravate The Animal until it transforms from powerful 4X4 truck to beast, clawing its way out of the crate!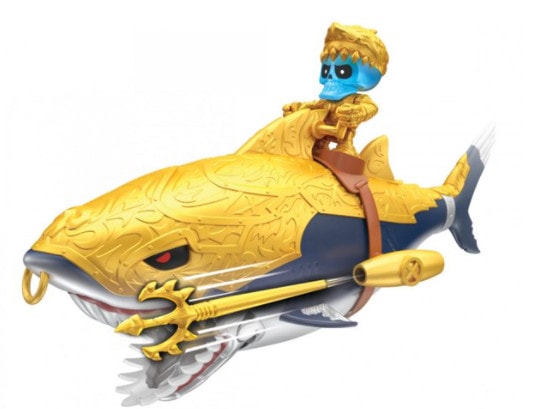 Treasure X – Sharks Treasure $19.87
Get it on Amazon Here
Get it at Target Here
The hunt for real GOLD dipped treasure continues with Treasure X Sunken Gold- Sharks Treasure! What secrets of the deep will be revealed as you break open and unbox the Gold Armoured shark? Begin the 16 levels of adventure by taking the bottled shark off its display stand and cracking it apart with your dagger! Rescue your Exclusive Treasure Hunter from the jaws of the shark! Then dissect the shark to discover tools and weapons that will transform it into a Battle Shark so that the Treasure Hunter can ride the shark and fire off his torpedoes! Time to reveal whats in the chest! What amazing treasures will emerge and float out from the fizzing treasure chest when you drop into water? There is a one in 8 chance to find REAL Dipped gold treasure? What will you discover?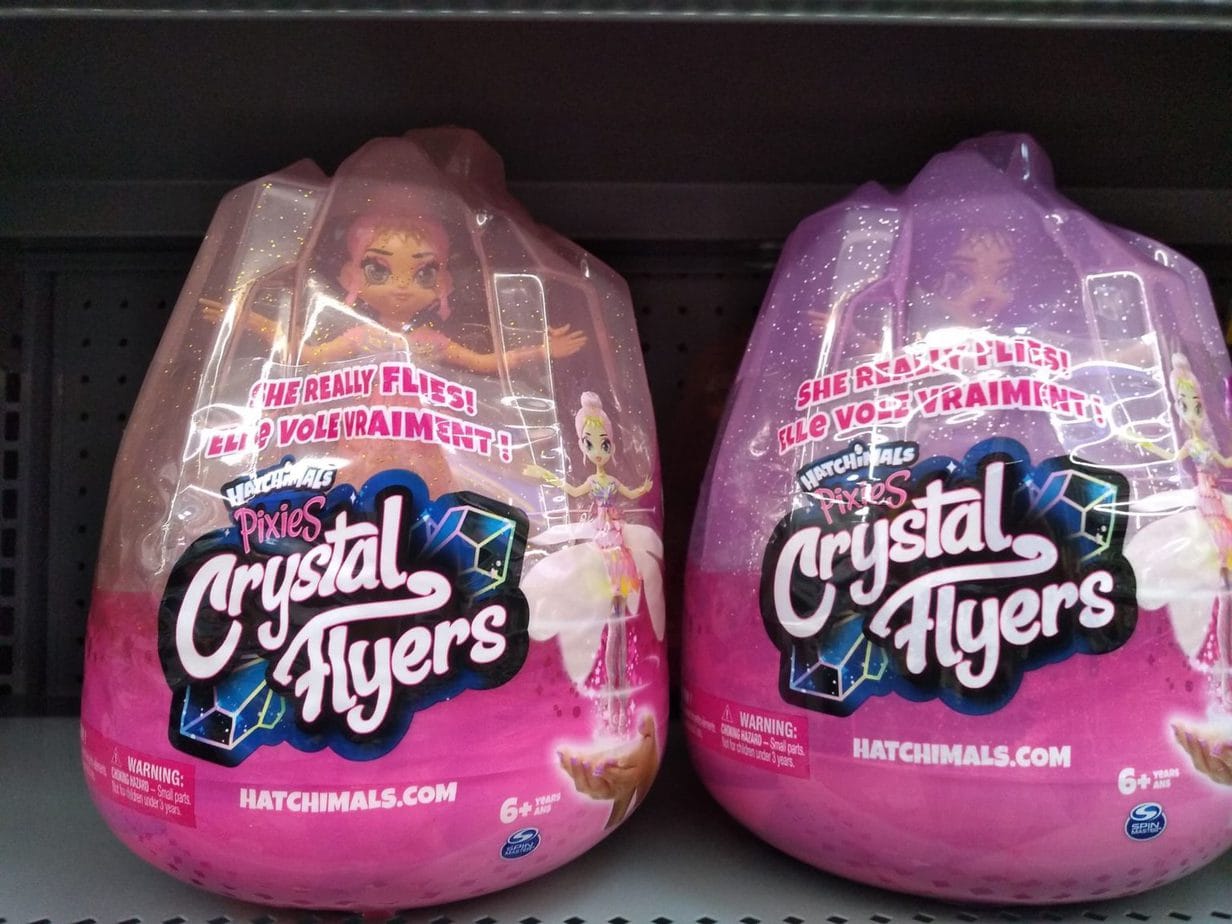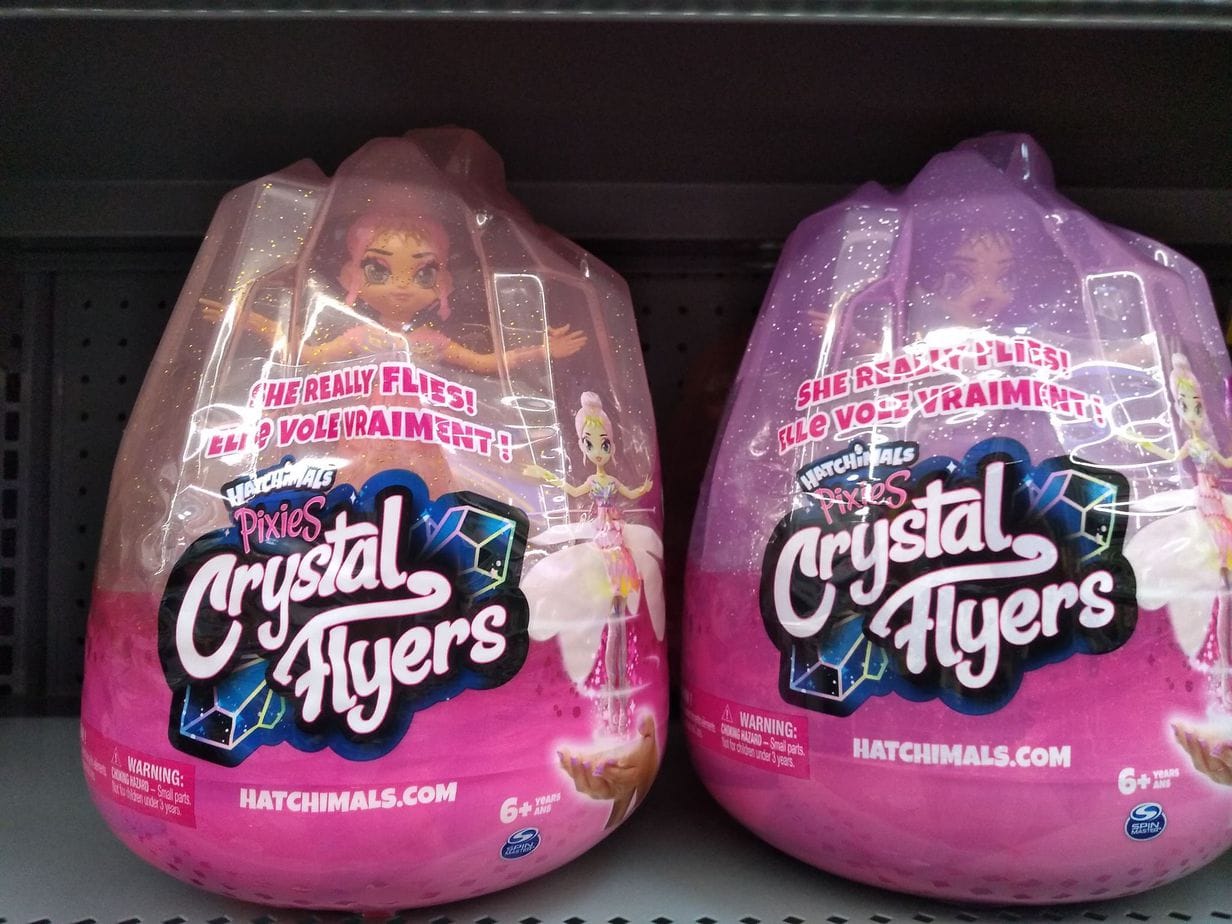 Hatchimals Crystal Flyers $29.77
Get it on Amazon Here
Get it at Target Here
Have you ever wished your Hatchimals Pixies could fly? Now you can bring Pixies to life with Crystal Flyers, the first-ever Hatchimals Pixies that can really fly with your help! Inside a gorgeous crystal egg, discover a beautiful grown-up Pixie, with glittery wings and a unique look and style. Remove your Crystal Flyers Pixie from her egg and charge her with the included USB cable. When she's fully charged, she's ready to air dance! Switch your Pixie on and watch as her glittery wings begin to flutter and spin. Let her go and she'll magically fly – use your Pixie Power to guide her!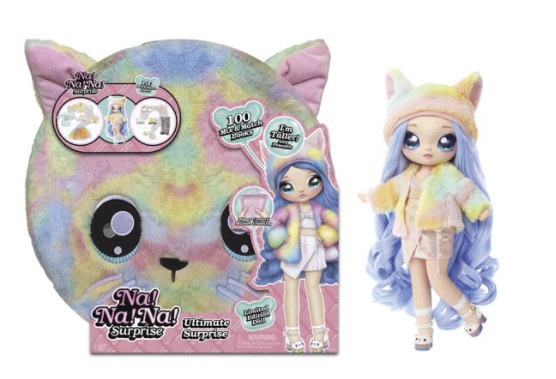 Na! Na! Na! Ultimate Surprise $69.00
Get it on Amazon Here
Get it at Target Here
Welcome to the lifestyles of the plush & glamorous. We've got a soft spot for great fashion, so whether we're hanging with our friends or walking the fuzzy carpet, we always look our best. Cuz we're wild for style. Unbox so many glamorous fashion surprises and a gorgeous, taller Na! Na! Na! Surprise Teens fashion doll from the GIANT Rainbow Kitty pom. This confetti balloon unboxing is bigger than ever! POP balloons to reveal fashions and accessories. Then, reveal a NEW 11″ Na! Na! Na! Surprise Teens fashion doll. Meet Piper Prim!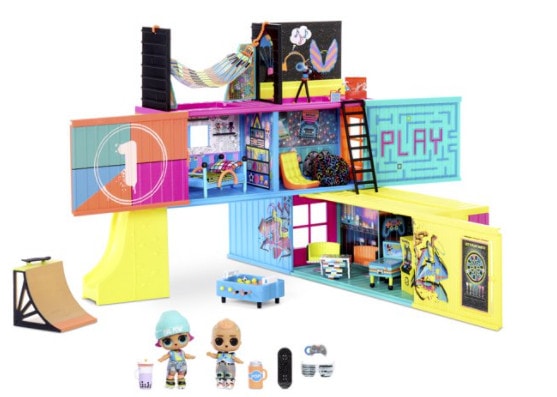 L.O.L. Surprise Clubhouse Playset $49.88
Get it on Amazon Here
Get it at Target Here
Unbox 40+ surprises in the ultimate hangout for L.O.L. Surprise! dolls & Boys – the L.O.L. Surprise! Clubhouse. The playset looks like two stylish shipping containers, but then it folds out, pops up and transforms into a fully furnished 3-story Clubhouse. The Clubhouse features 7+ hangout areas including a game room, skateboard zone, patio, movie room, bedroom and kitchen! Unbox furniture and accessories for the entire house, like a foosball table, bean bag chair, hammock and more.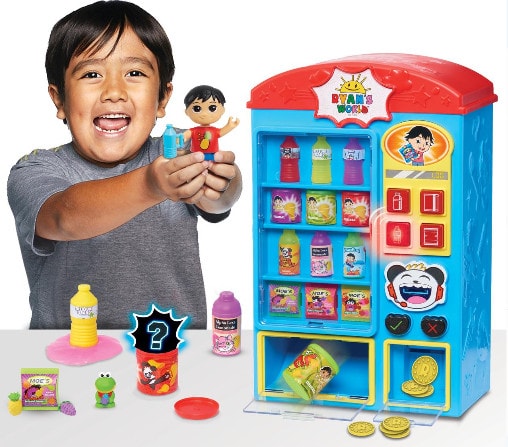 Ryan's World Vending Machine $39.82 – Walmart Exclusive
Bring home the imagination of Ryan's World with the Ryan's World Vending Surprise. This working vending machine features lights, sounds, and phrases from Ryan himself! Kids can feed the coins to Combo Panda and select their snack surprise. Choose from toy juice, water, chips, or fruit gummies. Each snack holds a fun surprise! Find the slime within the juice or water bottles, or a mini fig hidden inside the chip containers.
Outdoor Toy Gift Ideas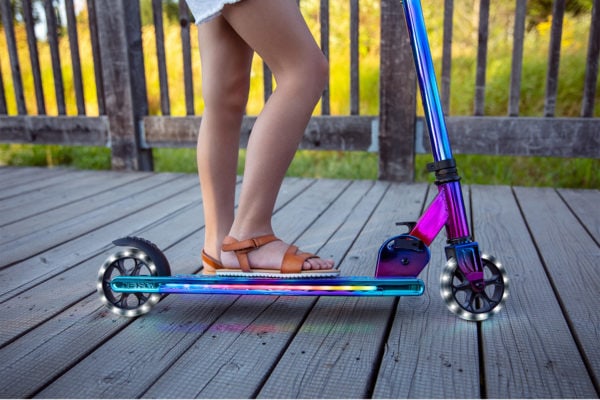 Jetson Mars Light-Up Kick Scooter $34.94 – Walmart Exclusive
Get moving with the Jetson Mars, an all-new light-up folding kids kick scooter. Equipped with bright LED lights along the stem and deck, the Mars stands out day or night to improve visibility and safety. Light-up wheels provide an extra smooth glide and shine brightly as they ride. The Mars is ultra-lightweight and easy to carry, weighing only 6 lb. The Easy fold system makes it convenient to store and makes it easy pick up and Scoot anytime. The height-adjustable handlebar allows the Mars grows with young riders.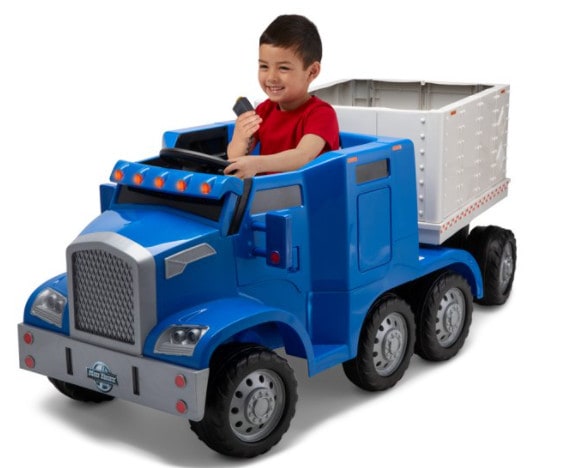 Semi-Truck and Trailer Ride-On $249.00 – Walmart Exclusive
Haul in loads of fun with the Semi-Truck and Trailer Ride-On Toy by Kid Trax! Featuring a removable trailer with dual hinged opening trailer doors – just like a real semi-truck – this kid-sized ride is ready for driveway and sidewalk excursions. Working cab lights, PA system, and horn and engine sound effects add to the playtime fun; while real foot pedal acceleration creates a lifelike driving experience. The Semi-Truck and Trailer has a top speed of 4 MPH for the perfect blend of fun and safety. Plus, Power Trax rubber traction strip tires keep the ride smooth and steady. When it's time to stop for the day, just plug in the Semi's 12-volt battery with the One Step Direct Connect Charging System for easy, no-fuss charging. Major fun is on the way with the Semi-Truck and Trailer Ride-On Toy by Kid Trax.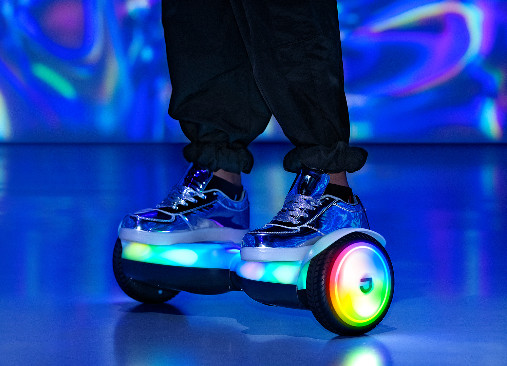 Jetson Plasma Light Up Hoverboard $148.00 – Walmart Exclusive
Light up your world with the all new Jetson Plasma Luminous All-terrain Hoverboard. LED liquid light pattern flows through the deck and wheels while you ride. It comes equipped with All-Terrain Tires and an anti-slip grip mat, so you can show off your hoverboard skills and explore more of your world than ever before! The Plasma has Active Balance Technology with internal sensors to keep you level and stable as you ride.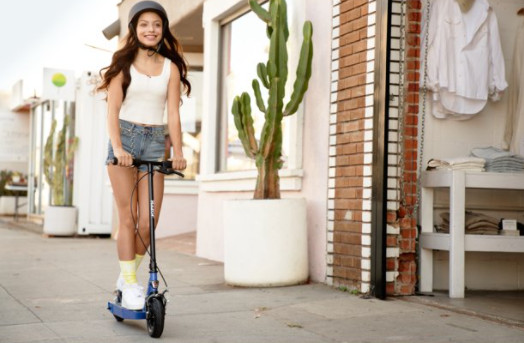 Razor Black Label E100 Electric Scooter $128.00 – Walmart Exclusive
All the power is now in your hands with the Razor Black Label E100 electric scooter. It features a hand operated front brake in addition to the rear-fender brake, creating a dual-braking system for better control. The 8″ (200 mm) pneumatic front tire delivers a smoother ride on uneven terrain. The high torque Power Core hub motor delivers top speeds of up to 10 mph (16 km/h) and its rechargeable battery provides up to 35 minutes of uninterrupted ride time on a single charge. For riders age 8+ and up to 120 lbs (54 kg), the all-steel frame and stable rear-wheel drive make the Razor Black Label E100 electric scooter a safe, solid, and smooth ride to bring out your fun side.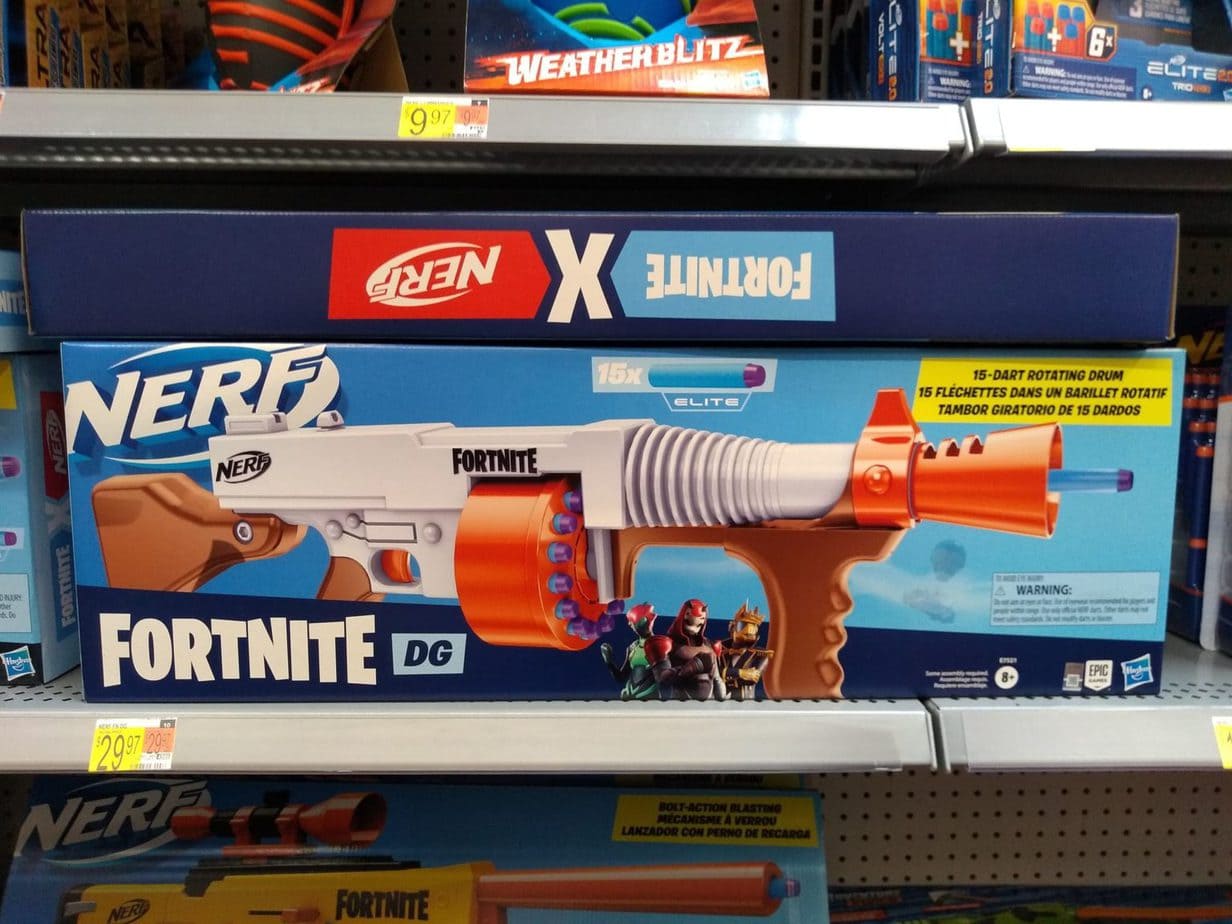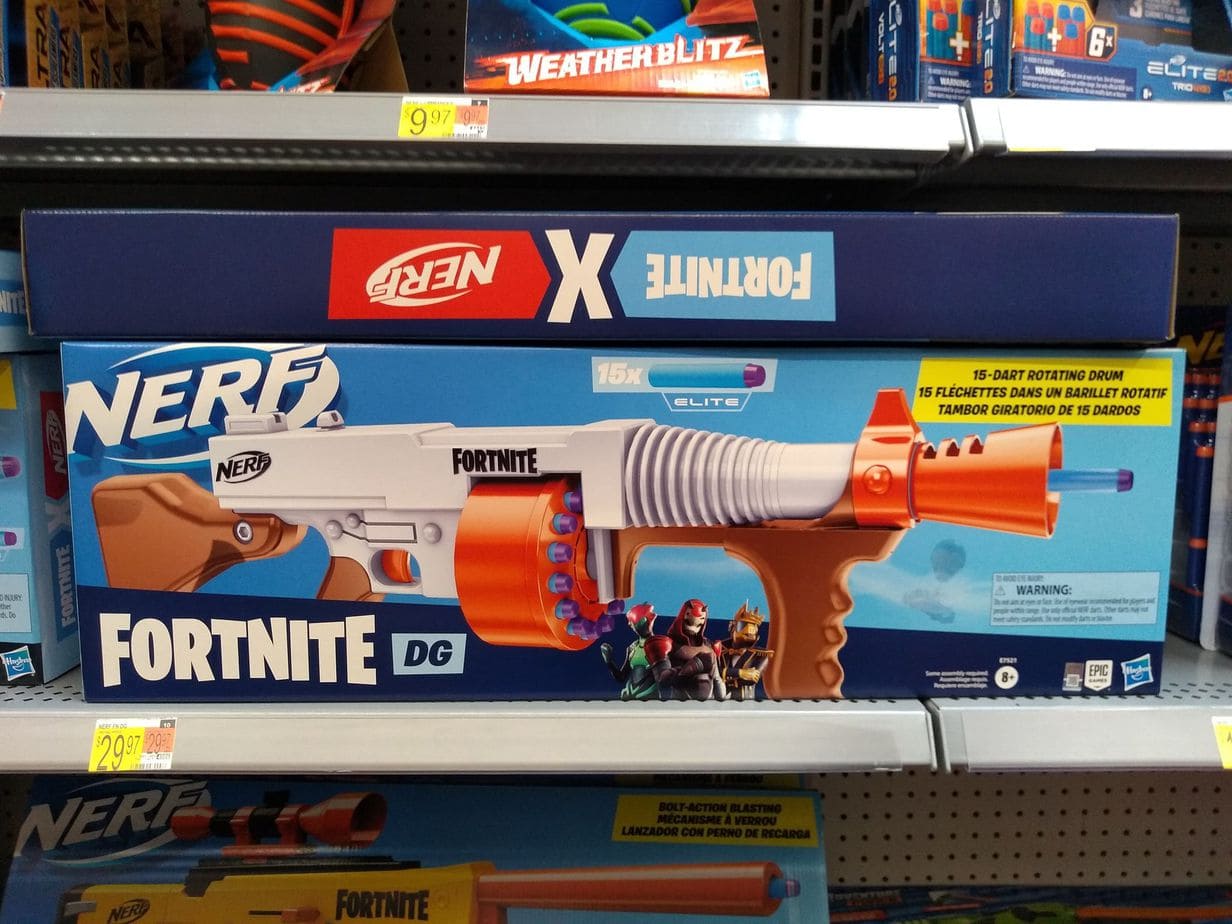 Nerf Fortnite DG $29.97 – Walmart Exclusive
This Nerf Fortnite DG dart blaster is inspired by the one used in Fortnite, capturing the look of the blaster from the popular video game. It features a 15-dart rotating drum, so you can pump out 15 darts in a row at your targets before reloading. The blaster comes with 15 Official Nerf Elite darts, enough to fully load the drum. Hand-powered operation gets you playing fast — load darts into the drum, pump the priming grip backward and forward to ready the blaster for firing, then press the trigger to fire 1 dart. Pump the grip and press the trigger again to fire another dart.
Screen-Free Play Gift Ideas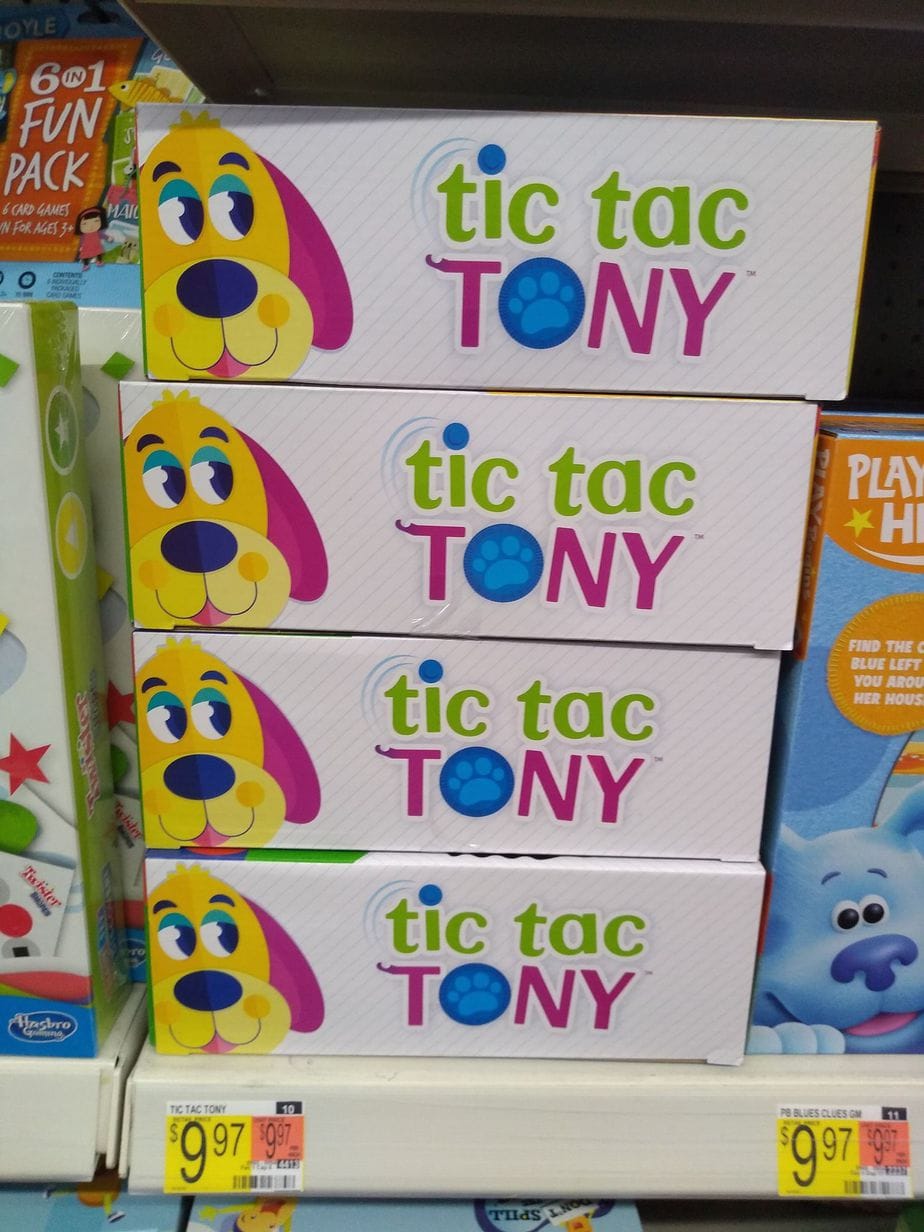 Tic Tac Tony $9.97 – Walmart Exclusive
Tic Tac Tony is a preschool game from Fisher-Price that adds an adorable tail-flipping puppy to the universally loved game of Tic Tac Toe. Kids use the tail of the friendly puppy Tony to line up discs and then flip them into the holes on his back. To score, they must line up discs horizontally, vertically or diagonally. The first to get three in a row wins! Different than the original game because luck and flipping skills determine disc placement and the possibility of victory! Designed for easy play by kids ages 3 years and older and 2 to 4 can play at once. Colors and decorations may vary.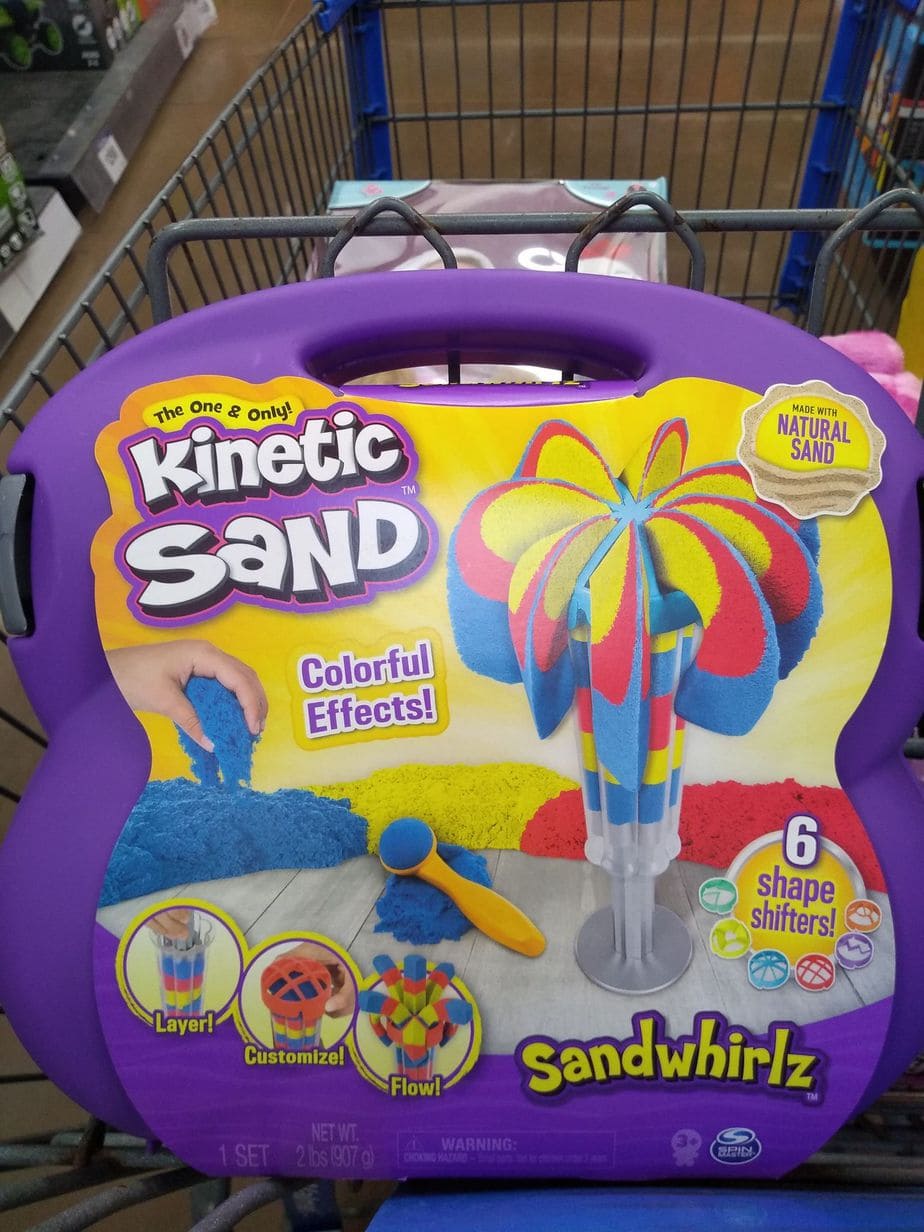 Kinetic Sand Sandwhirlz $19.82
Get it on Amazon Here
Get it at Target Here
Flow Kinetic Sand in a whole new way with the Sandwhirlz Playset! This set has everything you need for amazing sand transformations: 2lbs of Kinetic Sand (red, yellow and blue), six shape shifters, two extruder tubes, a scoop and more! Kinetic Sand is the original mesmerizing sand that flows through your hands and never dries out, so you can play again and again. Inspired by the drop and squish play pattern on social media, the Sandwhirlz Playset makes it easy to customize your sand effects with the shape shifters and tools!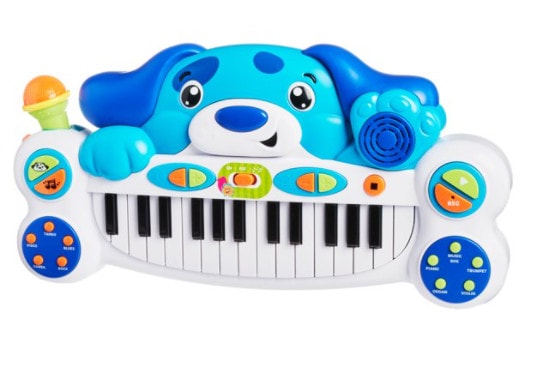 Spark Puppy Piano $19.82 – Walmart Exclusive
Your baby can pretend to be just like you with the Stroll 'n Learn Walker Gift Set, which features two Laugh & Learn toys that encourage nurturing role play and introduce early learning with fun songs and phrases! The My Learning Doll is super huggable and features a light-up heart and playful songs and phrases when your baby presses her belly. Take the dolly for a stroll by placing her in the stroller-themed walker, which helps steady your baby's first steps as they walk along. Plus, the walker's activity tray offers exciting hands-on play that activates Smart Stages learning songs and phrases, too!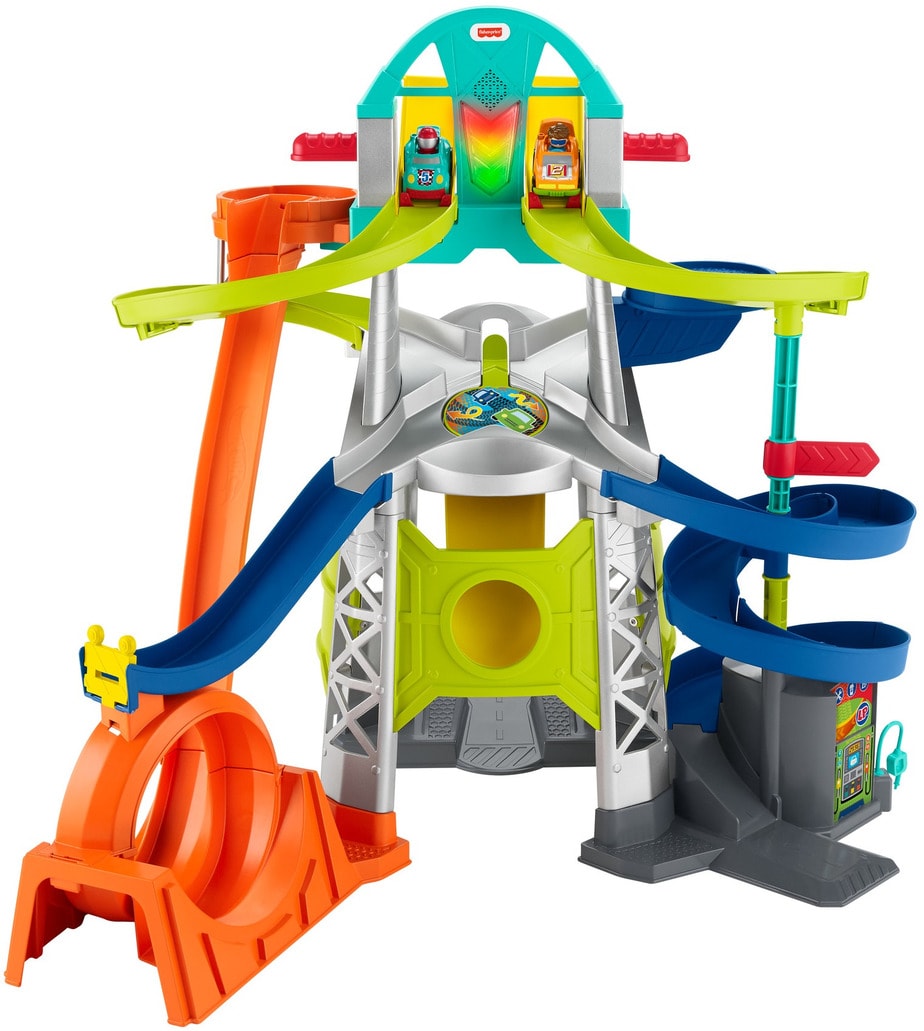 Little People Launch & Loop Raceway $49.44
Get it on Amazon Here
Get it at Target Here
And they're off! The Wheelies cars are racing down the track, zooming around and around as they approach the crash zone. What happens next is anyone's guess with the Little People Launch & Loop Raceway from Fisher-Price. This action-Packed vehicle playset features three speed tracks and multiple stunts, including a Hot Wheels loop-the-loop, a jump ramp and drop-through trap door, plus cool lights and sounds to bring the racing action to life. Toddlers can use the double car launcher to send cars racing down the track at the same time, where they could pass each other to continue down separate paths or crash into each other for an awesome smashing finale.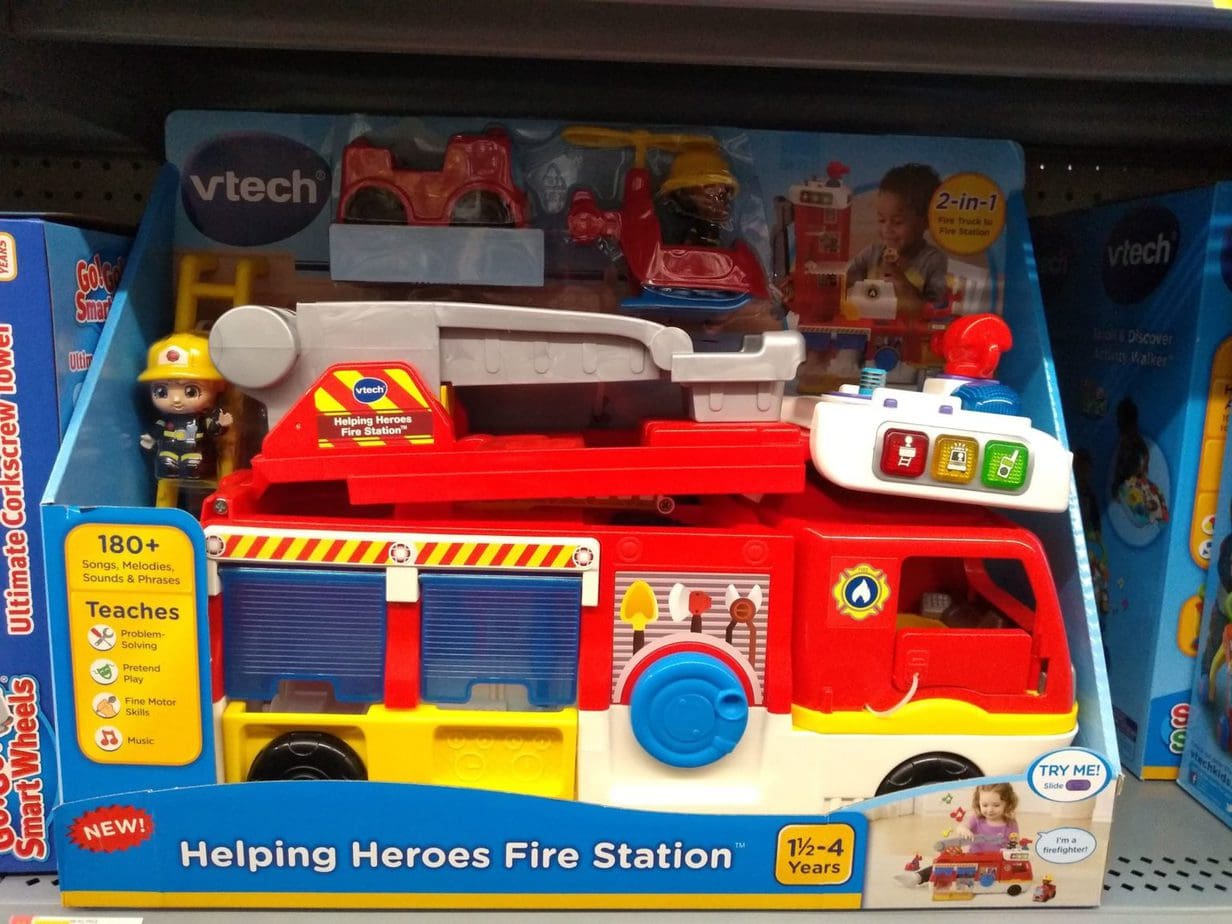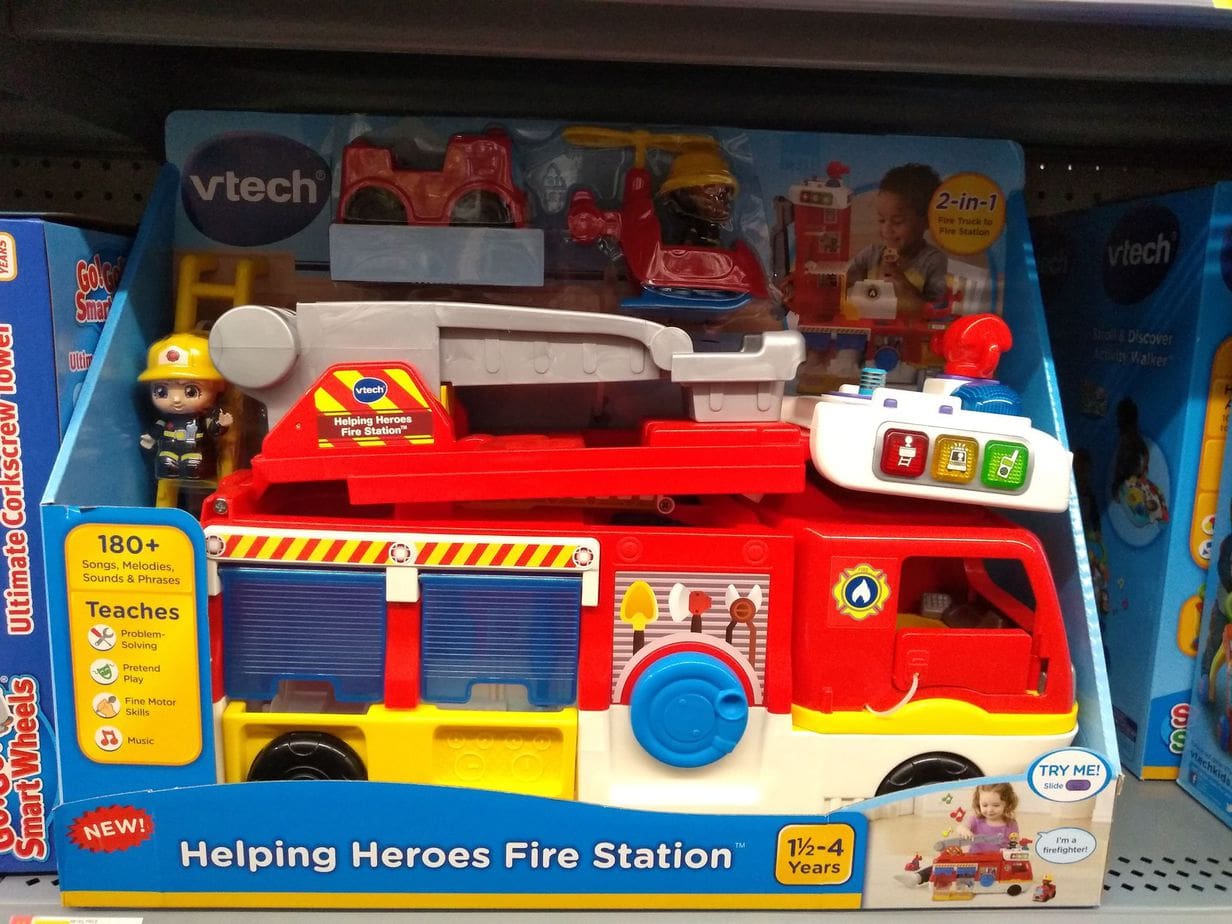 VTech Helping Heroes Fire Station $39.82
Get it on Amazon Here
Get it at Target Here
Calling all helpers! It's time to jump into action with the Helping Heroes Fire Station. Firefighters Fiona and Frankie sleep, relax and work out in the multi-level fire station. Get ready for a rescue by checking the equipment and learning how to be a firefighter. When it's time for action, drop Fiona or Frankie through the opening and into the mini rescue vehicle. Transform the fire station into a fire truck and head out to be a hero. There's a kitten stuck in a treeput up the extension ladder!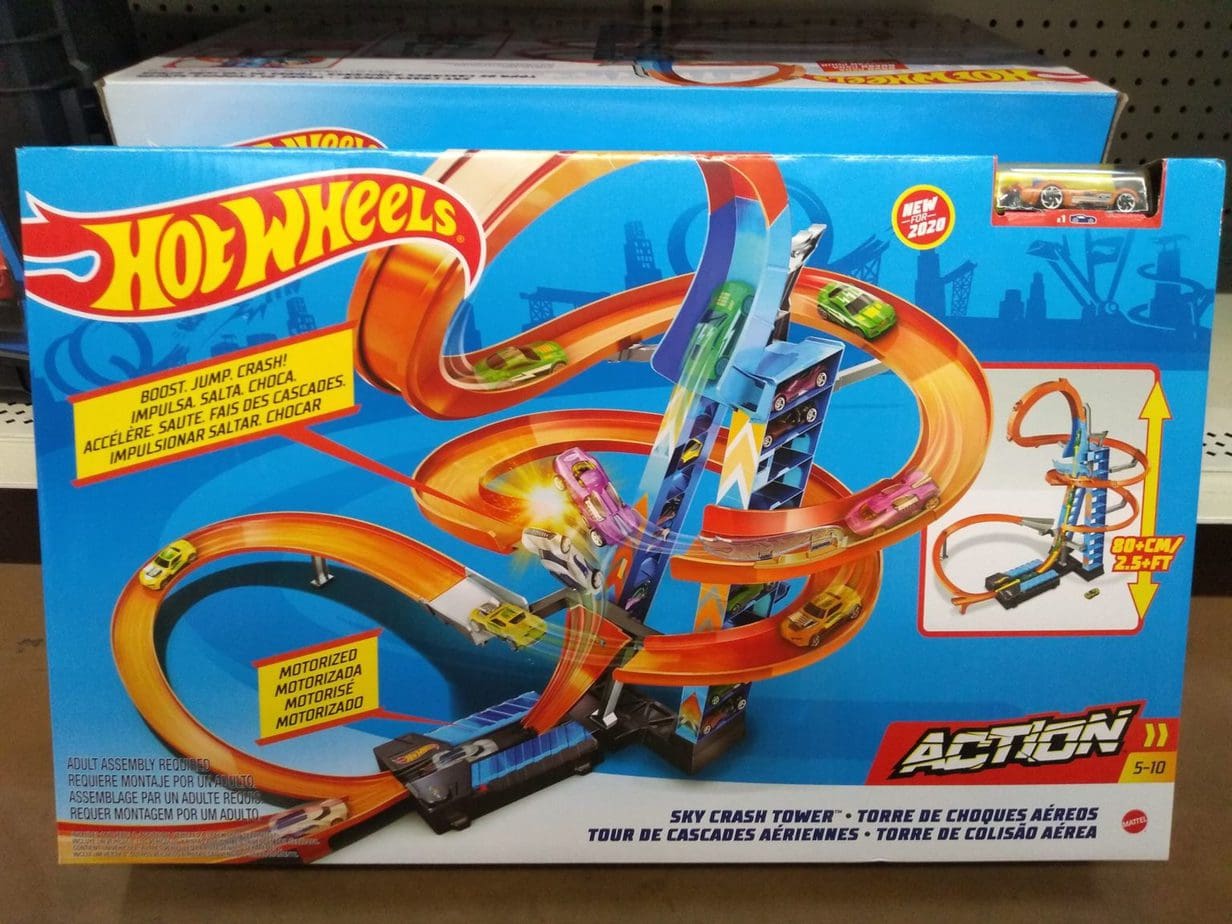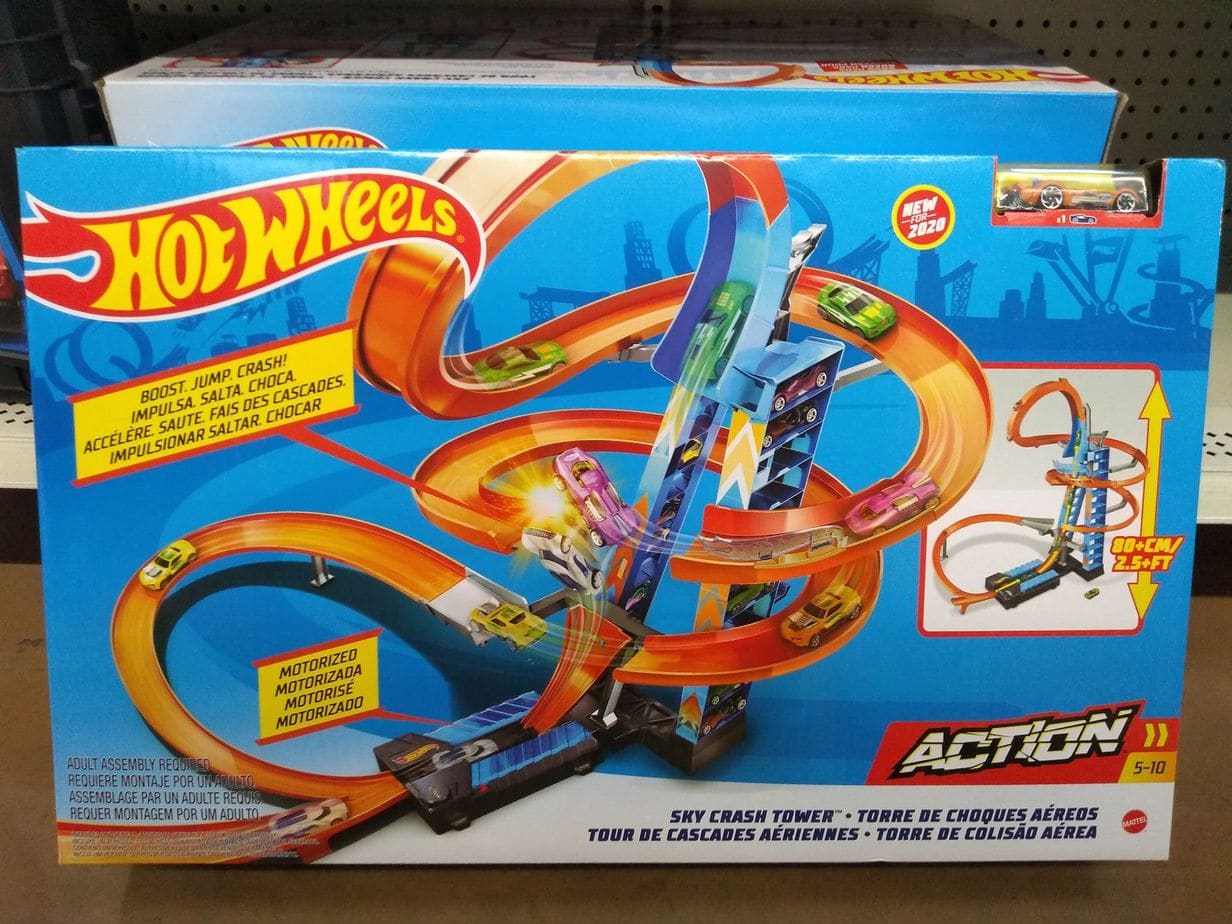 Hot Wheels Sky Crash Tower $44.68
Get it on Amazon Here
Get it at Target Here
Kids can boost their racers and "fly" up into the sky! Turn on the booster and release a car to start the race from the bottom. At the top of the massive tower more than 2.5 feet tall (83 cm), take the spiral drop to the crash zone and jump ramp for a wild ride. Kids can add vehicles and race multiple cars to create their most epic crashes ever!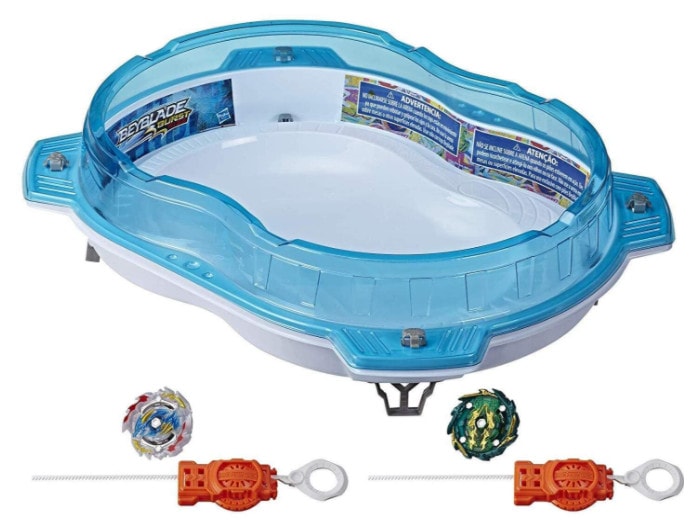 Beyblade Burst Rise Hypersphere Set $49.67
Get it on Amazon Here
Get it at Target Here
Face off against an opponent with a Beyblade Burst top inspired by the animated series. Beyblade Burst tops (Each sold separately. Subject to availability.) can "burst" into pieces resulting in 2 points for the other player (burst rates vary). First blader to reach 3 points wins. Beyblade Burst tops' components are interchangeable with some Beyblade Burst tops except Beyblade Burst Rip Fire tops. Collect, customize, compete — over 15,000 combinations! Hypersphere tops are designed to climb the vertical wall of a Hypersphere Beystadium, speed along the brink, and drop in on their opponents for exciting, high-intensity battles.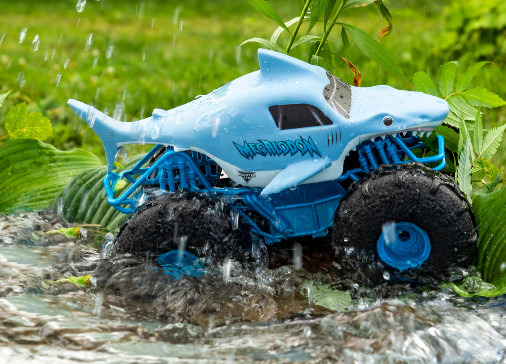 Megalodon Storm RC $43.88
Get it on Amazon Here
Get it at Target Here
Experience all-terrain performance with the official Monster Jam Megalodon STORM RC! This 1:15 scale remote control Monster Jam monster truck drives on water and any terrain with amazing performance and speed! The Megalodon STORM puts the Monster Jam action in your hands and gives you the power to conquer snow, mud, rocks and grass! With a water-resistant body and lightweight custom tires, the Megalodon STORM can race on water, then switch to land and keep on going. Pull off epic maneuvers as you race left and right, drive forward and reverse with the easy-to-use remote control and turn your world into a Monster Jam arena!