Free Thrive Market Membership for Teachers and Military
Each paid Thrive Market membership provides a free membership for a low-income family, student, teacher, nurse, veteran, active member of the military or a first responder.
If you're a student, teacher, veteran, first responder, or family in need, you qualify for a free Thrive Market membership. You can apply for a free Thrive Membership by clicking the link below!
If you aren't eligible for the free membership you can still save a TON of all natural products. Thrive Market is offering a 40% discount on all of its products! This is an amazing opportunity to stock up on healthy foods and supplements.
Here's how to take advantage of the offer:
Join Thrive Market by clicking here and filling out your information. You can get one month for free and a $54 gift when you sign up too!
Once you've signed up, go to the Thrive Market website or app and start shopping for food items that are on sale.
What is Thrive Market?
Thrive Market is the first socially conscious online store offering the world's best-selling natural and organic products at wholesale prices. They carry over 2,500 of the highest quality food, supplements, home, personal care, and beauty products from over 400 of the best brands on the market, all delivered straight to your door at 25-50% off retail prices. Their mission is to make health living easy, affordable, and accessible for every American family.
Thrive Market Cost
Thrive Market is a membership-based online marketplace that offers discounts on healthy, organic foods. It's a great way to save money on groceries and supplements. The cost of a Thrive Market membership is $5 per month or $59.95 per year, but it's worth it for the savings you'll get on food and supplements. The cool part is you get $30 in Thrive Cash when you sign up!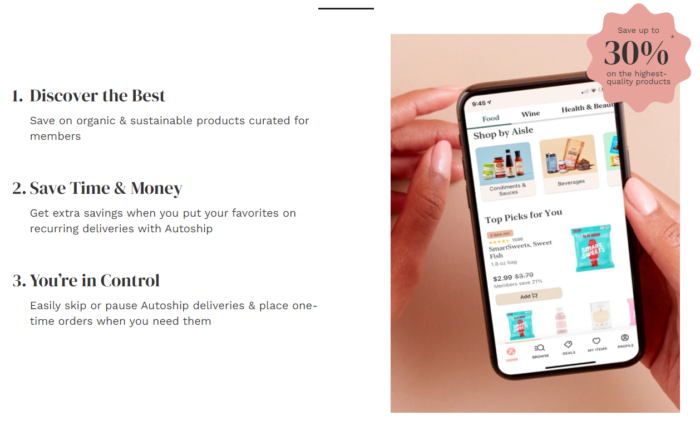 About Thrive Market Products
Thrive Market offers a wide variety of healthy, organic foods. You can find everything from produce to meat to supplements on the site. The prices are often cheaper than what you'll find at traditional grocery stores, so it's a great place to stock up on healthy food items.
Thrive Market Review
I've been a Thrive Market member for about six years now and I love it. The quality of the food is great and the prices are unbeatable. I've saved a lot of money by shopping on Thrive Market instead of at traditional grocery stores.
If you're not sure whether or not Thrive Market is right for you, you can sign up for a free trial membership. This will give you access to all of the products on the site and allow you to test out the service before committing to a full year's membership. Click below to sign up for your free trial!
Does Thrive Market Accept EBT
Yes, Thrive Market accepts EBT. You can use your SNAP card to purchase food items on the site, which is a great way to save money on healthy foods if you're eligible for benefits through the Supplemental Nutrition Assistance Program (SNAP).
How to Cancel Thrive Market Membership
If you decide that Thrive Market isn't the right fit for you, it's easy to cancel your membership. Just log in to your account and click on "Account Settings." From there, you'll be able to cancel your subscription. You can also contact customer service if you have any questions or problems cancelling your membership.