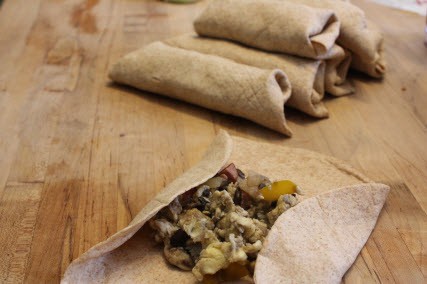 Breakfast Burritos – Healthy Style!
We LOVE breakfast burritos but have always made them a little unhealthy. I found several recipes but ended up doing my own to try and make them healthier. Overall I believe these have about 210 calories each and less than 3 grams of fat. I found that adding black beans added a lot of flavor without having to use cheese.
TIP: I found myself snacking while making these so I grabbed a piece of sugarfree gum. Snacking over!
Ingredients:
– 18 eggs
– half a large onion
– one bell pepper (I used yellow because I had one)
– turkey sausage (lean as possible – half of a loop)
– one can of black beans (drained and rinsed)
– whole wheat tortillas
This recipe is VERY easy and it only took me about 40 minutes to prep, cook, and pack/freeze 18 burritos. Total cost was less than $.50 per burrito and hubby and I have breakfast for over a week!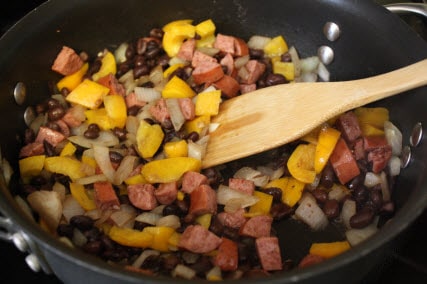 First I sauteed the onion, pepper, and turkey sausage. I then added the beans and cooked for a few more minutes. While that was cooking I beat 18 eggs and a little skim milk. Once the mixture was done I took it out of the pan and put it in a bowl. The idea of cooking the eggs in the bean mixture didn't sound too good….purple eggs?
Then I scrambled the eggs and mixed in the mixture. I think this worked better this cooking it all together. Then I left it cool a little and started on the burritos. I used about three tablespoons of mixture per burrito. Simply fold in the sides and start rolling.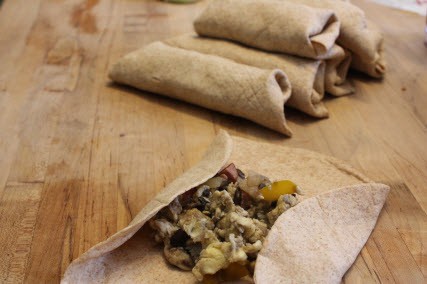 Once I was done I set to wrap them in saran wrap. About three in I realized I was using a ton of saran wrap! Next time I decided I will use a tupperware container and do layers and then cover each layer in wax paper. But for this time I continued this then put them all in a ziploc bag. Definitely not eco-friendly so I will be trying other methods next time.
Defrost for 2 minutes and cook for 90 seconds (I think, still working on that). Add a little salsa and they are ready to eat!