If you're like most people, you dread summertime because of the heat. Especially when most of the country is in the triple digits right now. But there's no need to suffer when you have these tips and gadgets to keep your car cool!
Whether you're taking a road trip or just running errands around town, these gadgets will help keep you and your passengers comfortable…even the little ones!
First off, park in the shade!!
If at all possible, park in the shade. This will help lower the temperature inside your car and make it more bearable on hot days. If you have to park in the sun, try to park where you front windshield is facing away from the sun. Keeping the front of direct sunlight will reduce the temps in your car.
If you have to park in the sun, crack your windows just a little and use a sunshade (see below). If you will be sitting in your car for more than a few minutes, try wearing light colored clothing as it will reflect heat better.
And don't forget about your furry friends!! Dogs can get heatstroke too, so never leave them in the car alone on hot days. Make sure to bring along plenty of water for both of you and take breaks often to avoid getting too overheated.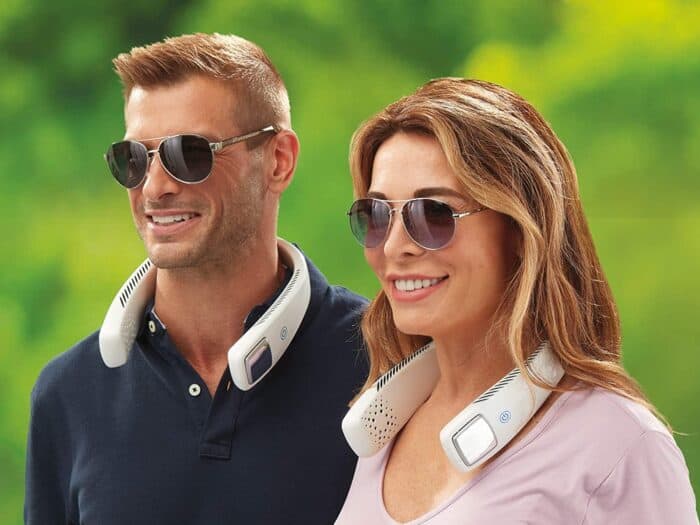 Keep Cool with a Cooling Necklace:
This personal air conditioner is perfect for those who are always on the go. Just put it around your neck and enjoy cool, refreshing air wherever you go. Use it on walks, at the beach, or even while driving!
These small personal fans with the leafless turbine design won't catch your hair and are safe for children and the elderly. There are many styles and shapes available. You can can get bigger ones or little ones just for a small breeze. Some cooling necklaces are even rechargeable – yep, no batteries to replace!
You can also get cooling towels, keep these on ice and they will keep you cool all day!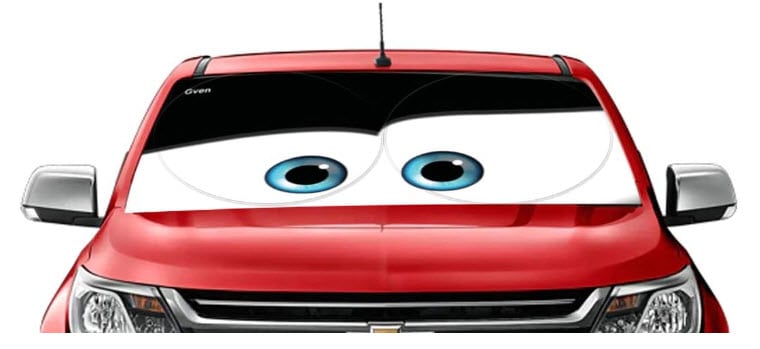 Keep Your Car Cool with a Sun Shade:
This is a must-have for anyone who spends time in their car during the summer. It helps block out the sun's rays and keep the temperature inside your car down. These handy and inexpensive tools can reduce interior car temperatures by 30-50 degrees. They do have plain and pretty ones but you could have fun with some and get ones with eyes or funny pictures!
How to keep baby cool in a car seat:
If you have a baby, it is super important they stay cool in cars. NEVER LEAVE A KID ALONE IN A CAR. They can overheat quickly, even if the windows are cracked.
Even if you are driving around (or waiting) with the air conditioner running, the sun can heat up a car quickly on super hot days. Here are some gadgets to keep your little one comfortable…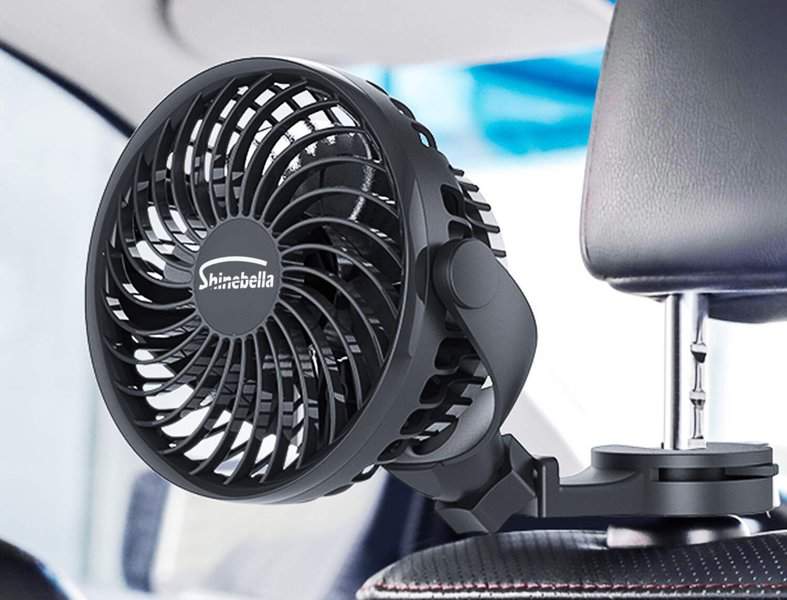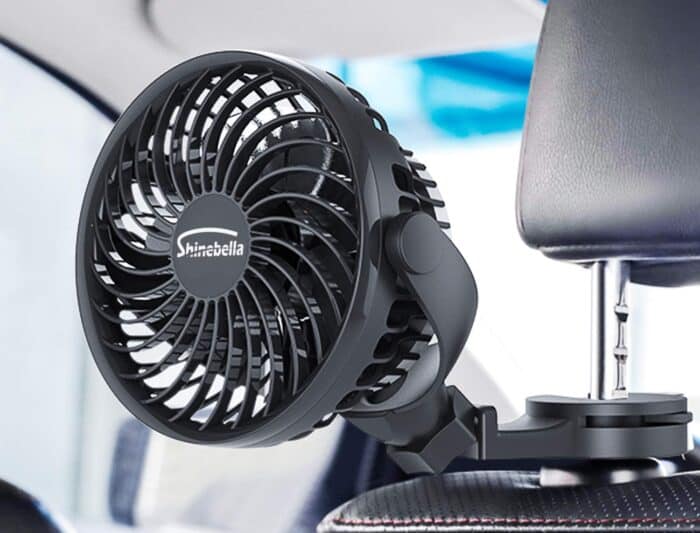 The Clip-On Seat Fan:
Keep your baby cool while they're in their car seat with this handy fan. It attaches easily to the passenger seat and provides a refreshing breeze. This car cooling fan gives you a solution to a stuffy car interior and helps give relief when it is miserable outside. These are especially perfect for baby in the rear seat of the car. Car seats can get hot!
These are great to take with you and attach them to strollers for an extra breeze!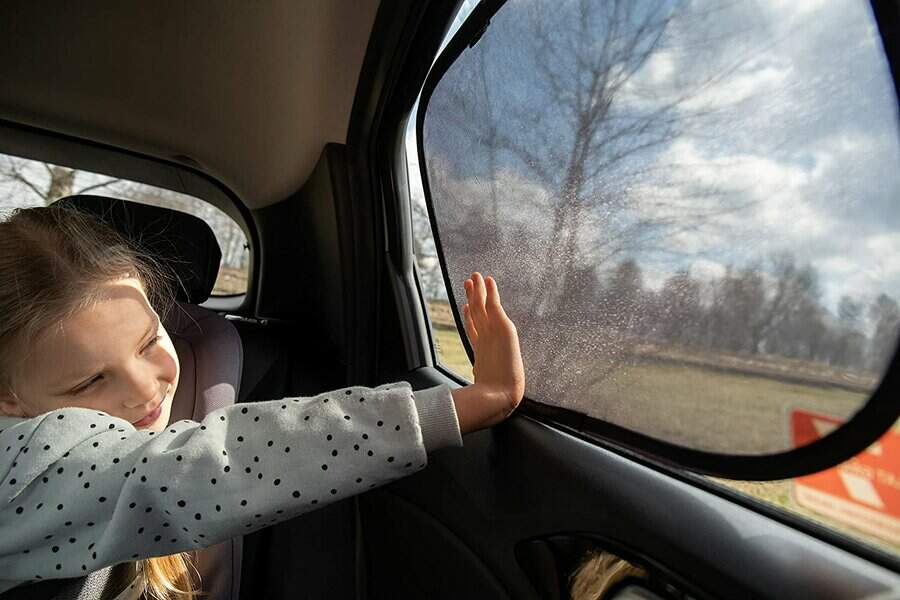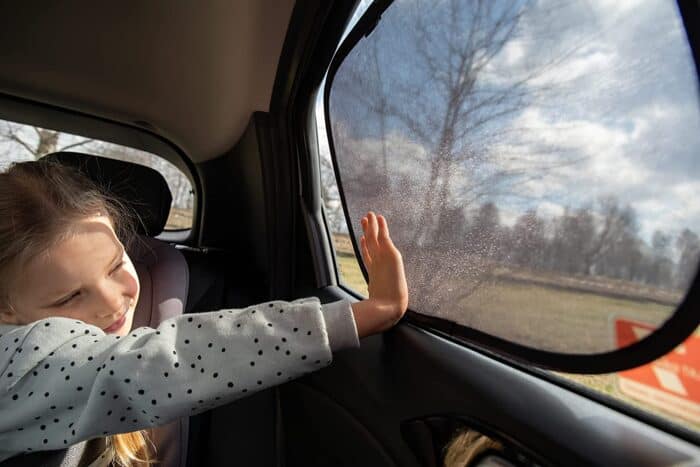 The Baby Car Seat Sunshade:
This sunshade protects your baby and backseat riders from the harmful UV rays and keeps them cool at the same time. These are great because you can use them while driving and they won't obstruct your view. The car sun shades will additionally help keep your car cooler.
Portable Car Fridge/Freezer:
This fridge is perfect for long road trips or hot days when you need a cold drink close by. You can get small six pack ones or larger ones that will hold your entire grocery order. It depends on what you family needs. They can be costly but if you live in an area with high temps they can pay for themselves quick. Keeps you from hitting convenience stores because you always have cold drinks on hand!
They are even quiet enough for kids to sleep next too!
Portable Car Fridge/Freezer Options:
With these amazing gadgets, you'll be able to enjoy the summer heat without suffering! Do you have any favorite gadget to keep your car cool during summer?
Let us know in the comments below! And be sure to stay cool out there! (Pun intended.) 😉
#SummerGadgets #CarGadgets #StayCool #HeatWave #SummerHeatwave #HotWeatherTips # howtostaycoolinhotweather