Are you looking for gifts that are fun and exciting, but don't leave their room looking like this? If so, then we have compiled a list of the perfect minimalist gifts!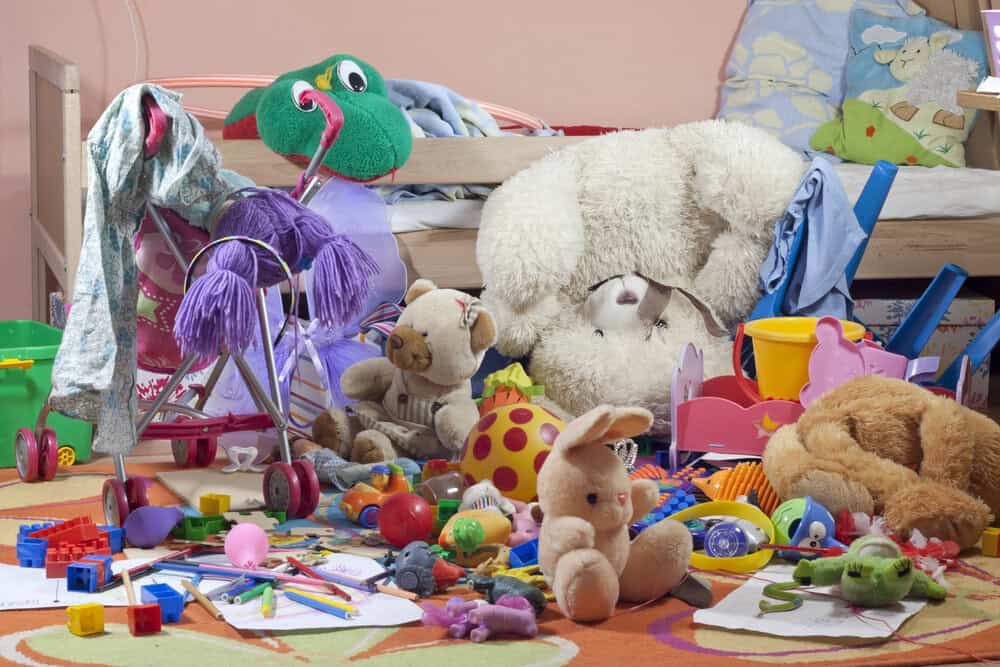 With these awesome clutter free gifts for kids, you can be sure they'll have plenty of fun without leaving behind mountains of mess.
Whether it's an interactive experience, educational game or creative present – these one-of-a-kind present ideas will be sure to delight even the pickiest recipients.
These toys can be used in a variety of ways while taking up minimal space! These toys are low on mess, but high on fun!
Here is our list of awesome clutter free gifts for kids:
Non-Toy Gifts
From interactive experiences to educational activities, these non-clutter gift ideas will keep your kids entertained without leaving behind mountains of mess. Whether it's a birthday, holiday or special occasion – these one-of-a-kind presents will be sure to delight even the pickiest recipients.
Audio books
An audio book can be a great gift for kids who love stories and are on the go. They can be listened to on a phone or a Kindle. These are a good option for long car rides when it's hard to read an actual book (like the bus!). Get them the entire harry potter series and they are set for days!
Movie gift card
Treat the kiddo to a movie gift card that they can use on movie tickets, popcorn, drinks, and candy! They get to pick their own movie and snacks, but you still get to be part of the fun.
Digital subscription to a magazine
This can be a great way for kids to learn something new each month. Just get subscriptions to their favorite magazines. Then load it to a Kindle and no clutter! You can get Kids National Geographic, Time for Kids, Popular Mechanics and much more.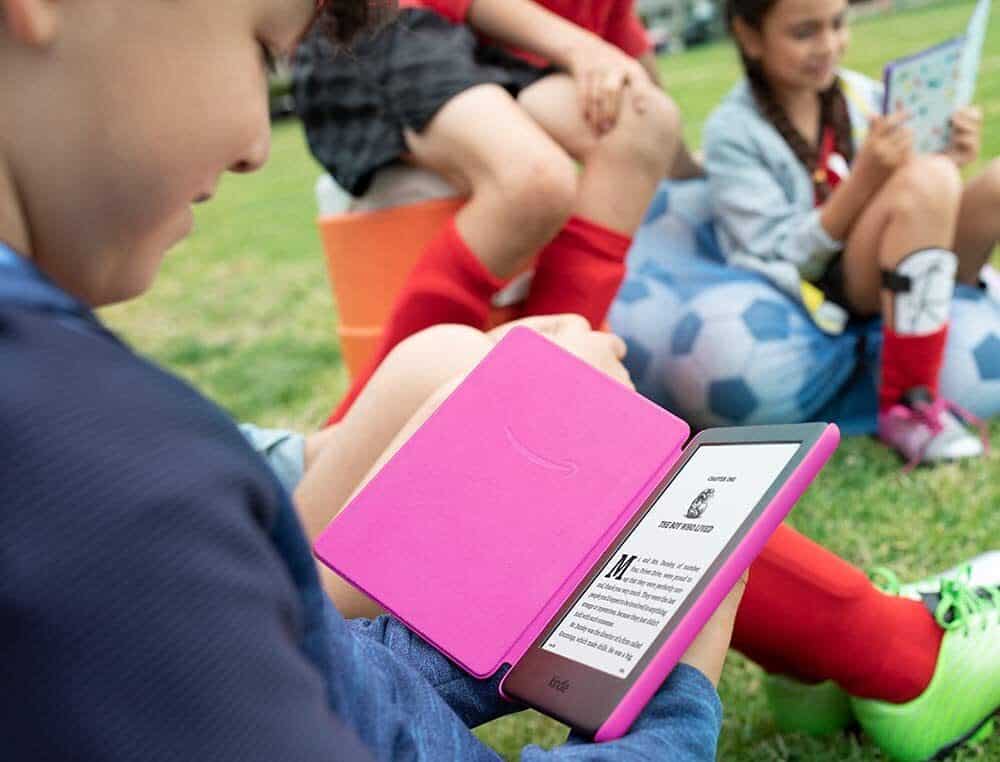 Books
Reading is one of the best gifts you can give your child; it helps foster their imagination and encourages creativity. Whether it's fiction or non-fiction, stories are sure to captivate even the most reluctant readers. Get them a Kindle paperwhite or Kids Kindle you can get thousands of books in a very small space!
Science experiments kits
Science is full of fun experiments that are sure to ignite your child's curiosity and encourage their exploration of the world around them. The best part is, they normally get rid of them when they are done building.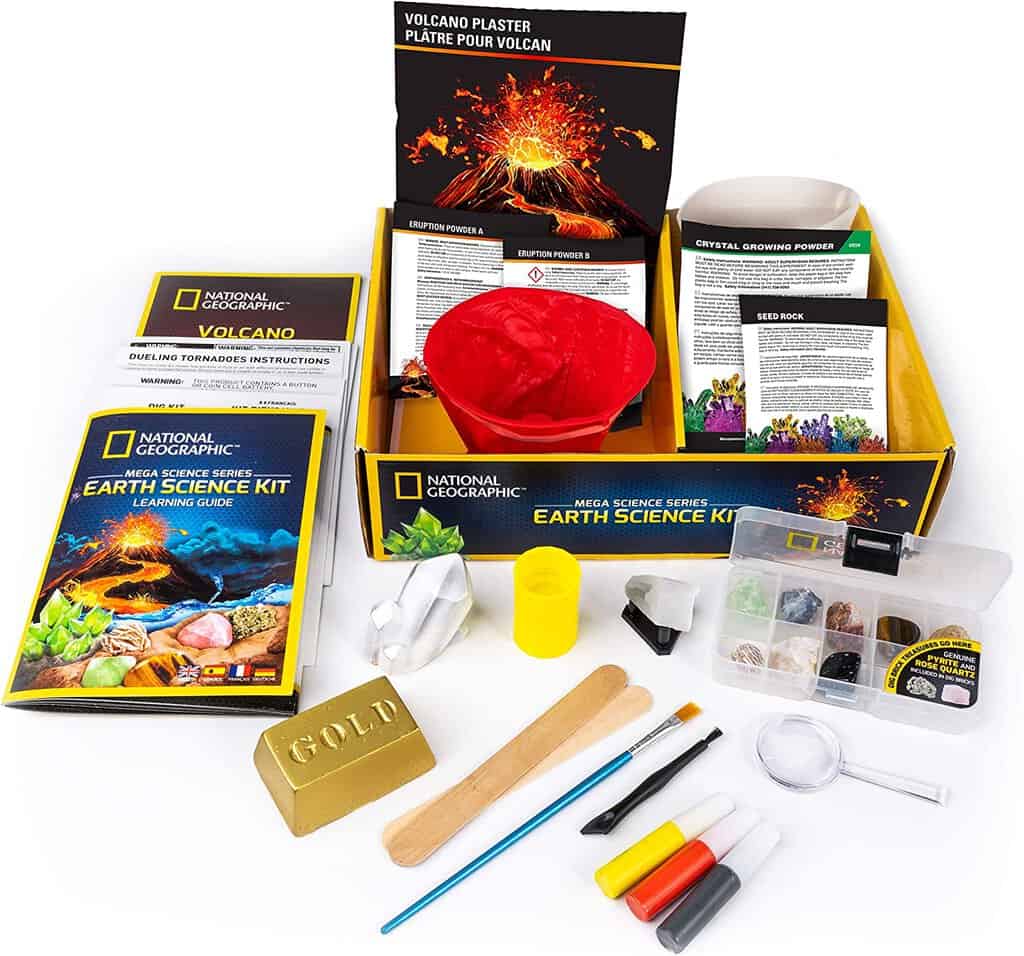 Kits like LittleBits or Smithsonian's Explore & Learn Chemistry Kit offer hours of hands-on learning with minimal cleanup required. Whether they are building electric circuits or understanding chemical reactions, science kits provide an educational and enjoyable experience that doesn't take up a lot of room.
Music lessons
Learning an instrument is a great gift for any child and you don't need to worry about the instrument taking up too much space when it's not in use.
Digital games
With so much technology at our fingertips these days, video games have become increasingly popular gifts for kids of all ages. From classic favorites like Candy Crush to educational activities like BrainPop, there's something for everyone.
An online course
Whether it's learning a new language, programming skills or any other subject, online courses are a great way for kids to learn without filling up their bedroom with textbooks.
A movie night package
No need to buy movie tickets, set up an area where your child can watch all their favorite movies in one place and enjoy without having to worry about extra clutter. Buy the movies on Amazon and you and your family can watch them over and over.
A subscription to a streaming service
This can be a great way for kids to watch their favorite shows without needing any physical space. They can get their favorite shows through channels like Nick Jr, Discovery Kids, Disney+ and many more. Learn how to get several months of streaming for FREE!
Art lessons
Got a creative kid? Think about local art classes. They can learn how to paint, draw and create sculptures without having to worry about the art supplies taking up too much space. Here are some online programs…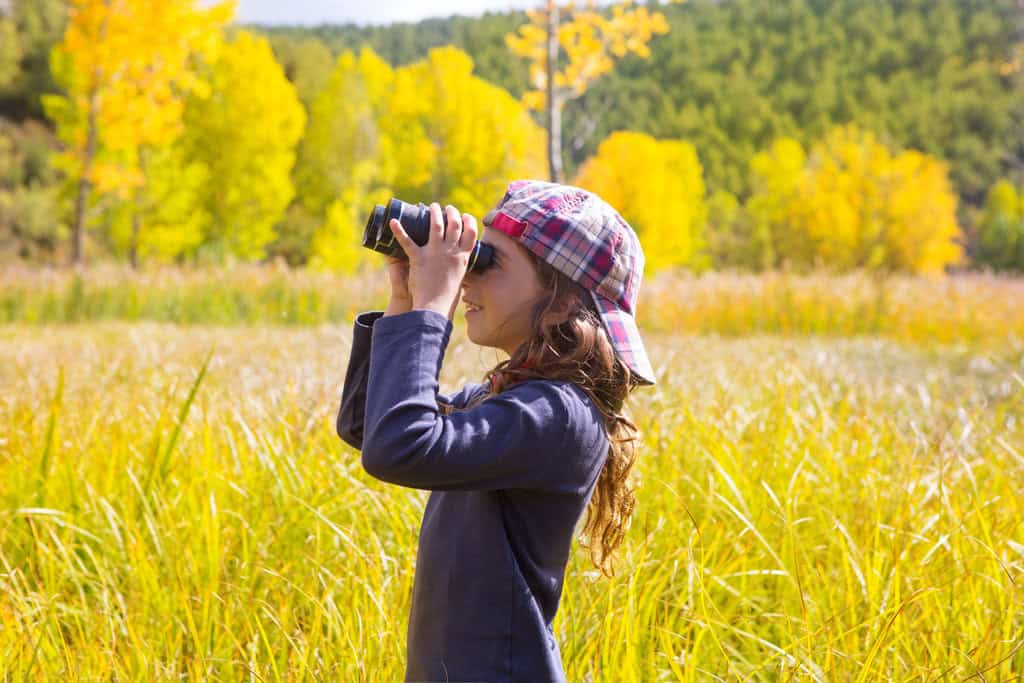 An outdoor activity package
This can be a great way to get kids outside and explore! Put together a bag full of items like binoculars, bug containers and compasses for them to explore the great outdoors. The best part is, it can be kept outside or in the garage!
Watch your local dollar store for these items, they usually have most of what you will need for only a few dollars!
Itunes gift cards
Give your child the power to pick out their own music with an iTunes gift card! Let them explore the world of rhythm and melody with their own custom playlist.
Pen pals
Whether they're classmates or penpals from around the world, connecting with other people is an awesome way for kids to expand their horizons without taking up physical space.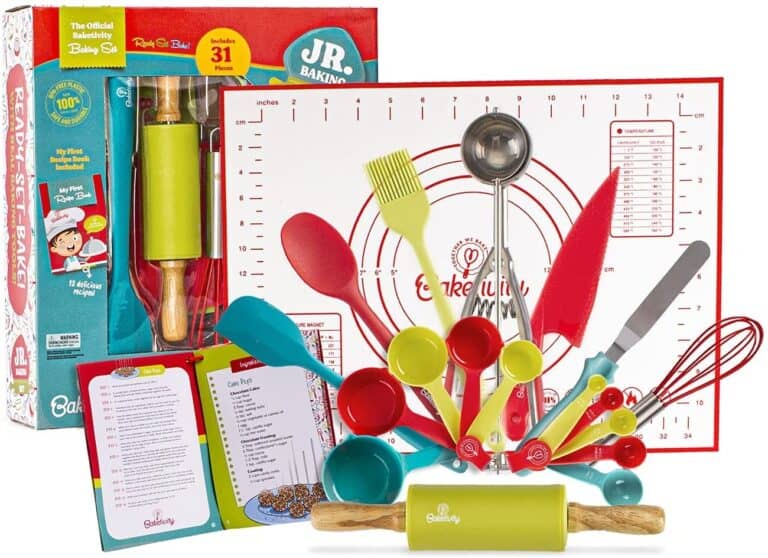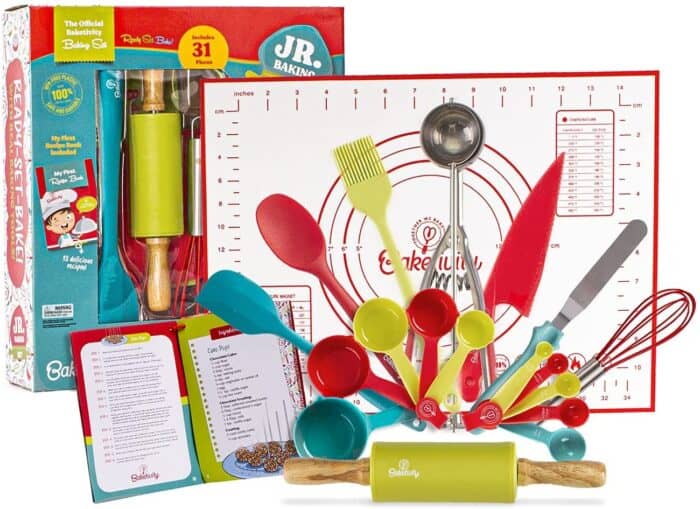 Cooking classes
Give your kids the opportunity to explore their culinary skills with cooking classes! Kids can learn how to make all kinds of dishes while having fun and not filling up their room with extra kitchen clutter.
Craft kits
Kids can be creative and make something new each time with no supplies lying around after they're done! No stored craft supplies!
Subscription box
There are a variety of subscription boxes that can send surprise items each month while also teaching kids something new! See our full list of subscription boxes for kids!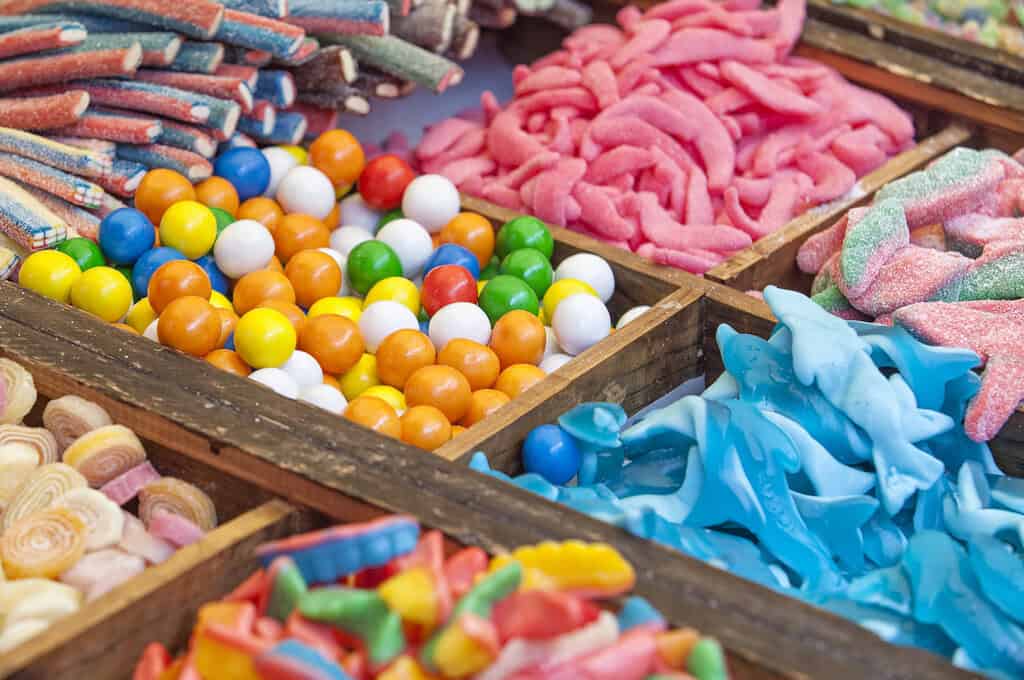 Consumable Gifts
Don't want a lot of stuff to store, get them stuff to use instead! Think food, candy, gift cards, useable products and more!
Food and Candy baskets
Kids love snacks and treats, so why not surprise them with a basket of their favorite goodies? With everything from chocolate to popcorn, your little ones are sure to appreciate the thoughtfulness.
Bath products
Make clean time fun time with a spa gift basket – especially fun for little girls! You can add bath bombs, hair accessories and bubble bath for a relaxing experience that doesn't take up much space and is useful.
Ice cream gift cards
Who doesn't love ice cream? Treat them to a gift card for their favorite ice cream shop and let them enjoy a sweet treat!
Fun place gift card
Got a Chuck E Cheese or go cart track nearby? Get them a gift card and they can enjoy fun activities. Activity gift cards are some of the best gifts for older kids. They can use them to hang out with their friends!
Robotics kits
Kids can build their own robots and learn something new in the process with these awesome kits! Not to mention they are so much fun to do!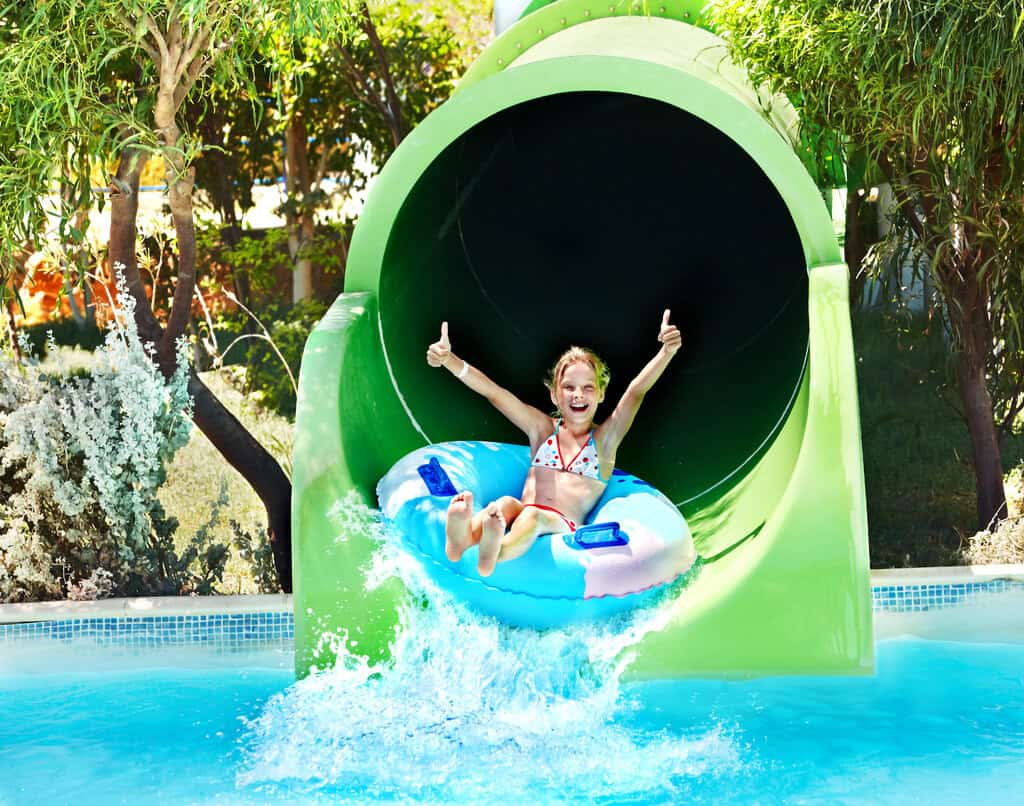 Experience Gifts
Instead of giving a physical gift, why not treat your kids to an experience they'll never forget with a gift of time?
Whether it's a day trip to the aquarium or a tour of a nearby town, experiences can provide lasting memories that you can share with your child. You don't have to spend a lot of money either. It's easy to find things to do just checkout a local museum on free days or park and spend some quality time.
Here are some great ideas…
Trip to the zoo
A perfect gift for animal-loving kids. Some zoos have great programs like sleepovers and special events that can be a blast for the whole family.
Vouchers for outdoor activities
For the thrill seeking child, why not get them vouchers for outdoor activities like rock climbing or canoeing? They can enjoy some fresh air without worrying about having enough room to store their gear.
Children's Museums tickets
From interactive exhibits to educational displays, children's museums are a great way to get kids excited about learning while still having fun!
A day trip to special places to your family
Whether it's a trip to the beach, a local park or an amusement park, treat them to a place that is special to your family. Could be a park or trail!
Science Museum or science centers
Take your kids on a field trip and let them explore the wonders of science! Science museums are filled with interactive exhibits that can teach kids about the world around them without leaving a trace of clutter behind.
Water park tickets
Let your kids have a splashing good time at the water park! With countless rides and slides, this is an awesome way to keep them entertained and get out their wiggles! Consider a season pass!
So next time you need to buy something for your kiddos, try thinking outside the box! There are so many unique options available that don't take up much space and won't break your bank either. Get ready for some serious fun without a large amount of clutter!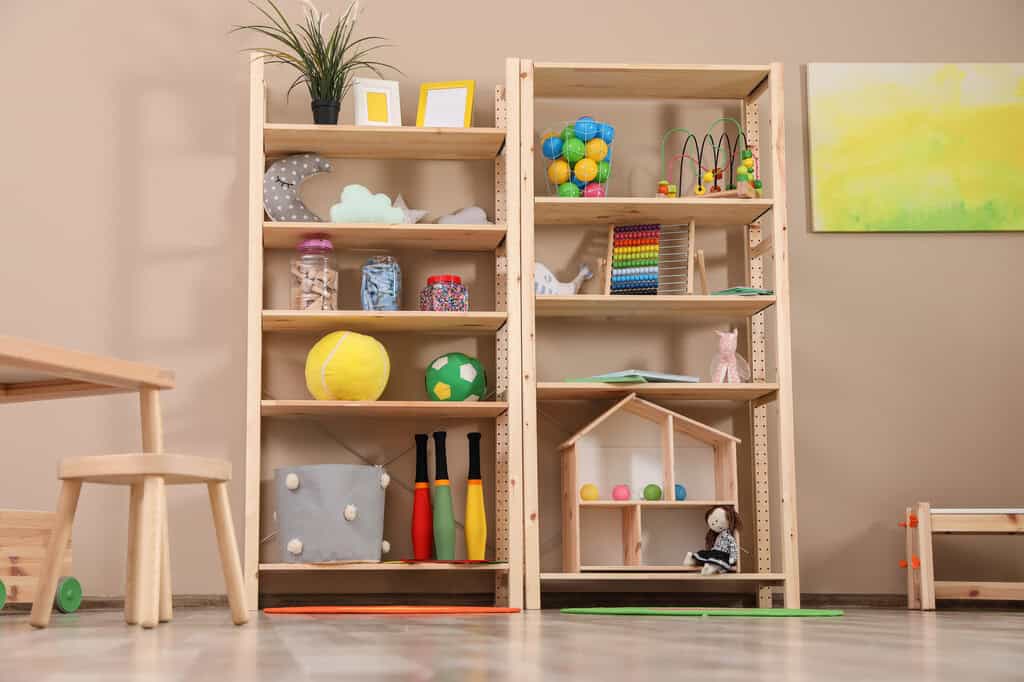 Minimimal Clutter Toys
Kids are going to have toys but you can make sure that those toys are good choices and don't take up a lot of room.
Kids want toys – they just do and usually the more pieces the better. Which can be a NIGHTMARE to clean up – If you have ever stepped on a Lego you know what I mean!
The trick is to keep things organized – kits are great because they are self contained. Look for open-ended toys. These types of toys encourage creativity and imaginative play.
If you are looking for minimalist gift ideas that reduce toy clutter here are some clutter-free gift ideas…
Board games or card games
Board games are usually staples in any family's toy collection. The cool part is, they last for years – even decades. Games like Monopoly, Life, and more are fun for the entire family!
Even a deck of cards can provide hours of entertainment and are super small and easy to store.
Check out the The Best Board Games for Learning!
Game boxes
One game box can have up to 15 games in it! You can get checkers, chess, backgammon, and more. A great way to teach kids strategy while having fun. Plus they are relatively small and easy to store!
Large Activity books
Puzzles, coloring books, mazes – these simple activities can provide hours of entertainment! Plus, they don't require any additional setup or storage space; just grab the book and go!
You don't even need to buy one. Use our free printable activity kits and put them in a binder. Just print them out and let them entertain themselves for hours!
Art Supply Kit
From paints and crayons to sketchbooks, art supplies provide hours of creative fun without cluttering up the house. Get one art supply kit and everything can be stored in that one box not all over the place!
Outdoor games
From badminton to volleyball, outdoor games allow kids to experience the joys of physical activity without taking up too much space in the house.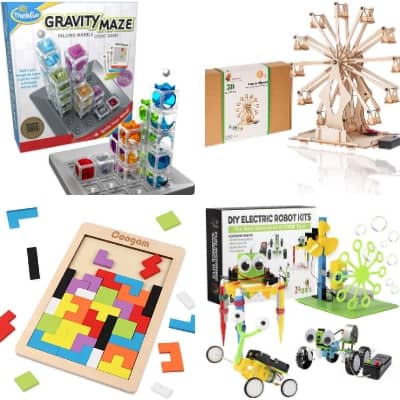 STEM toys
Kids can have fun and learn something new with these educational toys that don't take up a lot of space. Not too mention they are so much fun.
Gardening supplies
Got a garden? Get your child interested in growing plants by providing them with all the tools they need to help outside!
Sports equipment
From bikes to basketballs, sports equipment can give kids the chance to stay active without cluttering up their bedroom.
No matter what your budget is, these awesome clutter free gifts for kids can help make any special occasion memorable. Get creative and find something unique – it's sure to put a smile on their face!