As easter approaches you may be wondering how to entertain the kiddos. Teenagers can be difficult to get involved in Easter sometimes. This Easter, lure them into participating with variety of fun activities that will keep them entertained and lasting memories.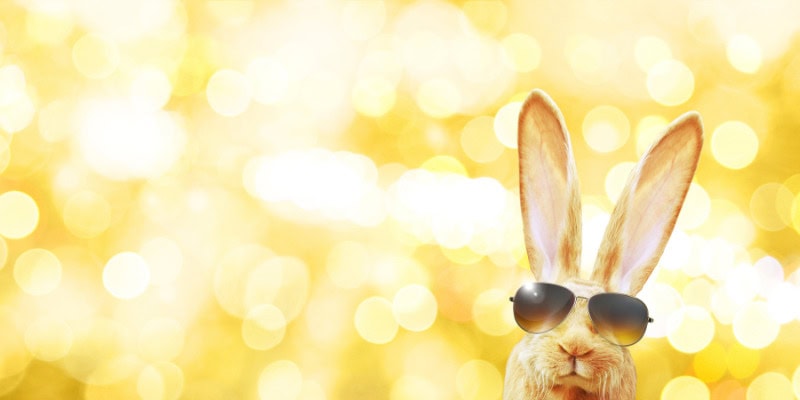 Easter Fun for Teens
From a traditional easter egg hunt to outdoor games like a treasure hunt, there are plenty of activities that teens can take part in for the holiday and have a good time.
Teens can host their own fun easter party with little kids and friends complete with the easter bunny if you have a costume! They can fill brightly colored plastic easter eggs with candy, sweet treats, or small trinkets as prizes. Teens can also get creative and decorate Easter eggs with a range of methods like tissue paper, food coloring, glitter glue, sequins, feathers and more!
Make sure to check out your local area for special events too. Many areas offer educational events where teens can learn about the history of Easter and its traditional customs as well as nearby festivals that kids may enjoy attending.
With a little preparation, planning and creativity you'll be able to find something great for your teen this Easter season! Here are some tips to help you get started….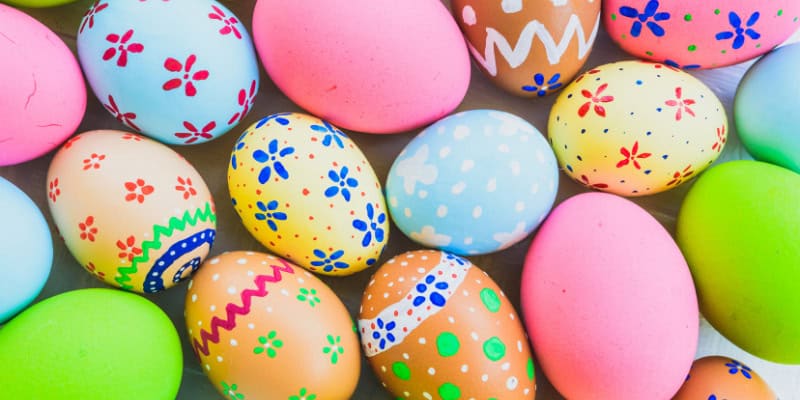 Unique Easter Egg Decoring Ideas
Elevate your Easter celebrations this year with these unique and creative Easter egg decoring ideas! With some basic supplies and a little bit of imagination, even a novice decorator can transform plain hard boiled eggs into works of art.
From polka-dotted creations to hand-painted masterpieces, these unique Easter egg decorating ideas are sure to help you create a sensational holiday spread perfect for any gathering.
1. Decorate real eggs with natural materials such as flower petals, leaves, and vegetables like radishes or beets to create beautiful tie-dye designs.
2. Paint intricate designs on the eggshells with a variety of colors and patterns for a special touch.
3. Use stickers or alphabet letter stamps to spell out messages or make monograms for each egg.
4. Get creative by wrapping pieces of yarn around the eggs in various colors to make stripes, polka dots, and more!
5. Create a marbled look by dropping drops of food-safe dye into warm water with detergent and swirling it around before placing an egg in the mixture.
6. Soak fabric scraps in vinegar-water dye to produce a unique color scheme that can be used to cover each egg in unique patterns of your own design.
7. Glue different colored sequins onto eggs for a fun shimmery effect that will brighten up any room or Easter basket!
8. For a classic look, transform plain white eggs into Ukrainian-style pysanky using hot wax and dyes in traditional symbols and images from folklore stories.
9. Cut up pieces of colorful tissue paper and glue them onto eggs to create a beautiful mosaic design.
10. For an extra special touch, use gold leaf or glitter to give the eggs a luxurious shine!
11. Mix together your favorite food dye with shaving cream for a unique marbling effect on the eggs that will add an interesting texture as well.
12. Use markers and crayons to draw fun images and characters on each egg for a playful twist on traditional Easter-themed decorations!
13. Wrap wire around eggs in different shapes to create tiny sculptures out of the ordinary egg shape.
14. Cover some eggshells with felt fabric, ribbons, yarn, and other craft materials to create your own unique designs.
15. Create different miniature scenes with tiny figurines, mini houses, and other small objects that can be glued onto the eggs.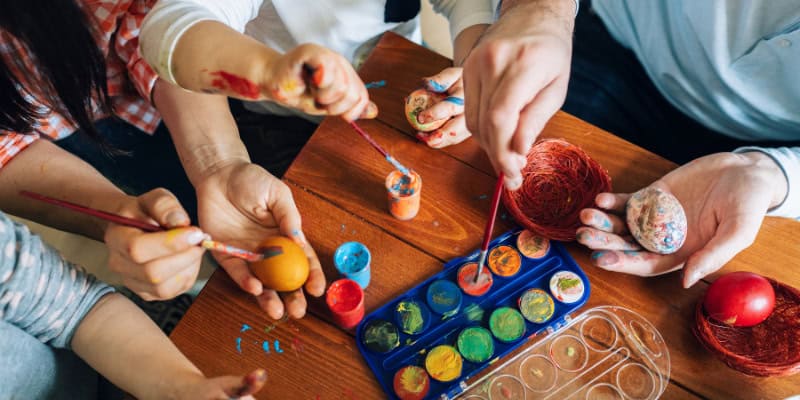 16. Use old fabric scraps and lace trims to wrap around eggs for a vintage look that is sure to impress.
17. Make simple patterns or pictures by gluing pieces of pasta or beans onto the eggshells for an easy way to add texture and dimension to each egg.
18. Fill baskets with dyed eggs, giving everyone their own colored basket of goodies!
19. Thread beads on fishing line and tie them around eggs for a fun patterned effect that will stand out among all the other decorations.
20. Try using hot glue, food coloring, and shaving cream to make unique patterns on the eggs that look like stained glass!
21. Arrange dyed eggs in various shapes such as a heart or a star for an eye-catching display.
22. Use old buttons and fabric scraps to create faces or animals on the eggs for a playful touch.
23. Cover some of your eggs with metallic spray paint for a glossy finish that will brighten up any room!
24. Make Easter egg characters by gluing fun materials like googly eyes, felt ears, and ribbons onto each egg for an extra special decoration.
25. Create 3D effects on your eggs by drawing with oil or acrylic paints in freehand designs or using stencils.
26. Use markers, paint, and colored pencils to draw intricate patterns on the eggs that will stand out in any display.
27. Embellish your eggs with rhinestones, buttons, and other decorations for a fun look that will wow any onlooker.
28. Glue small pieces of fabric onto the eggshells to create a patchwork quilt effect that will be sure to turn heads!
29. Make personalized Easter ornaments by writing each person's name on an egg with markers or glitter glue.
30. Add fun touches like feathers, buttons, ribbons, and more to give each egg character!
Unique Egg Hunt Ideas & Easter Games
Easter egg hunts for teens can be a fun and exciting way to celebrate the holiday. Here are some ideas for making your Easter egg hunt special and memorable:
Don't forget oversized outdoor games like giant jenga or cornhole are perfect activities for teens to have an entertaining day outdoors. Other outdoor games such as flag football, badminton or even ladder ball are fun alternatives that require little setup and bring plenty of competition.
Puzzle Egg Hunt
If you're running low on candy or are just looking for a simple way to cut out the sweets, use your plastic eggs to have puzzle pieces inside instead. Once the kiddos find all the eggs, they can then crack them open to put together to the puzzle pieces to form the puzzle.
Then, once they complete that, they can exchange their hard work for a larger prize or more easter candy!
Scavenger Egg Hunt
Scavenger hunts are the best! Think up some fun clues to hide inside each egg and then make certain that the kids find the eggs in order. Each egg will have a clue that will unlock the next clue until it leads them to the end where there will be a treasure chest or a basket full of Easter goodies.
Get the Golden Ticket
Think of this like the Willy Wonka for Easter. Fill the Easter Eggs with candies or chocolate but make certain to let the children know that there is one egg that has a golden ticket.
The "big" prize for the person who finds the Golden Ticket is up to you but it could be a big chocolate bunny, some extra screen time for the day or even a little bit of money for them to spend later.
Flashlight Egg Hunt
Having an Easter Egg hunt by flashlight is always fun. And this can actually be done in a couple of different ways. Have the largest room in your house filled full of brightly colored eggs, and turn off the lights and let them find the eggs by flashlights.
Or, head out the door and leave your Easter Egg hunt until it's dark outside. Give each child a flashlight and then let run around outside and get some exercise and fresh air at the same time.
"Change it Up" Egg Hunt
Instead of filling up the Easter Eggs with candy, fill them up with some change instead. The kids will love to run around and pick up the eggs and as they're cracking them open, use it as a way to help them count and learn about money, too.
Hide quarters, dimes, pennies, and nickles inside the eggs and see who ends up with the most money. Plus, they'll have a blast adding it to their piggy banks as well.
Make It a Team Sport
Incorporate some friendly competition into your hunt by making it a team sport or having teams compete against each other to see who finds the most eggs in the shortest amount of time.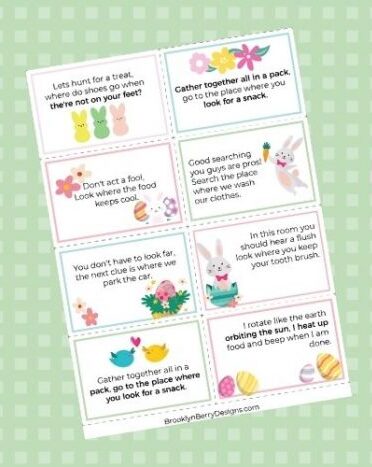 Free Printable Easter Scavenger Hunt
Looking for a free printable Easter scavenger hunt already planned for you? This indoor game will make searching for Easter baskets (or just a prize) way more fun!
Easter Egg Fillers for Teens
Teens love treats! Filling Easter eggs with goodies is one of the most popular activities during this holiday season so why not up your game to make it more fun for them!
You could do an Easter Scavenger Hunt for eggs to make it even more fun!
Here are some creative easter egg hunt ideas on how to make your Easter egg hunt fun and exciting for teenagers.
You can fill the plastic eggs with small novelty items like fun erasers, temporary tattoos and even candy jewelry! Or if they are into sports, toss in some stickers featuring their favorite teams. You can also fill the eggs with beauty products like scented lip balm, eye shadow palettes or even nail polish!
Better yet, have a golden egg and make it the big prize of the day – think remote control drones, tiny video cameras, earbuds and more!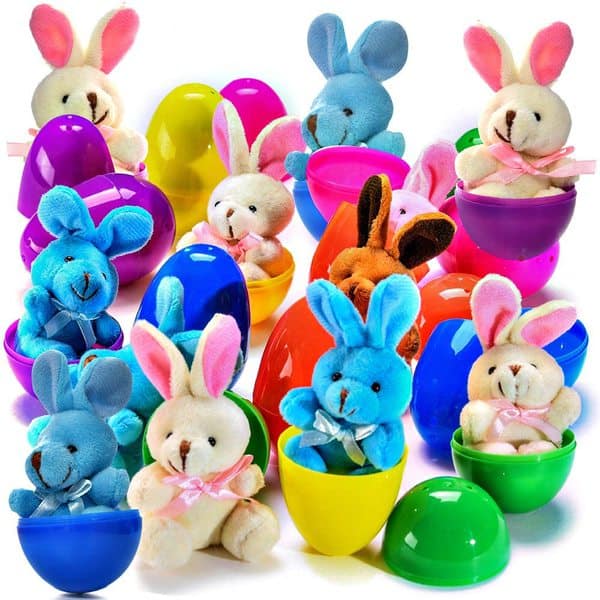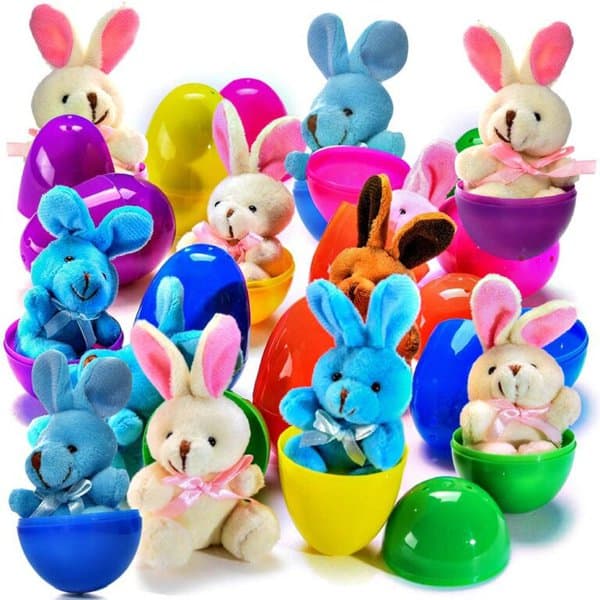 Fun and Unique Easter Egg Stuffers That Aren't Candy
Easter is a time for bunnies, eggs, and candy. But if you're looking for something a little different this year, check out these non candy Easter egg stuffers for kids. So ditch the candy this year and stuff your Easter eggs with something different.
Cheap Easter Egg Filler Ideas
MINI NAIL POLISH
NAIL STICKERS
TRAVEL SIZE HAIR AND
BEAUTY PRODUCTS
ERASERS
PAGE MARKERS
COOL PAPER CLIPS
HOT CHOCOLATE PACKETS
FLAVOR KITS FOR WATER
ESSENTIAL OILS
TEMPORARY TATTOOS
DOLLAR BILLS
RINGS
NECKLACES
EARRINGS
BRACELETS
MILITARY DOG TAGS
SCRUNCHIES
HAIR TIES
CLIP-IN EXTENSIONS
HEADBANDS
COLORFUL SHOELACES
KEYCHAINS
LANYARDS
STICKERS
CANDY
LOTTO TICKETS
KEY CHAIN
LIP GLOSS
EYE SHADOWS
MAKEUP SPONGES
LIP BALMS
GUITAR PICKS
EARBUDS
MONEY
MOVIE TICKETS
GIFT CARDS
Easter Basket Ideas for Teens
One of most favorite easter traditions is Easter baskets. When it comes to the classic Easter basket stuffers, there are so many options to choose from. For a teen's easter basket, there are even more exciting choices that will make them feel special on this holiday. Here is a list of items that are great alternatives to traditional gifts…
1. Craft supplies: Including markers, colored pencils, beads, and a glue gun – perfect for making Easter crafts!
2. Great Game: Board games like Monopoly and classic card games are sure to be popular gifts.
3. Books: Pick up a few of your tween's favorite novels or age-appropriate magazines for them to enjoy during their time off from school.
4. Movies: Include some movies they've wanted to watch, plus popcorn and candy for the full movie night experience at home.
5. Electronics: Consider gifting a tablet or smartphone so they can stay connected with friends while social distancing is in effect.
6. Art supplies: A canvas, paints, and brushes will give them plenty to do over the Easter break.
7. Music player: Whether it's a portable Bluetooth speaker or headphones, your tween will love having their own music playing device.
8. Outdoor activities: Get them outside with a frisbee, soccer ball, basketball hoop, or skateboard — whatever they're into!
9. School supplies: Stock up on pencils, pens, notebooks and other school essentials that they may need for upcoming classes.
10. Jewelry making kit: Inspire their creative side with a jewelry making set complete with charms and beads of all colors and shapes!
11. Science kit: Excite their curiosity with an educational science experiment set that they can use to explore the world around them.
12. Cooking supplies: A new apron, cookbook, and some kitchen gadgets like an egg-shaped timer will help cultivate their cooking skills.
13. Robotics kit: Get them started in robotics with a beginner's kit complete with wheels and sensors — perfect for tech-savvy tweens!
14. Bath products: Surprise them with bubble bath, body wash, and other fun toiletries that will make them feel pampered after a long day of school or work.
15. Gardening tools: Give your tween the chance to get their hands dirty with their own gardening set, including a trowel and gloves.
16. Chocolate bunnies: Who doesn't love chocolate? Include some of their favorite treats in their basket to make them smile! Even better get them bunnies or eggs!
17. Organizing products: Help them keep their room clean with organizational bins and storage boxes for all their stuff.
18. Science-themed toys: An atom model kit, telescope, or microscope will bring out the inner scientist in your tween.
19. Makeup: Let your tween experiment with makeup but don't forget to include brushes to apply it properly! Not ready for that? Lip balm!
20. Accessories: A stylish hat, sunglasses, a new wallet or purse – these accessories will make them look and feel great!
21. Gift cards: Whether it's for their favorite stores or restaurants, gift cards are always appreciated!
22. Self-care items: Include some relaxing scented candles, a bath bomb or two, and other items they can use to unwind after a long day.
23. Hair accessories: A new brush, hair ties, clips or barrettes – these will help keep your tween's hair looking on point all the time!
24. Gadgets: The latest tech gadgets such as headphones or video games make perfect Easter gifts for tech-loving tweens.
25. Fashionable clothing: Get them interested in fashion with new shirts, shorts, skirts, or shoes – whatever suits their style!
No matter what you choose for your tween's Easter basket, they are sure to be delighted with the thoughtful gifts you have chosen for them.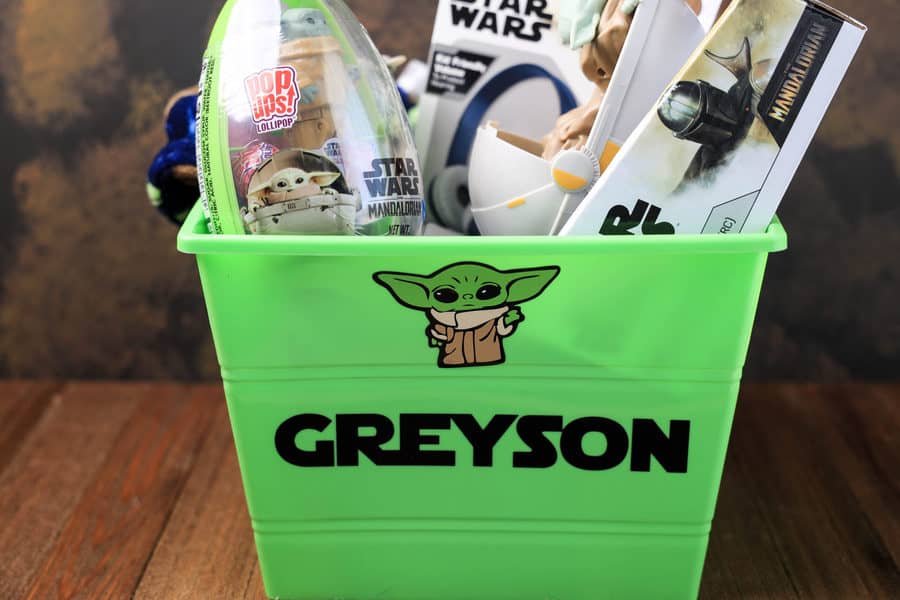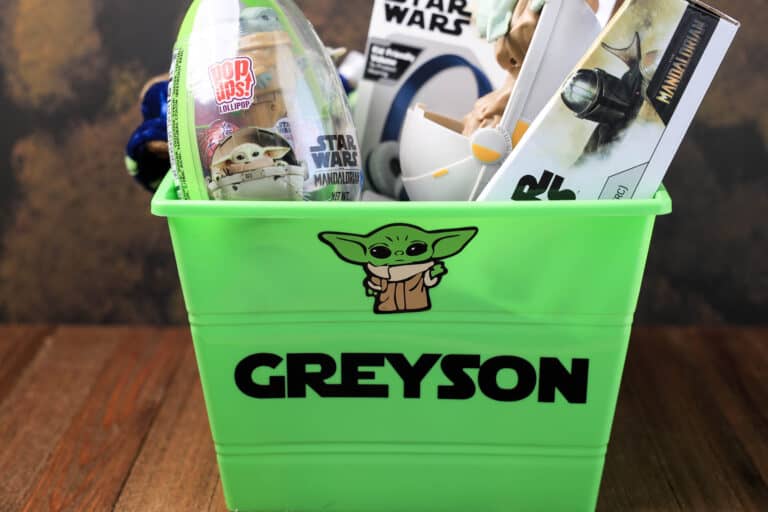 Baby Yoda Easter Basket
If you're looking to put together the perfect Easter basket for a Star Wars fan, look no further than Baby Yoda! This cute little character has taken over the world since making his debut in The Mandalorian and fans everywhere have gone wild.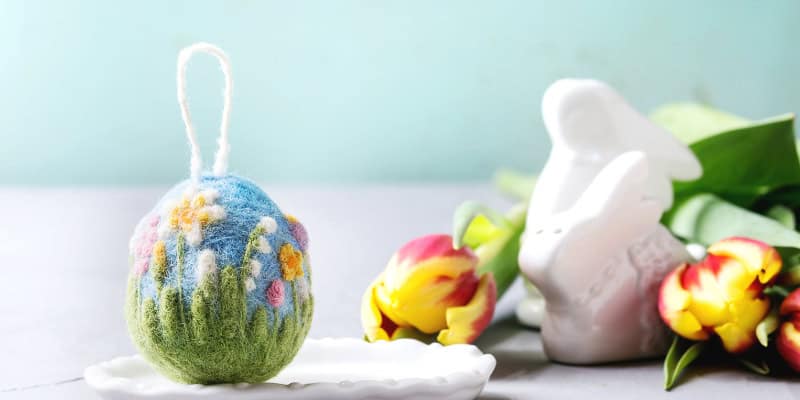 Easter Crafts for Teens
Teens can get into the spirit of the holiday by creating fun crafts like homemade cards, painted eggs, cross decorations, and bunny-themed decorations. These Easter craft ideas for teens are fun to make and can add a touch of creativity to any home on Easter morning.
1. DIY Cross Necklace: Gather a few beads, string, and a cross charm to create this meaningful piece of jewelry.
2. Paint Eggshells: Get creative with acrylic paints and turn empty egg shells into unique decorations or gifts!
3. Easter Basket Design Challenge: Let teens work together to come up with the most innovative Easter basket designs they can think of using recycled materials.
4. Religious Artwork: Teens can express their faith by creating art inspired by religious themes such as Jesus' resurrection or the crucifixion.
5. Papier-Mâché Eggs: Craft an impressive papier-mâché egg in any size and color, and let teens use it as a centerpiece or decoration.
6. Easter Wreaths: Gather twig wreaths, ribbons, flowers, eggs, and other decorations to create colorful seasonal door wreaths that can brighten up any home.
7. Knit Bunny Ears: This fun project is perfect for teens who know how to knit! They can make cute bunny ears with yarn and felt to dress up in for Easter Sunday.
8. Resurrection Roll Snack: Teens can get creative in the kitchen by making this special sweet treat for Easter Sunday. Use Marshmallow Peeps®, crescent rolls, butter and cinnamon sugar for a yummy snack!
9. Easter Card Making: Gather paper, markers, stickers, and other crafting supplies to craft one-of-a-kind cards for friends and family.
10. Plant a Garden: Get ready for spring by planting flowers or herbs in an outdoor garden space. Encourage teens to be responsible for their own mini gardens!
11. Decorate Easter Eggs with Stickers: If teens are looking for an easy way to decorate eggs without messy dye, they can use some of the cool egg stickers on the market.
12. Paint Ceramic Pieces: Have teens pick out their favorite ceramic pieces like figurines or plates and use paints to create meaningful Easter decorations that will last forever.
13. Bunny Ears Headband: Make a headband out of felt for teens to wear on Easter Sunday! All they need is felt, elastic string, and some fabric glue.
14. Decoupage Easter Eggs: A great way to decorate eggs without the mess of dye! Gather construction paper and modge podge to create unique eggs that can be hung as decorations or gifted.
15. Easter Word Search Challenge: Create a word search with Easter-related words and challenge your group of teens to see who can find the most words first!