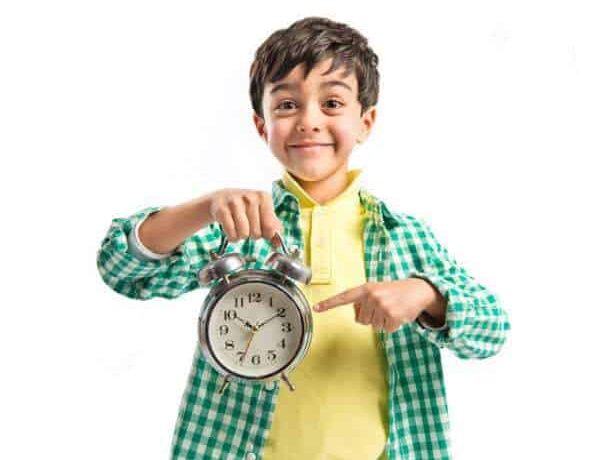 The end of last school year was rough, getting the kid out the door everyday ON TIME was a chore. I have vowed to improve this for next year!
Learning about the importance of time is one of those life-lessons that is crucial for each and every one of us. Without a good approach to time-management, it's almost impossible to structure our days and feel as though we ever get anything accomplished or completed. When it comes to your kids learning to be on time, it's even more important to start helping them understand the importance at a young age. The earlier that they can learn skills about being on time, the better. While some children may pick up the concept quite quickly, other's may need a little more help and guidance. The use of tools to help teach your kids to be on time is a great way to help them visualize and start in on a routine.
Tools to help your kids be on time
Alarm clock. The list couldn't be started without having the good old classic alarm clock as the first tool to use. It's simple and basic. And while it may not have the functionality to help your child continue to be on time throughout the duration of their day, it can help to wake them up effectively in the morning to make certain that their day starts off on time to continue that path throughout the rest of the remaining hours.
Buy them a planner. Keep in mind that each and every one of us functions and learn differently. Some need a visual reminder to be on time, while others may remember more when actually getting to write out their daily schedule with pen and paper. Not only is a planner a great way to teach your kids to be on time, but it also helps them to start working through the process of learning organization and time-management as well. Find a planner that breaks down the daily tasks by the hour, and let them fill in their own schedule to see if that can help motivate them to be on time.
Use Alexa for help. If your family loves Amazon and the help of Alexa, use that to your advantage. Alexa can help to verbally remind of appointments for each separate member of your family. Think about the advantages that come along with having another voice help to remind your child about tasks and staying on time for the day. It's a great way to hold them accountable while also ensuring that they have their schedule figured out and managed for the day, week and month as well.
Download apps to help them set routines. One app to consider that is great for helping your child stay on time is the Happy Kids Timer App. Not only does it come with a free download option, it's really user-friendly as well. If you struggle with having your kids get out the door on time, then this is the app that you need to consider. Not only is a resource to use to instill a routine and time-management skills, but the app does so by using a game feature to help your kids stay intrigued and learning. While this app may be more geared towards the younger child, it's still an amazing tool to help them learn.
Finding ways to teach your child to be on time doesn't have to be overly difficult. First and foremost, understanding how your child learns and retains information is important. If they are visual learners, then that needs to be taken into consideration when trying to teach them certain life-skills.
The suggestions above are a few great options to help give them the tools to learn to start being on time. The more that you work with them and express the importance of staying on time, the better. And after they get used to a routine that works for them, it will transition into a habit which in the end takes even less effort on their part because it's something that they are already used to and accustomed to doing.