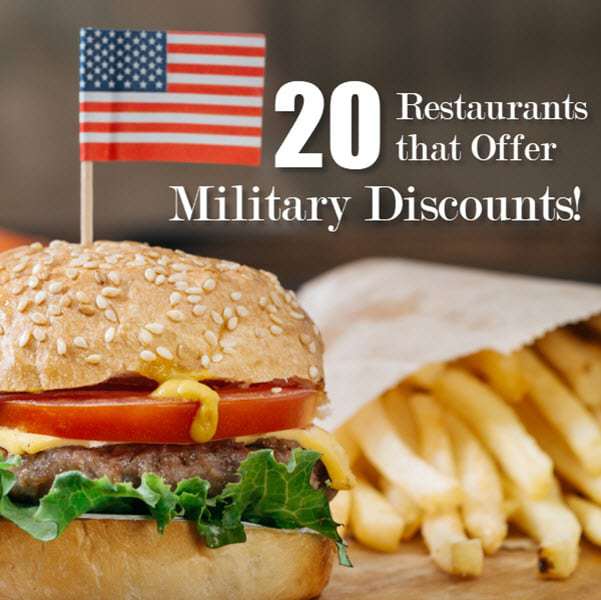 There are lots of benefits available for the military, not only government programs but discounts at local establishments as well. You just need to know where to go!
Normally you just a copy of a ID card or your DD214 will suffice. Hubby keeps a photo of his on his phone – works great!
Here is our list of Restaurants That Offer Military Discounts. The discounts can very at LOT by location so keep an eye out for signs or ask about them before ordering. If you know of any others, please leave a comment!
Applebee's: 10 percent off except for their 2 for $20 specials. Some locations do have a Military Monday special which is 30 percent off on Mondays only.
Backyard Burgers: Possible 20% off with a valid military ID.
Boston Market: 20 percent off your chicken meal at participating locations with a valid military ID.
Cracker Barrel:  Possible 20-30 percent off with your military ID. This includes store items as well!
Chuck E. Cheese: They offer a special deals for military. Choose from: The Alpha– 1 large one-topping pizza, four drinks, and 45 tokens for $28.99 ($40 value)– or the Bravo–two large one-topping pizzas, four drinks, and 100 tokens for $46.99 ($69 value). Offers valid with any military ID or CAC card.
Dairy Queen: Possible 50 percent off for military in uniform.
Del Taco: Possible 50 percent off at select locations.
Denny's: Possible 10 or 20 percent discount depending on the location.
Golden Corral: Possible 10-20 percent off your buffet meal with your military ID depending on location
Hard Rock Cafe: Discount varies by location. For example, Hard Rock Cafe San Diego offers 15 percent off food and non-alcoholic beverages with a valid military ID.
Johnny Rockets: 10 percent off for those with your military ID. Some restaurants offer 50 percent off if you are in uniform.
IHOP: 20 percent with a valid military ID depending on location.
Lone Star Steakhouse: On Mondays get 20 percent off and 10 percent off every other day of the week with a valid military ID.
Paper Murphy's Pizza: At certain locations, you can get 50 percent off of your take and bake pizza.
Ruby Tuesday's: 10 percent off in select locations.
Schlotzsky's Deli: Possible 10-30 percent off of your meal, depending on location.
Shoney's: 15 percent off to military with a valid ID at participating locations.
Texas Roadhouse: 10 percent off your meal with a valid military ID.
The Melting Pot: This fondue restaurant sometimes offers a 50 percent discount a few times a year. They usually offer the discount for a week at a time.
Ask about military discounts at some of your favorite local restaurants. Often they will offer a discount, especially if you are in a military town!