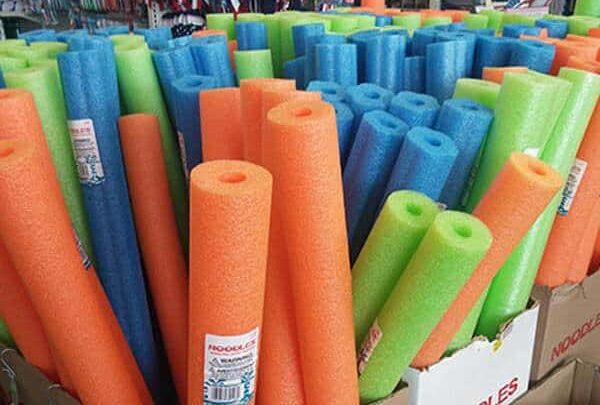 Parents all over the world may have a slight obsession with all the awesome toy options that can be found at the dollar store. While it may be tempting to look elsewhere for toy options, it's hard to beat the value of finding some really great summer fun toys for only $1 each. Not only do their options change frequently, but it's a great budget-friendly way to incorporate some new and fun toys for your child to play with. If you are looking for a few dollar store hacks for summer fun toys, here are some ideas to consider for your little ones.
Dollar Store Hacks for Summer Fun Toys
Buy up those pool noodles! While every child loves the use of pool noodles in the pool, there are a ton of other fun ways to use them during play as well. Poke holes in them and attach to your hose creating an instant sprinkler system for your little ones to run around and play with. Another great way to use pool noodles is to let them have "safe" sword fights outside in the yard. With each child having a noodle, they can battle away with the worry of getting hurt.
Purchase baskets for each child and let them fill them at the store. With everything being a dollar or less at the dollar store, grab a couple of small baskets and let your kids fill them with the toys that they are wanting to purchase for the summer. Not only will they have their own baskets to keep everything in, they will love the fact that they are getting to make choices of what toys that they will get to use each and every day. You'll have a blast as well seeing exactly what their choices are. The best part is that with each basket being their's, it's a breeze for cleanup as well.
Hula hoops are awesome dollar store toys to buy. While your child may be just fine with hula-hooping the day away, think outside the box a bit as well for other games and ways that they can use those hula-hoops. Let them see who can roll the hula-hoop further without it falling over, or have them play a game of "Ring Toss" by tossing those hula-hoops and trying to ring around a tree stump or a bucket full of water. If you feel really creative and have a pan big enough, see if you can make your own bubble mixture and have your kids use the hula-hoop as a giant bubble wand. While it may or may not work, it's definitely a fun experiment worth trying.
Buy up paint and have fun painting rocks. One of the coolest crafts to try this summer is to buy up some paint at the dollar store and let your kids have fun painting fun things on rocks. Then, once they are dried, have fun taking them and hiding them around town for others to find. It's a great way to add some cheer and bring an unexpected surprise to others.
When it comes to finding out some fun dollar stores hacks for options for summer fun toys, there are seriously a ton of different ideas and combinations out there. The next time that you go shopping at your local dollar store, take your time and really explore everything that they have to offer. You'll be amazed at just how easy it is to grab a few fun items that will turn into hours and hours of playtime for your child. They'll love the fact that you have found fun and unique options for them to play with during the summer and you'll love the fact that they are being active and using their imagination as well.
More Summer Toy Options: