Fortnite is one of the most popular video games around, and it's no surprise that many kids would love to get Fortnite gifts. If you aren't sure what to get, don't worry we have compiled a HUGE list of gift ideas to help you find the perfect gift!
Asking Yourself…What is Fortnite?
Fortnite video game is a free-to-play battle royale game developed and published by Epic Games. It was released in 2017 and has since become one of the most popular video games worldwide, with more than 350 million players to date.
The game can be played on nintendo switch, playstation 4, xbox one, pc, mac, and mobile devices. You will want to find out what they are playing on before buying any gifts!
What age is appropriate for Fortnite?
Fortnite is rated T for Teen so it's suitable for most players aged 13 and up. It is common for parents to let kids younger than that play too. You know your kid, use your judgement!
If you are buying a gift for someone elses kid, make sure to ask them first!
Why do kids like Fortnite so much?
Fortnite is a highly entertaining game that engages players in endless hours of intense battle, creative building and strategic play.
Kids also enjoy the game's cartoonish art style, colorful characters and constant updates that keep them coming back for more. We have loved playing with our kids – it can be a ton of fun!
How do I choose the right Fortnite gift?
When shopping for your perfect Fortnite gift, think about what kind of item would be useful or enjoyable to the person you are buying it for.
Do they need new gaming gear? Are they looking to spruce up their avatar with some stylish outfits or accessories? Or do they love collecting memorabilia from their favorite games?
Think about these questions when making your selection!
What do you get someone who loves Fortnite?
Use our Fortnite Gift Guide to help you find the perfect gift. Whether you are looking for gaming accessories, clothing, collectibles or anything else related to the game – this guide has you covered!
We've included something for every Fortnite fan in our guide. From t-shirts to figurines, your loved one is sure to appreciate a thoughtful and relevant present that celebrates their favorite game!
Fortnite Gift Ideas
If you're looking for the best Fortnite gifts for your loved ones, here are some ideas: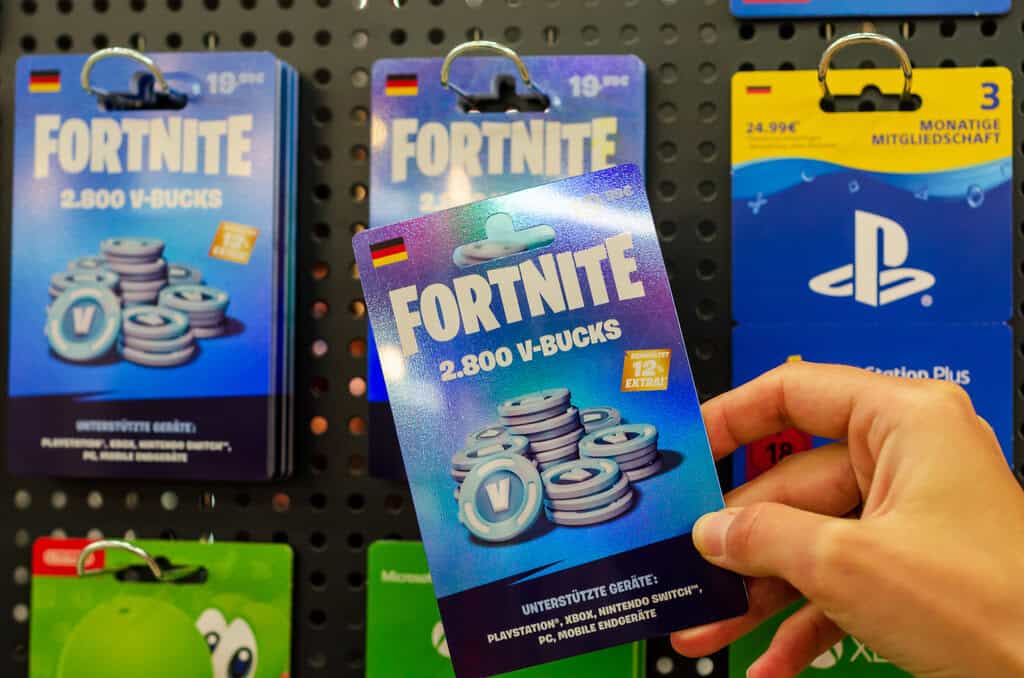 V Bucks:
V Bucks are an amazing fortnite gift idea. They are the in-game currency for Fortnite that can be used to buy costumes, new characters, or other items in the game. Players LOVE V-Bucks!
A Fortnite themed t-shirt: There are hundreds of cool Fortnite shirts, some showing favorite characters, some for V-Bucks, and some about battle royal. There is sure to be something for everyone.

Fortnite Backpack:
A perfect great gift for any Fortnite enthusiast, a backpack featuring the game's logo and characters will make it easy to take their gaming gear on the go. Great for school or gaming tournaments!
Fortnite Lunchbox:
Keep your Fortnite fan hydrated and energized with this Fortnite themed lunchbox and water bottle. Perfect for school or gaming days, it's sure to be a hit!
Fortnite Shirt
T-shirts with Fortnite designs are always a great gift. Whether they're looking for a shirt featuring their favorite characters or just something to show off their love of the game, there's bound to be something that will fit their style.
Fortnite School Supplies:
Fortnite themed school supplies are the perfect way to show off your love for the game. From pencils and markers to backpacks and folders, there's plenty of options that will make their classmates jealous.
Fortnite Themed Console:
This would be the ultimate gift for a hardcore fan! The limited edition Fortnite console is the perfect addition to any gamer's setup and comes with exclusive in-game content.
Fortnite Collectibles:
There are tons of collectibles available for Fortnite, including pop figures, action figures, keychains and more. These make great gifts for any Fortnite fan!
Fortnite Action Figures:
From action figures to keychains and pins, there are many different collectible items you can buy as gifts for a Fortnite fan. These would make a great stocking stuffer!
Fornite Baseball Caps:
For the ultimate Fortnite fan, nothing is better than a baseball cap with their favorite character or logo.
Fortnite Phone Case:
You can get your Fortnite fan a phone case featuring the game's logo or characters. It's a great way to show off their love of the game.
Fortnite USB Drive:
A perfect gift for any gamer, this USB drive is designed to look like a loot drop from the game and can be used to store important documents or games.
Fortnite Funko Pop! Figures:
These cute little figures feature characters from the game and make great gifts for any Fortnite fan. They look great displayed on a shelf or desk!
Gaming Headset:
A great gift for any gamer is a gaming headset. They will be able to hear all the action of the game and chat with their friends easily.
A Customized Gaming Controller:
Take their gaming experience up a notch with a customized controller inspired by Fortnite. This is great for someone who plays the game on a regular basis and wants to take their gaming experience up a level!
Fortnite Posters:
Whether it's for their bedroom or game room, Fortnite posters make a great gift for any fan of the game.
Fornite Room Decor
If they really want to surround themself with their favorite game, you can get them some Fortnite-themed room decor. From lamps, to rugs, to bedding and more, they'll love having a space that reflects their love of the game.
Loot Llama Lamp
This Loot Llama Lamp is a great gift for boys or girls. You can make it shine with one color or to transition to all the colors if you prefer. It would look great on a bedside table.
Customized Skin:
One of the best ways to show someone you care is through a customized skin in Fortnite. You can create skins with unique designs or choose from existing options online. This is sure to delight any avid fortnite fanatic!
Upgraded Computer Components
If they are playing on a PC, why not upgrade their setup with the latest computer components? This could include a new processor, graphics card, or better RAM. It will make their gaming experience even more immersive!
Fortnite Plush Toy
This is a great gift for any younger Fortnite fans! Plush toys featuring characters from the game are sure to be a hit. They can even take it with them on the go!
Nintendo Switch Gift Card
If they play on the Nintendo Switch, why not get them a gift card to buy more games? It's an easy and convenient way to give them something they'll love.
Fortnite Battle Royale Guidebook:
This is a great gift for anyone who is new to Fortnite or wants some help mastering the battle royale mode. It will give them the insider tips and tricks they need to become a master of the game!
Fortnite Artwork:
For the more artistic fan, why not get them some Fortnite inspired art? This could be a framed print or canvas featuring their favorite characters from the game. It's sure to look great in any room!
Fortnite Monopoly Board Game:
This classic board game has been adapted to feature Fortnite characters and locations. This is a great way for fans of the game to have some fun with their friends.
Fortnite Clothing:
From t-shirts to hoodies, there is a great selection of Fortnite themed clothing that any fan would be thrilled to receive. This is the perfect way for them to show off their love of the game! Just image showing off Fortnite SOCKS!
Fortnite Books:
These books feature stories and artwork inspired by the game. It's an excellent way to introduce a younger fan to the world of Fortnite or entertain someone who is already a fan. For avid readers, there is nothing better than getting lost in a world inspired by their favorite gaming franchise.
Fornite Water Bottle:
This is a great gift for someone who loves to stay hydrated while gaming! It's designed with the game's logo and characters, so they can always have a reminder of their favorite game. They'll love having this accessory by their side while they play Fortnite!
Fortnite Nerf Gun:
Fortnite fans will love having their own Nerf Gun! They can take aim at targets in real life just like they do in the game. It's a great way to get active and have some fun with friends.
Fortnite Gift Card:
If you're not sure what to get them, why not give them a Fortnite gift card? They can use this to purchase V-Bucks or other items in the game.
No matter which gift you choose, your Fortnite fanatic will love it! With these great ideas, you're sure to find something perfect for the fan in your life. Happy shopping!