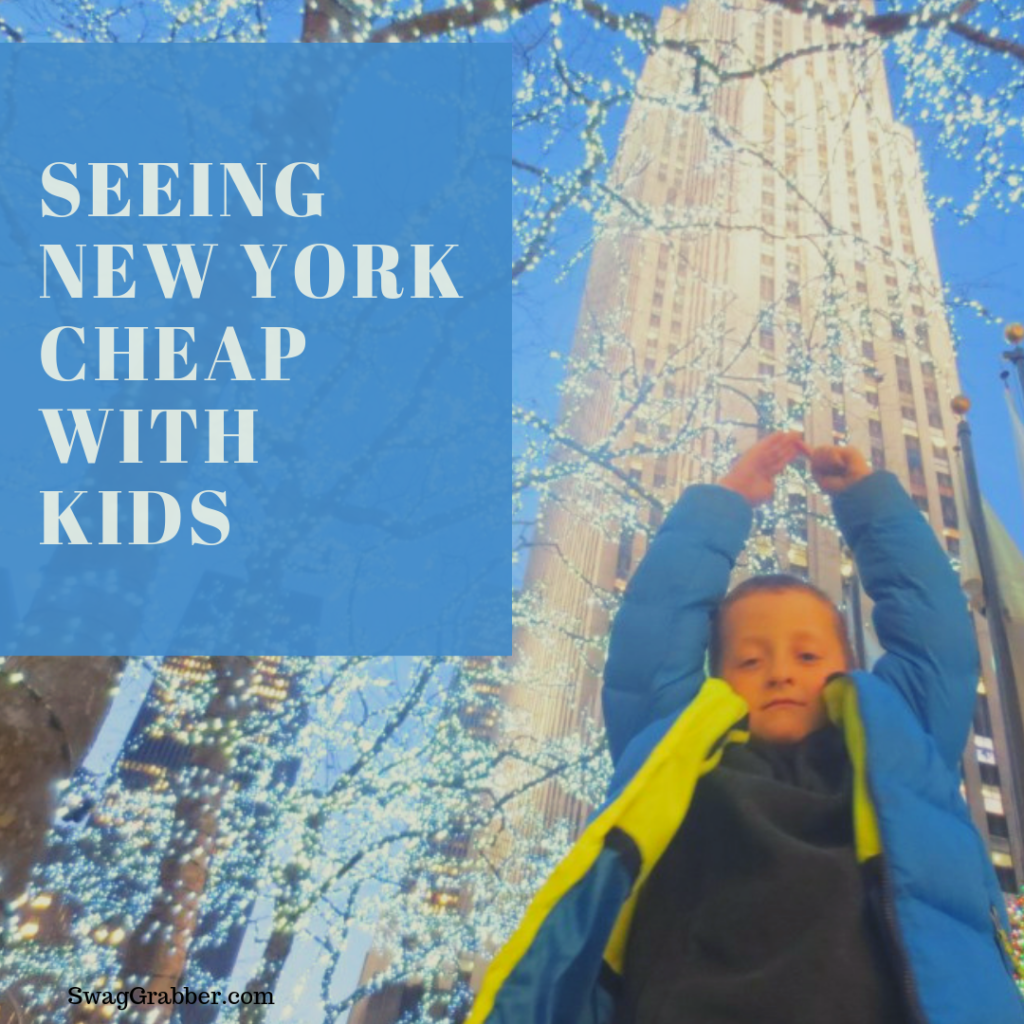 Tips & Tricks to Seeing New York CHEAP w/ Kids
New York is expensive – it is ridiculous how expensive it is. BUT just because it is expensive doesn't mean you have to spend a fortune to see it.
When I was researching our trip I was pretty disappointed as there wasn't a lot written about how to do the city cheap and some real in depth information about doing it with kids. There are actually a lot of things that are FREE to do, or really inexpensive. The trick is to do as many of the free ones as possible and then focus on one or two of the big "memory" items to spend your money on.
Luckily for us, my friends lives there and had lots of great tips for seeing the city cheap – thought I would share a few tips to Seeing New York CHEAP w/ Kids. I would love to hear yours as well so please post a comment if you have any tips!
Traveling in Manhattan without breaking the bank: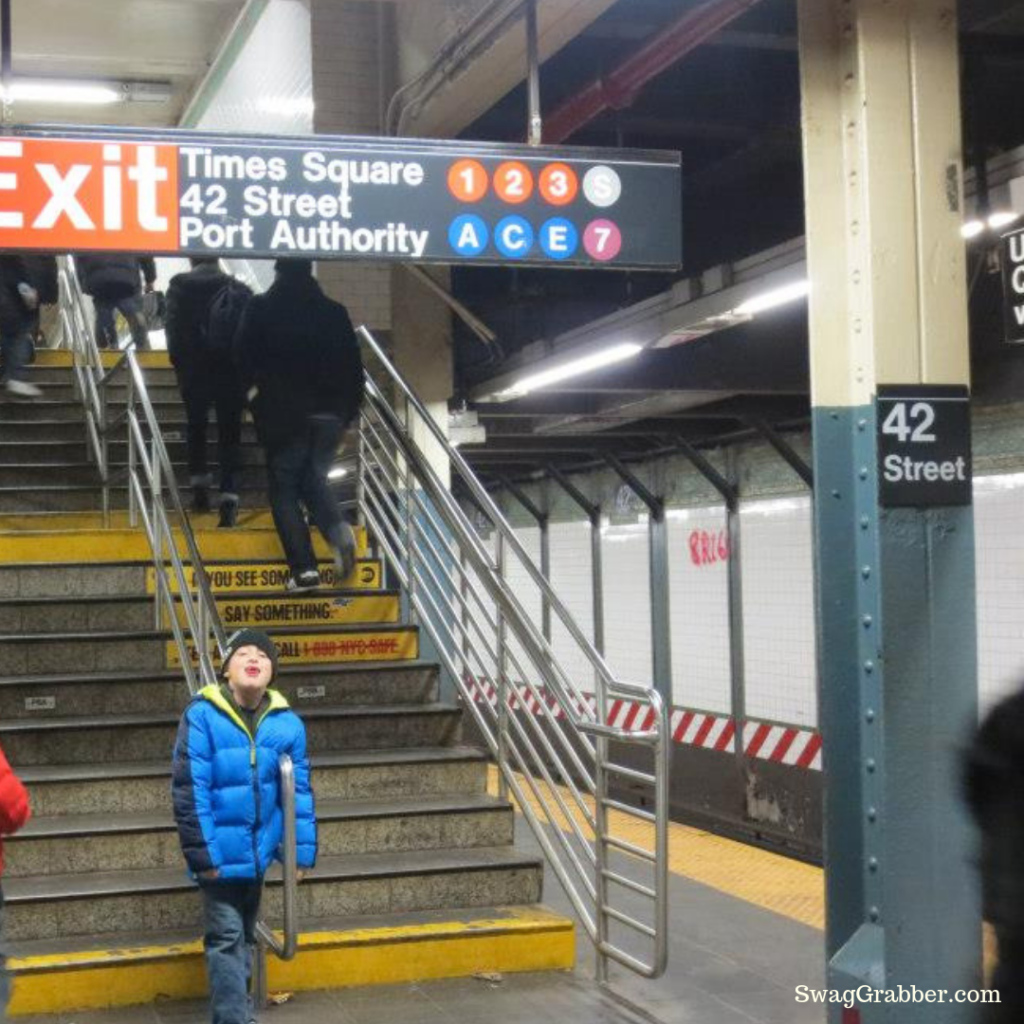 The Subway:
I am torn on recommending the subways to travel. We had fun but I have used them many times in other cities. They are NOT for the faint of heart. The platforms are narrow and the trains speed by – not the safest environment for kids. I would really only recommend using them if you have more adults than children. Good rule of thumb is to teach the kids to stay within the poles. Most have large poles and they are great boundaries for kids.
The subways are however a cheap way to travel (about $2.25 per ride) and the kids love them. BUT make sure to only use them in the daytime if you have children and avoid busy times (before 9am and after 4pm). It was mainly my son and I and we saw the whole city using them…cheap.
Also bring hand sanitizer, it is not the cleanliest place in the world. Honestly we were using hand sanitizer about 10 times a day in NY so make sure to keep a lot handy!
NOTE: Young kids ride free. Just have them go under the turnstile when you get on. I went to go pay for my son and the police officer was like "why are you paying for him"? That right there saved us about $30 this trip!
Cabs:
You can also take cabs. They really aren't that bad and it was great to sit down for a few and save our feet from walking extended distances. Four people, one cab, 10 blocks = $11 (including tip – non peak time). Honestly, totally worth the money in my book just to save our feet from walking another 10 blocks! They do have seat belts but they can be scary. Also I would not recommend this for babies – you will never get a car seat in one.
Buses:
I avoid buses in big cities. Mainly for one reason. They are SLOW….and usually creepy.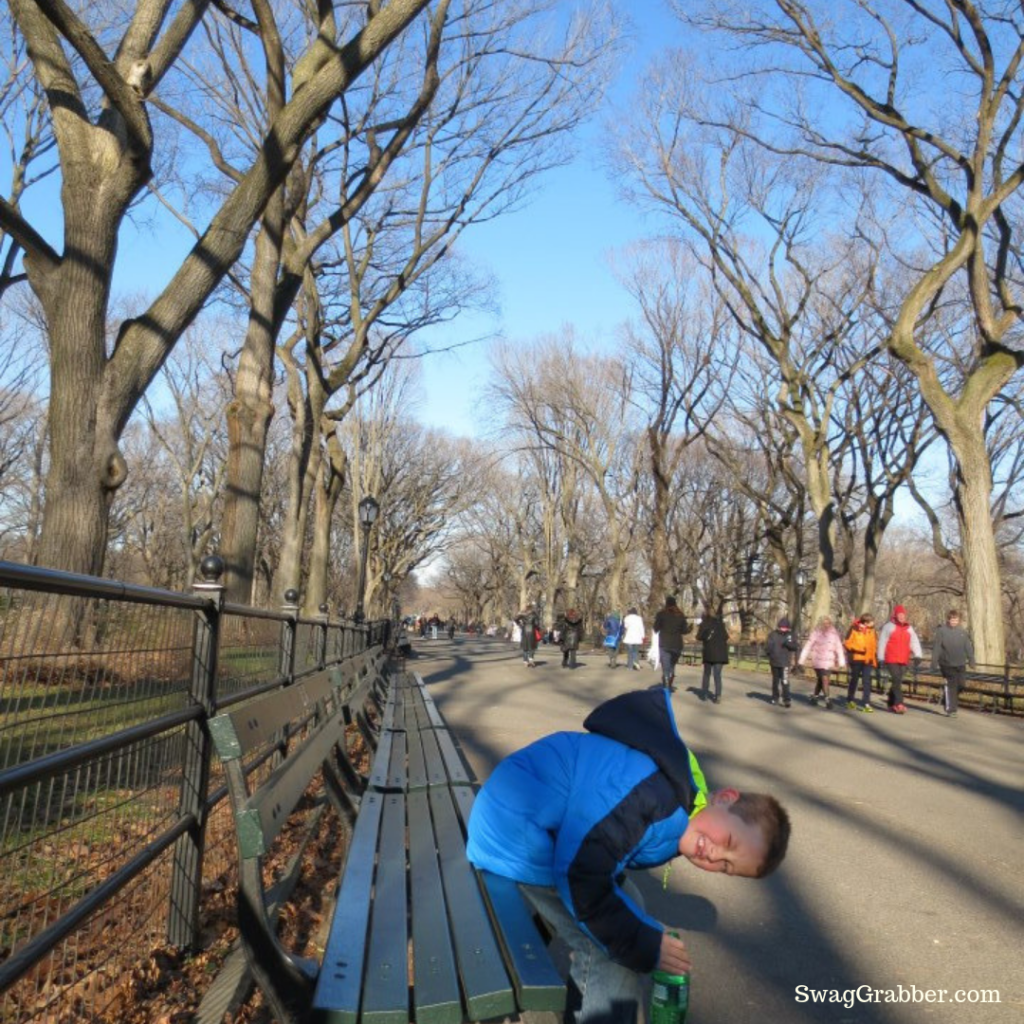 Breaking up your trip to save your feet:
We had three days in the city. To keep us from jumping all over the city I broke the city up into three sections. The first day we did lower Manhattan including the Staten Island Ferry to see the Statue of Liberty, the Financial district (the bull is there!), the World Trade Center, and the lower West side.
The second day we did Central Park – that is an ENTIRE day! Seriously we spent an entire day in in just the lower part of Central Park and never got bored.
The third day we did Times Square, the Empire State Building, Ripley's, and Rockefeller. This kept us busy all day!
Because we broke it up we didn't have to travel much and could walk most of the way once we got to that area. Grab a map of the city and mark the areas you want to see and plan your days once you figure out where you want to go.
New York is a big city with a TON of cool little things you can do. Figure out WHAT to do is the hard part. I picked up a few books before our first trip. My son and I would read them every night to get him excited about the trip and to help me figure out what HE wanted to see. That really helped us map out our plan of attack.
Here are a few options: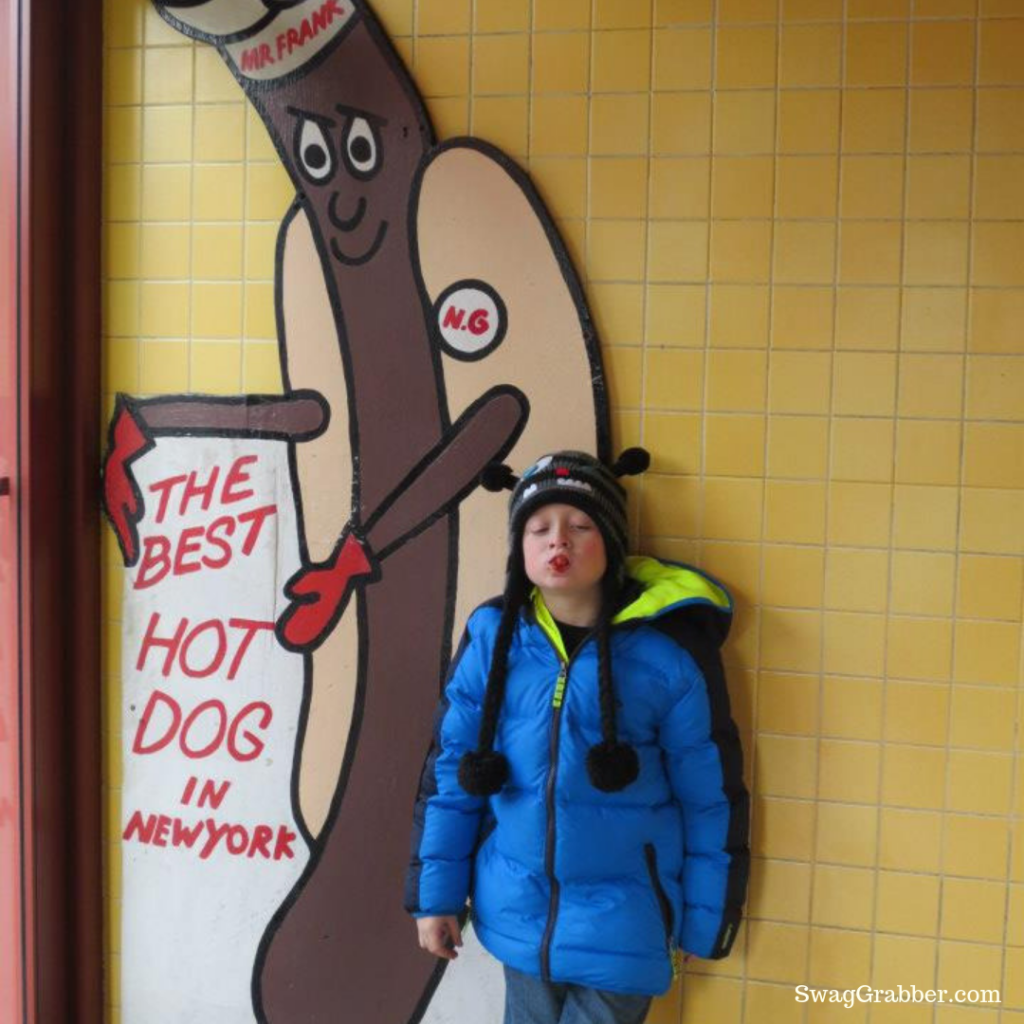 Eating in Manhattan on a Budget:
I get now why hot dogs are always featured in New York – they are cheap!
You can score a hot dog for around $2 from any vendor. We even went to the famous Grays Papaya and they were only a few dollars. This is MUCH better than most of the restaurants there. We walked into several that looked reasonable and they were outrageous. One diner we went in wanted $18 for kids mac and cheese. We left of course…LOL.
Food was kind of an issue for us because we don't really eat fast food and didn't want to spend a lot. So we ate a lot of hot dogs and I brought snacks in my bag along with juice boxes and water. I did occasionally find a small grocery store or vendor that would have fruit or other snacks pretty inexpensive. Basically, I would consider taking everything you want to eat if possible. You can really blow your budget on food there!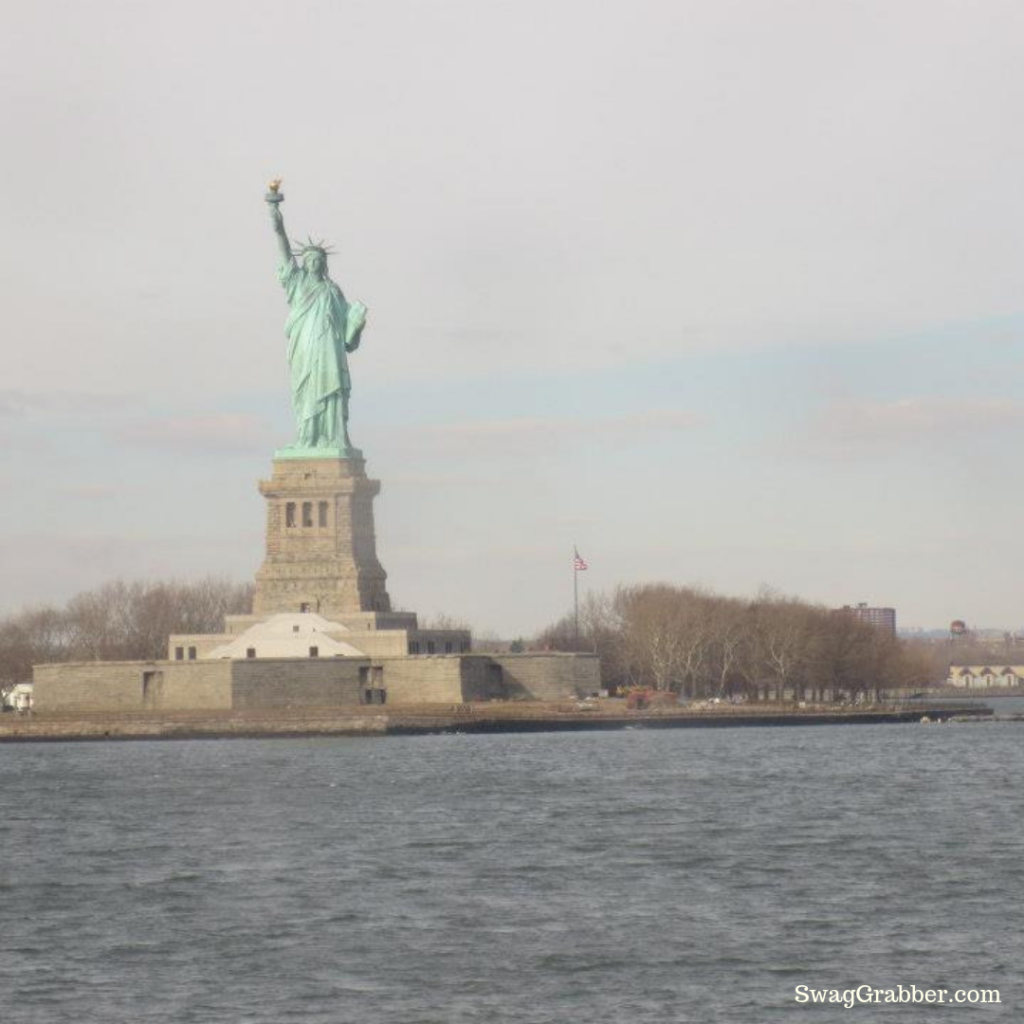 FUN Stuff You Can do Cheap or FREE in New York w/ Kids:
Staten Island Ferry
The Staten Island Ferry is free – which means you can see the Statue of Liberty for free!
The boat leaves every 30 minutes and the port is on the very south side of Manhattan. Make sure to be on the right side of the boat when you are heading to Staten Island. Also try to get an outside position if possible, the windows are scratched and don't make for the best photos. Also the best photo opp is on the way there, the boat is farther away on the way back. This is also quicker than most of the other tours – they can last up to four hours. This is a little over an hour round trip!
Museums
Quite a few of the museums are donation only or offer free admission. We went to The National Museum of American Indians (Financial district near the bull). If you are interested in certain museums, Google them to find out if they offer free days or are always free. A little research can save you a lot of money here!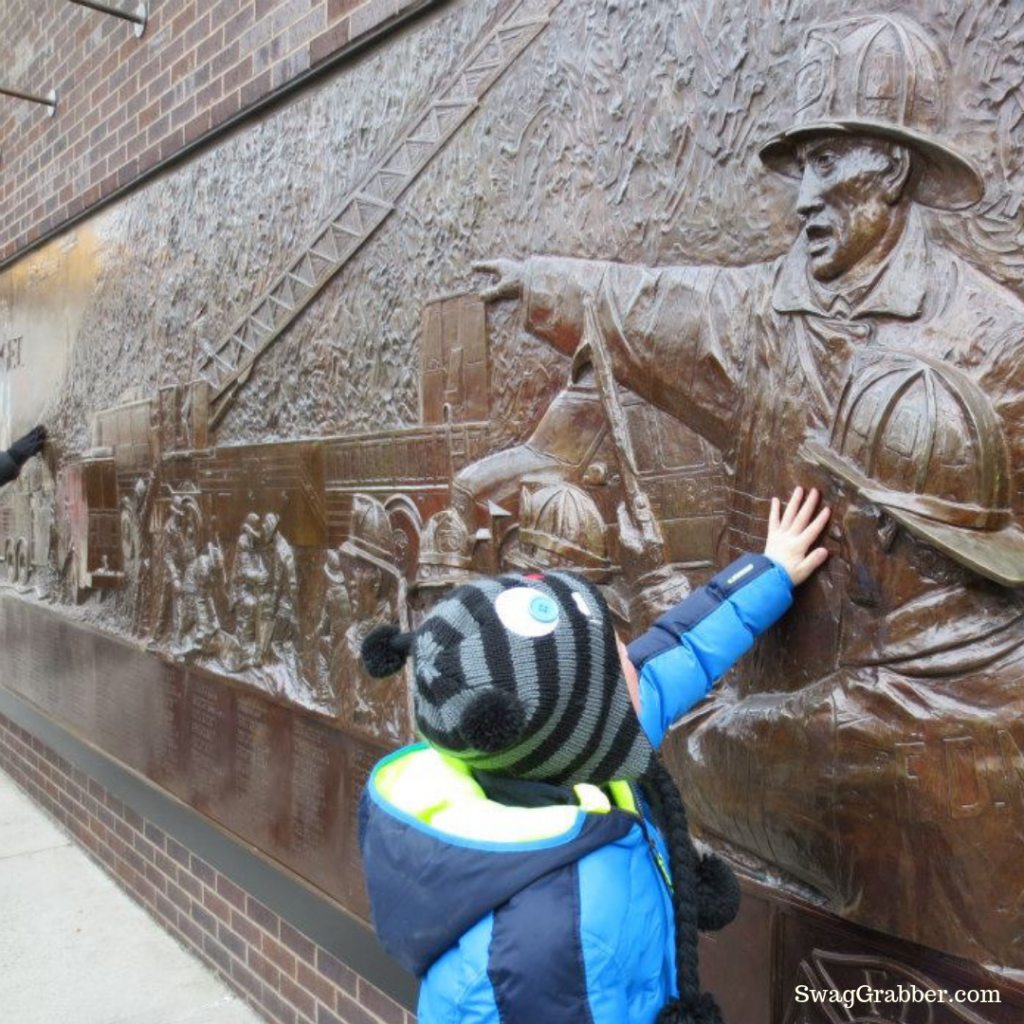 911 Memorial
When we went the Memorial wasn't built yet. They were starting to build it. It is open now and the 9/11 Memorial is free and open to the public daily from 7:30 a.m. to 9 p.m. I would put this on your list if you go. The entire area is pretty amazing and definitely worth checking out. This is in lower Manhattan in the Financial district.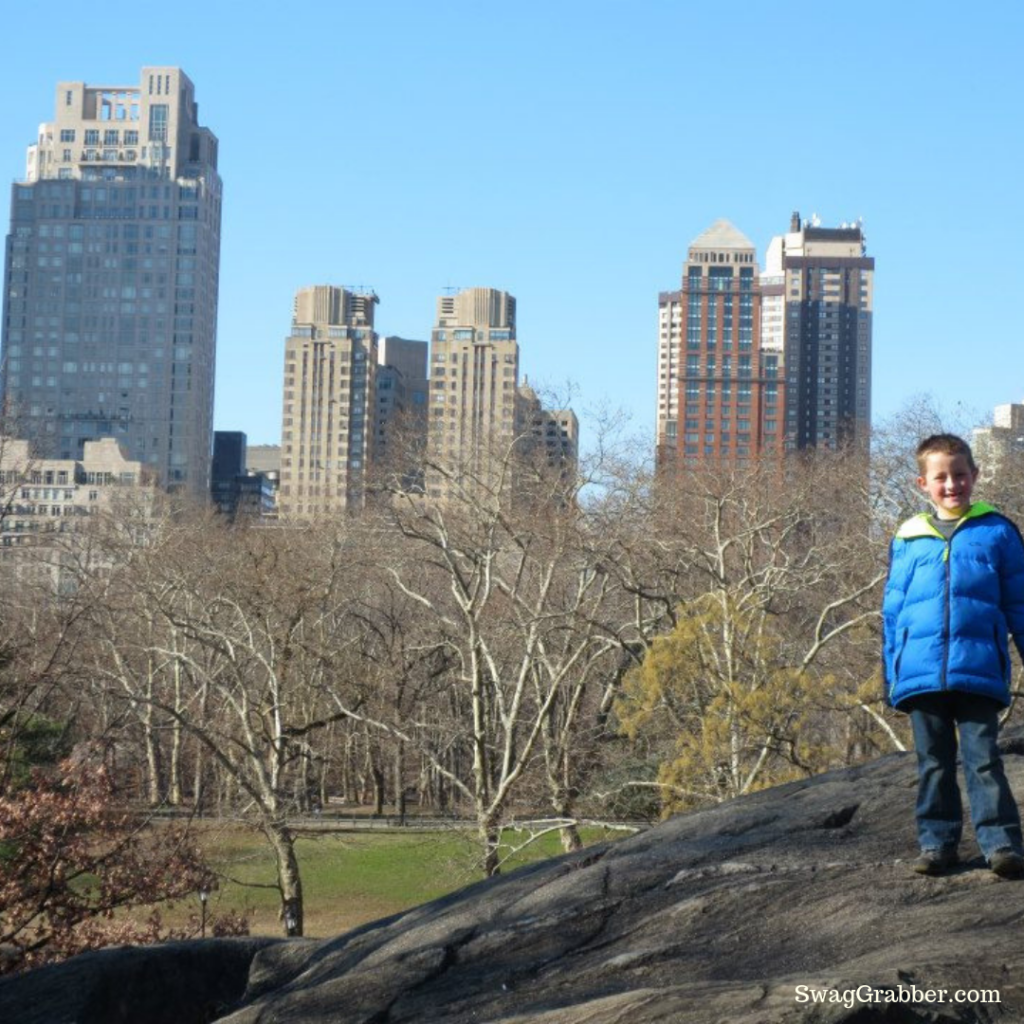 Central Park
The park really is a gem. I had no idea Central Park was that cool and beautiful. The kiddo and I spent an entire day just exploring the lower end of the park.
He was fascinated with the large rocks that are everywhere. He spent most of the day climbing and I spent most the day trying to make sure he didn't fall off. Some of these are really large and probably not appropriate for small children. Either way, they make for some fantastic photo ops!
Wollman Rink is on the lower end of the park. You can see it below – it is a rather large rink. Actually bigger than Rockefeller and MUCH cheaper. Rockefeller was almost $60 for two people to skate!
If you go during the week, its about $30 for two people which is one of the cheaper rinks I saw in the city and it is quite picturesque. We didn't skate this time just because we wanted to spend our fun money on other things.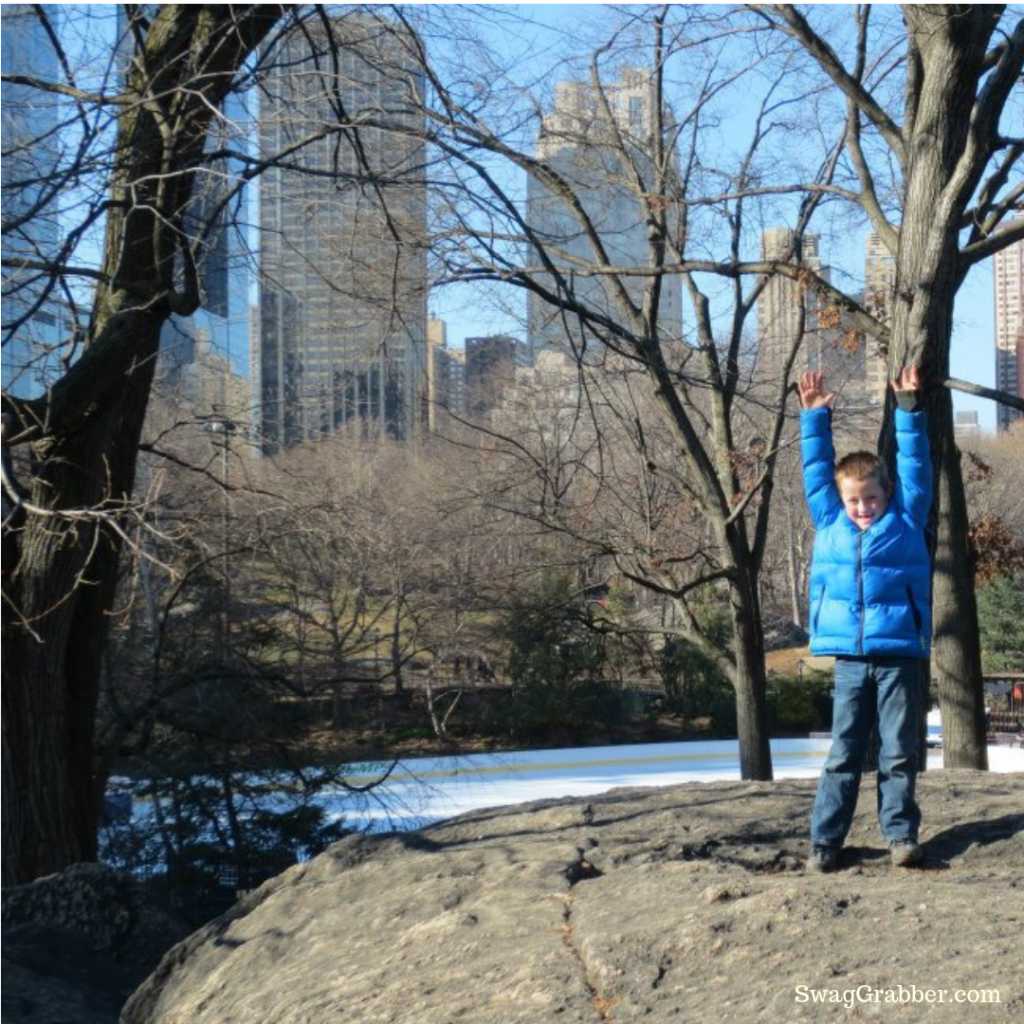 The Central Park Zoo. We had fun in the zoo. It is small and there aren't a lot of animals but for $20 it was a fun few hours and we got to see a few animals I had never seen before. Did you know there is such a thing as a Red Panda?
Also if you are going in the winter, make sure to check out the jungle room. The humidity and heat was great to warm up in for a few minutes!
The Carriage rides. We avoided this. I really thought about doing a carriage ride with my son but then I found out they were $70 for two people. That idea went quickly out the window.
Toy Stores and Other Fun Things
There are a bunch of great toy stores in Manhattan. Mainly the Toys R Us in Times Square and the FAO Schwartz.
This trip we went to the Toys R Us and the Lego Store and both were awesome. There is actually a 60 ft. Ferris wheel inside the Toys R Us store. The cool thing is, it is only $5 per person to ride it. The kids loved and it and it gave us a chance to scope the store for things we wanted to see.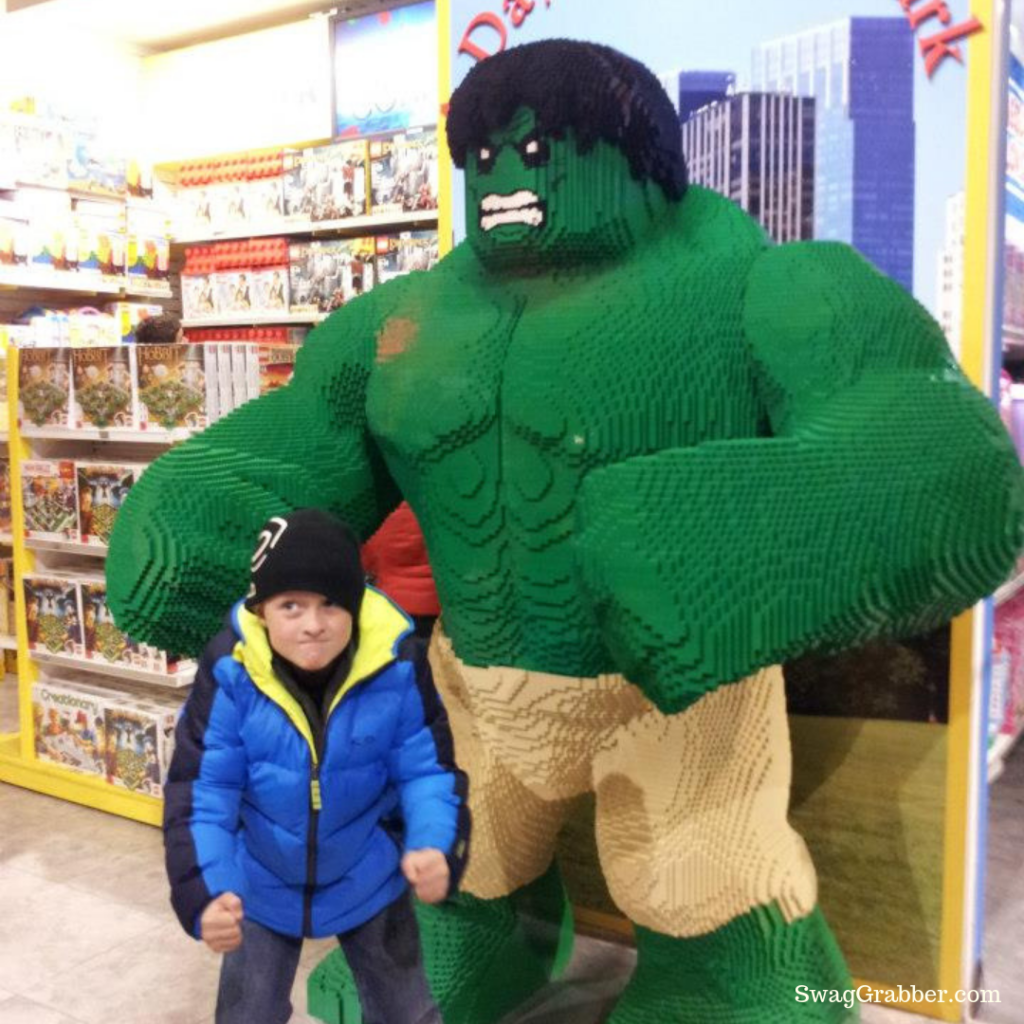 There were quite a few photo ops in the store and TONS of stuff to play with including this GIANT Hulk which was  a huge hit. This little side trip kept us busy for over and hour.
Oh yea – they have accessible bathrooms too!
The Lego Store is in Rockefeller plaza and the boys loved it. Not as many things to play with but lots of fun stuff to see. It's right off the skating rink too so a quick stop if you are visiting the area.
Rockefeller is pretty close to Times Square so these are good to do together. If you are going in the winter make sure to visit Rockefeller at night – it is AMAZING! The first picture above was taken there!
NOTE: I carried a small bag with me just for necessities and scarves and hats. This came in handy because while the kiddo wanted toys in every store we went too, it was easy to say "I don't have room to carry it"…lol.
There is an interactive play board in the lobby of the Hard Rock Cafe. The boys LOVED this thing and played with it for a good 20 minutes. There are also comfy couches in front of them so you can sit and relax for a few minutes. There is also a great photo op right next to it!
BONUS – the bathrooms are right next to it and they are super clean. Why do I keep mentioning bathrooms? Because we have kids and they have to go a LOT and bathrooms can be scarce in NY – especially clean ones. Watch for chain restaurants, they normally have good ones too.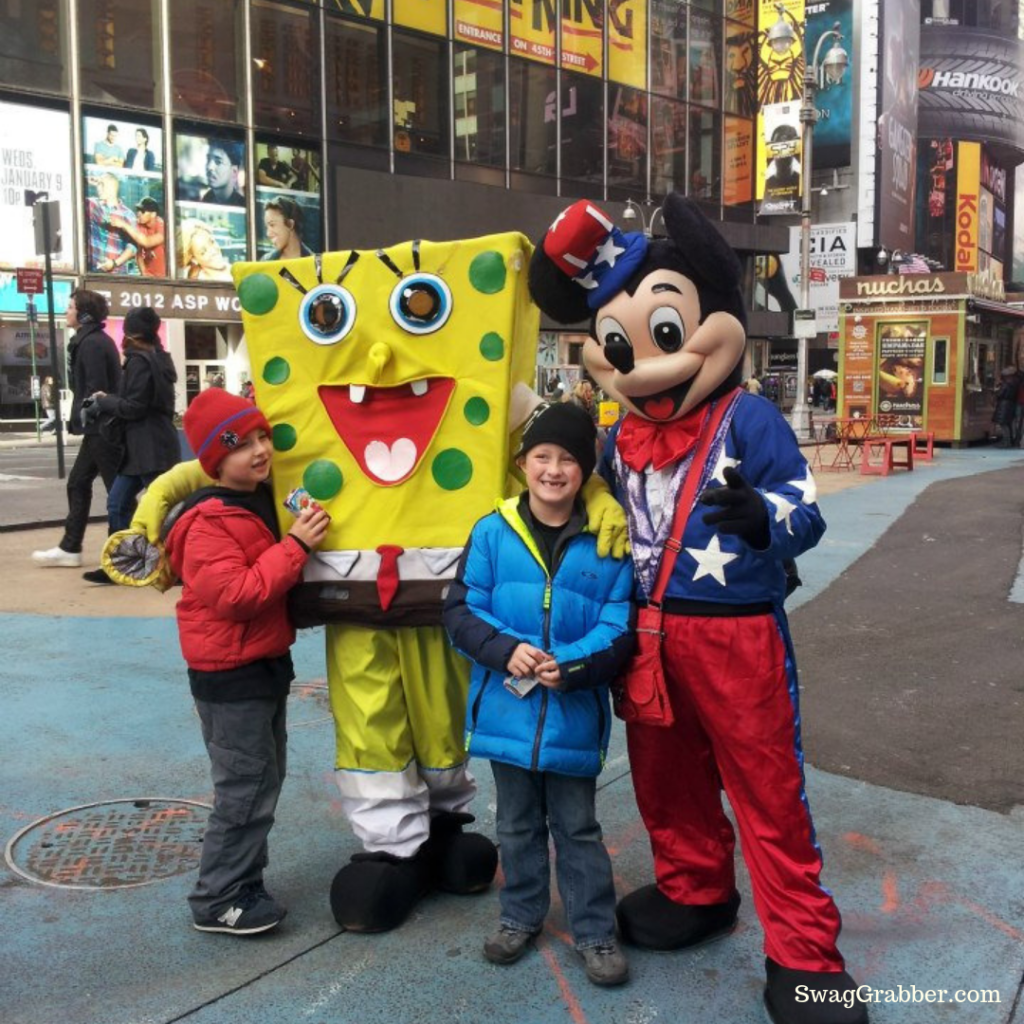 The Characters in Time Square
I thought these were a lot of fun and so did the boys. They are donation only, so we gave $1 per kid per picture. They seemed happy with that and some went out of their way to make the pictures great.
We saw Mickey Mouse, the Statue of Liberty, SpongeBob (that was a hit!), Elmo, and more. To me, paying $1 and getting a sweet photo in Times Square is much better than waiting in line at Disney World…LOL.
Coney Island
If you are traveling during the summer, make sure to check out Coney Island. We went in the winter time but they were doing the annual Polar Bear swim so we had to go check it out. It is about 40 minutes via Subway from Manhattan. We were staying in Brooklyn, so it was only 15 minutes for us. There is a cool boardwalk with rides and a beach. This would be a great day outing to give the kids a break from the city. I hear it gets REALLY busy in the summer time so you might want to head out earlier in the day if you plan to go during peak travel season.
If you happen to be in New York for New Years, make sure to check out the Polar Bear swim. It is crazy – they had 5,000 people the year we went!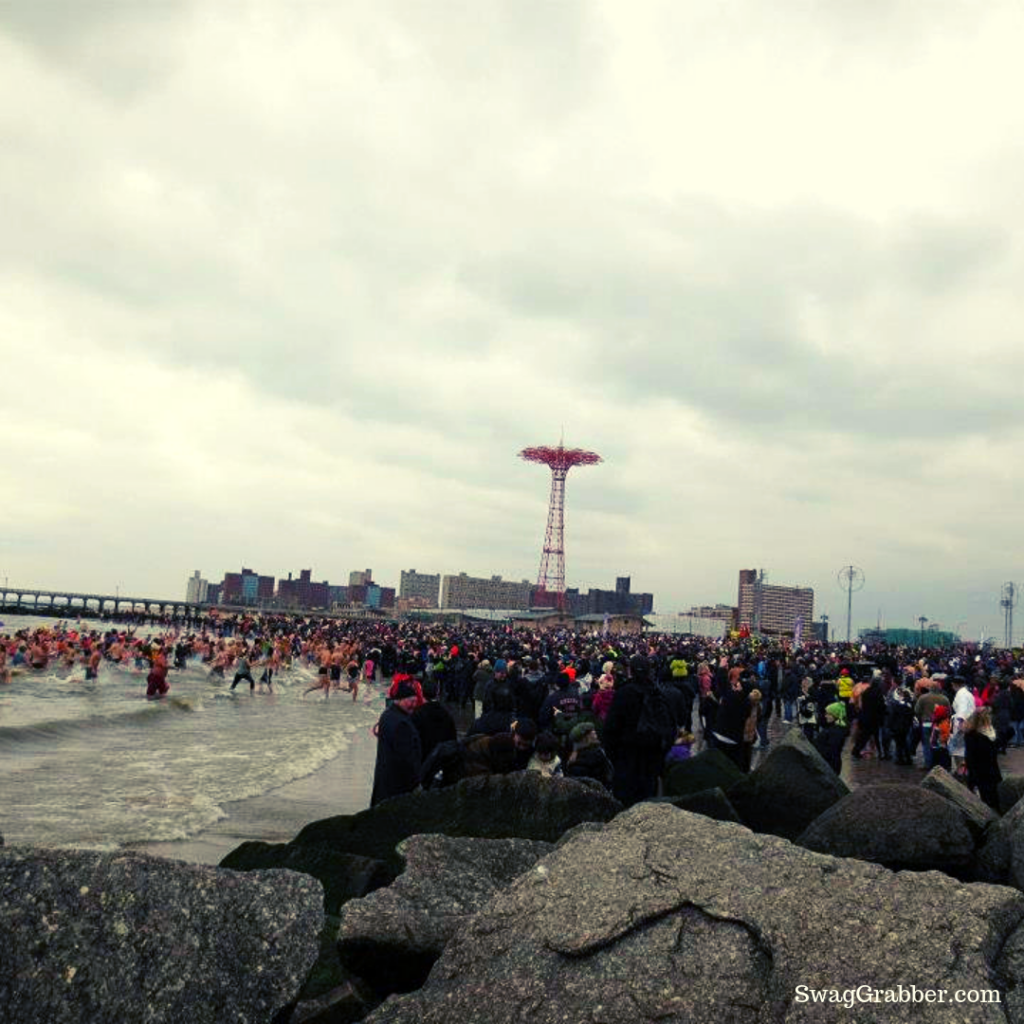 Paying for the RIGHT Attractions in New York:
While there are a lot of free things to do, there will still be items you want to see that you will have to pay for.
Our big attractions were Ripley's, the Empire State Building, and Madame Toussads. All of them were worth the money. The kids absolutely LOVED Ripley's and Madam Toussads and we were having as much fun as they were. You can pick up discount passes that will save you some on the big three.
The museums are near Times Square so plan to do these when you visit there.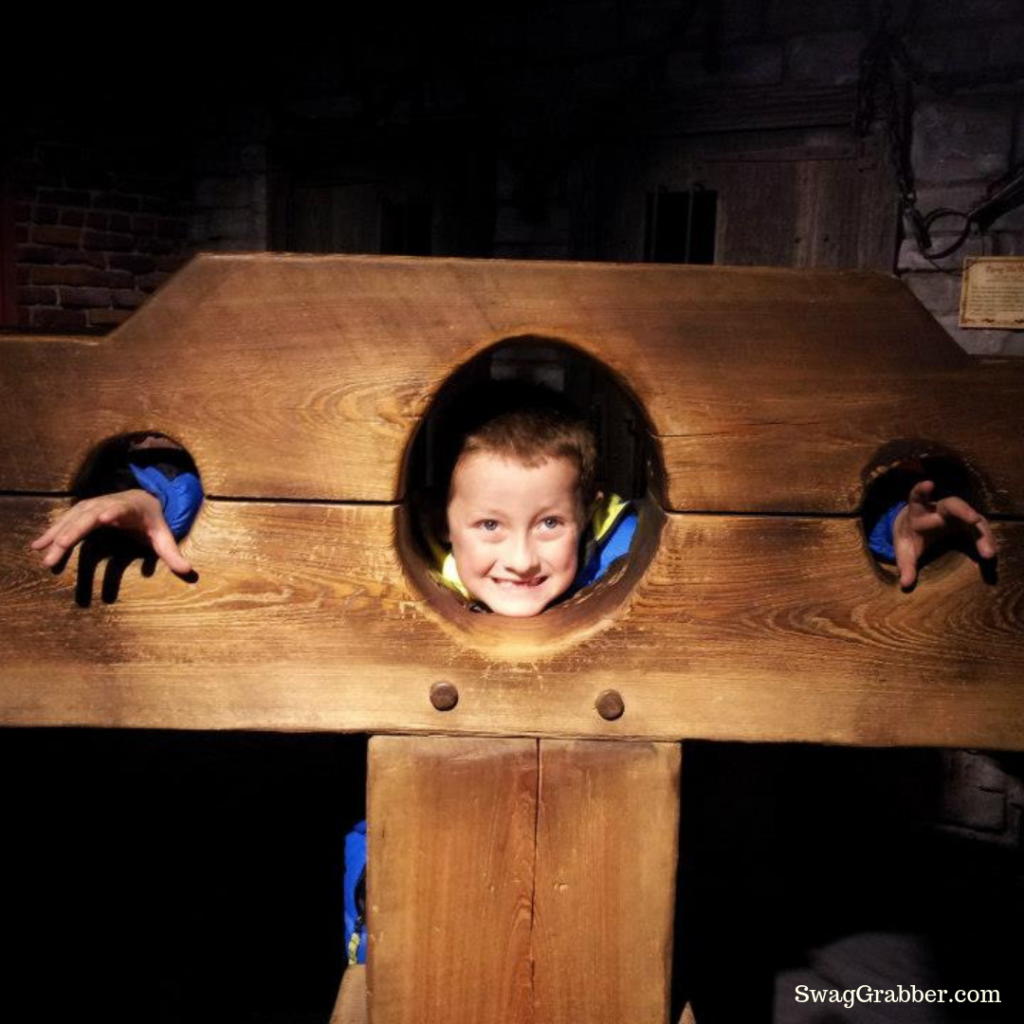 Keep the cameras handy because there are photo ops EVERYWHERE. It took about 45 minutes to get through it and it was nice. It was warm and clean so it was a nice break from the blistery weather outside.
Watch out for the spinning room at the end in Ripley's. It is crazy fun. The boys didn't want to get out of it!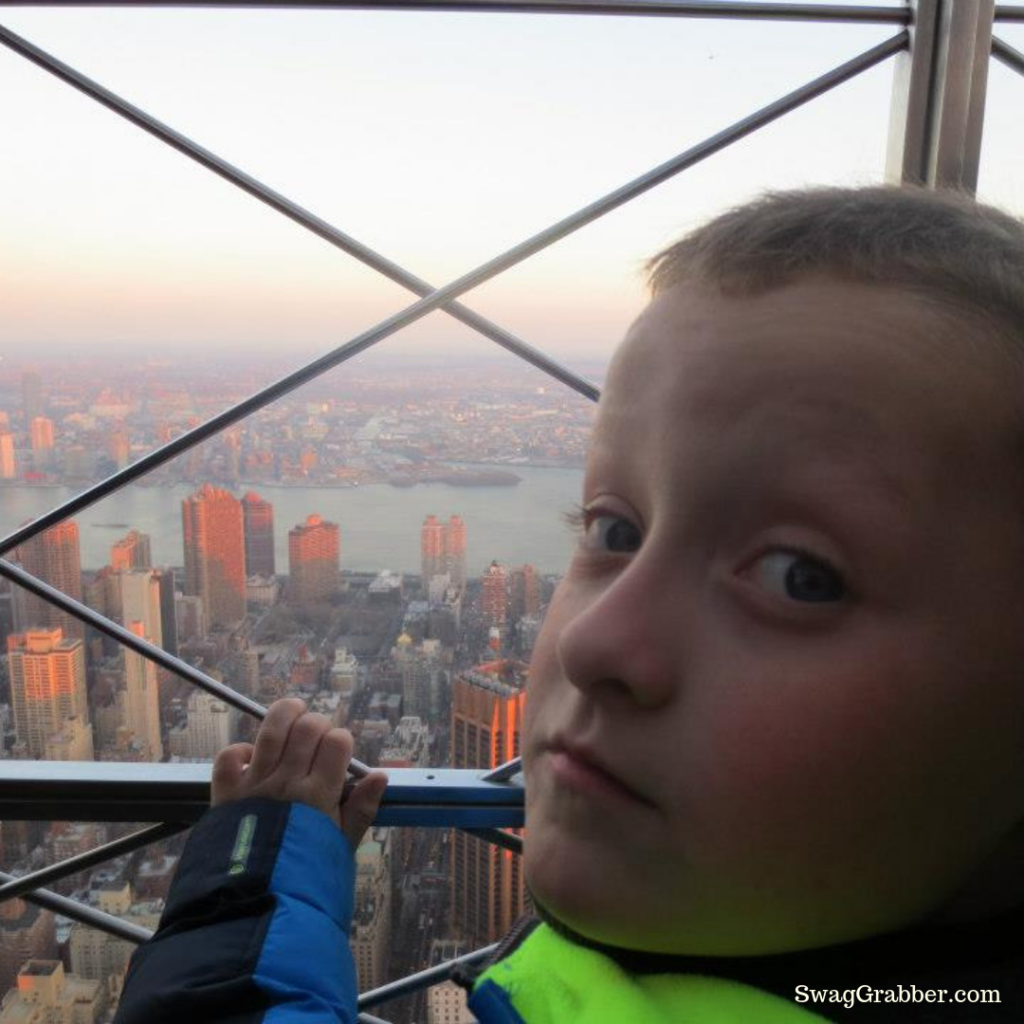 The Empire State Building was amazing!!
The lines are also amazing. You have to go through 3 different lines and three different elevators to get all the way to the top (and we didn't even go to the top top only the observation deck).
With minimal lines, it still took us 45 minutes to get there. This takes patience, luckily there are bathrooms along the way…LOL. Hey, I said we had boys with us!
If you can travel off-peak times, I would. I would not want to try and see this at a peak time. I hear the lines can be upwards of 3-4 hours. We got lucky and the lines were relatively short so we were constantly moving. There is also some cool stuff to see on the way up. But be prepared, this line can be a daunting task!
Make sure to take quarters – the viewers at the top are cool!
Ways to Get Discount Passes for New York
One of the best ways to save on the BIG stuff is to pick up discount passes or scoring cheap tickets. Groupon is fantastic for this. If you start watching a few months before you can usually score some great deals…
There you go, these are my tips and tricks to saving a bunch of money when you visit New York with kids. Do you have any more?