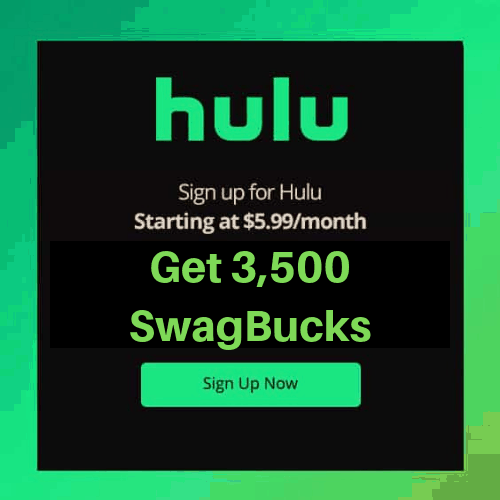 WOW this deal is even better!!!
Swagbucks is offering 3,500 points when you start a Hulu plan for $5.99 per month right now. You will also get 300 points for signing up for Swagbucks. Those stacking offers can be redeemed for a $38 Amazon gift card or CASH via Paypal!!!
Considering you can cancel after the first 8 day this is a HUGE money maker!
GO HERE to login or sign up
Then, click on the offer on the main page (see below) and purchase Hulu subscription plan for 

$5.99

Within 48 hours, 3500 points will be added to your Swagbucks account. These are exchangeable for Amazon Gift Cards or PayPal Cash.
Redeem your Swagbucks for Amazon gift cards at Swagbucks Reward Store of your choice.
If you wish to cancel Hulu, login to your account, go to Your Account and click on Cancel Your Subscription – do so AFTER 8 days.
$35 Cash Back awarded in the form of points, called SwagBucks. SB awarded within 48 hours and can be redeemed for gift cards or PayPal cash at swagbucks.com/redeem. Please note: If you cancel your membership within 8 days, your SB may be revoked. Offer applies to new and eligible returning subscribers only. This offer may only be redeemed (1) one time per user.