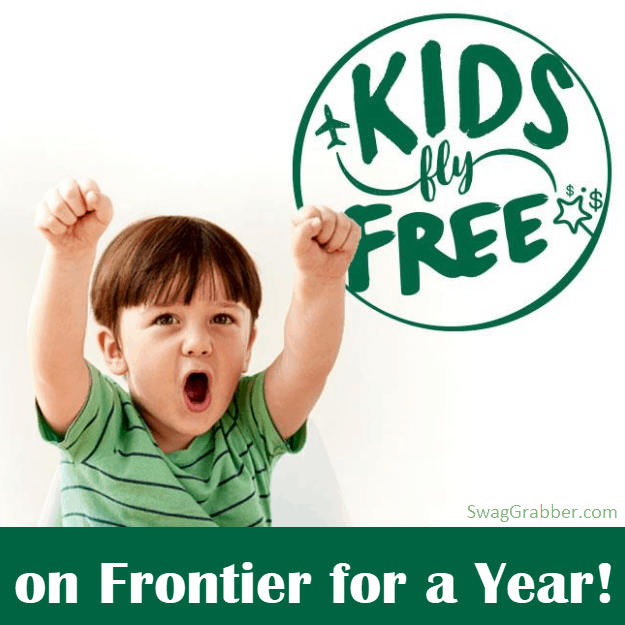 WOW Frontier Airlines is offering Kids Fly Free for an entire year!
That's right – All kids 14 and under can fly free on select flights with the purchase of a Discount Den member fare. The Discount Den memberships are only $59.99 a year so that means, each kid can fly free on select dates for an entire year for under $60!!!
Here's how to get this deal:
1. Be a Discount Den Member
Join the Discount Den, to enjoy Kids Fly Free. You will also unlock other benefits including unlimited access to our lowest fares for up to six people on your itinerary. You can join Discount Den now or at the time of your booking.
2. Choose a Kids Fly Free Flight
Select a flight on a date that is qualified for Kids Fly Free, it's easy to find as it's marked with a Kids Fly Free logo beneath the Discount Den price. Wanna learn more? Check out terms and conditions below for more information on valid dates and flights.
Remember to include the children traveling in your search to see the offer.
3. Book it and Save!
On valid Kids Fly Free flights, one kid under 15 can fly for free for every adult Discount Den fare purchased. Socomplete your booking and enjoy your extra savings.
Please note, the Kids Fly Free discount will show at time of payment.
A "kid" is anyone 14 years of age or younger on the first day of your travel. Lap children do qualify but should be booked at time of initial booking as a child instead of a lap child.
Offer valid for these select dates. Dates subject to change:
February – 12, 13, 19, 20, 26, 27
March – 5, 6, 12, 13, 19, 20, 26, 27
April – 2, 3, 9, 10, 16, 17, 23, 24, 30
May – 1, 4, 7, 8, 11, 14, 15, 18, 21, 22, 29
June – 1, 4, 5, 8, 11, 12, 18, 19, 25, 26
July – 9, 15, 16, 22, 23, 29, 30
August – 5, 6


Thanks Mary!