In the digital age, social media has become a powerful platform for individuals to express themselves, share their passions, and even make a living. Among the various opportunities available for online content creators, the Amazon Influencer Program has gained prominence.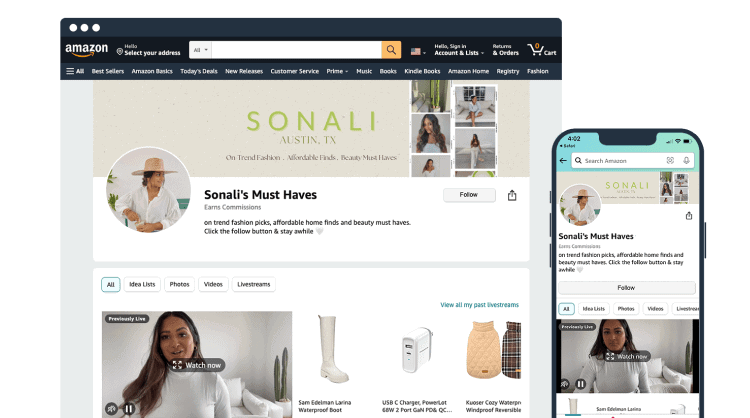 This program enables influencers to monetize their online presence by promoting products from the world's largest online retailer, Amazon. In this comprehensive guide, we will explore the ins and outs of the Amazon Influencer Program, from signing up to finding products to review and providing essential tips for success.
What is the Amazon Influencer Program?
The Amazon Influencer Program is an extension of Amazon's Affiliate Program, designed specifically for social media influencers. It allows influencers to create their own Amazon storefronts, curate product recommendations, and earn commissions on sales generated through their unique affiliate links. Essentially, influencers can turn their online influence into a source of income by promoting products they genuinely endorse.
How to Sign Up for the Amazon Influencer Program
Signing up for the Amazon Influencer Program is relatively straightforward, but there are specific criteria you need to meet to be eligible. Here's a step-by-step guide to get started:
Step 1: Build Your Online Presence
Before applying to the program, you need to establish a solid online presence as an influencer. This includes having a well-maintained social media platform (e.g., Instagram, YouTube, Twitter, or Facebook) or a blog where you regularly post content related to your niche or interests. Make sure your content aligns with the interests of your target audience.
Step 2: Create an Amazon Account
If you don't already have one, create an Amazon account. You will need this account to apply to the Amazon Influencer Program.
Step 3: Visit the Amazon Influencer Program Page
Go to the Amazon Influencer Program page (https://affiliate-program.amazon.com/influencers) and click on the "Join Now" button.
Step 4: Complete the Application
Fill out the application form. This includes providing information about your social media accounts, the number of followers you have, and a brief description of your niche and content. Be honest and transparent about your online presence.
Step 5: Wait for Approval
Amazon will review your application, which may take some time. Approval is not guaranteed, and the decision often depends on factors like the quality of your content, the size and engagement of your audience, and the relevance of your niche to Amazon's product offerings.
Step 6: Create Your Amazon Influencer Page
If your application is approved, you will receive access to your Amazon Influencer Page. Here, you can start curating products to promote and earn commissions.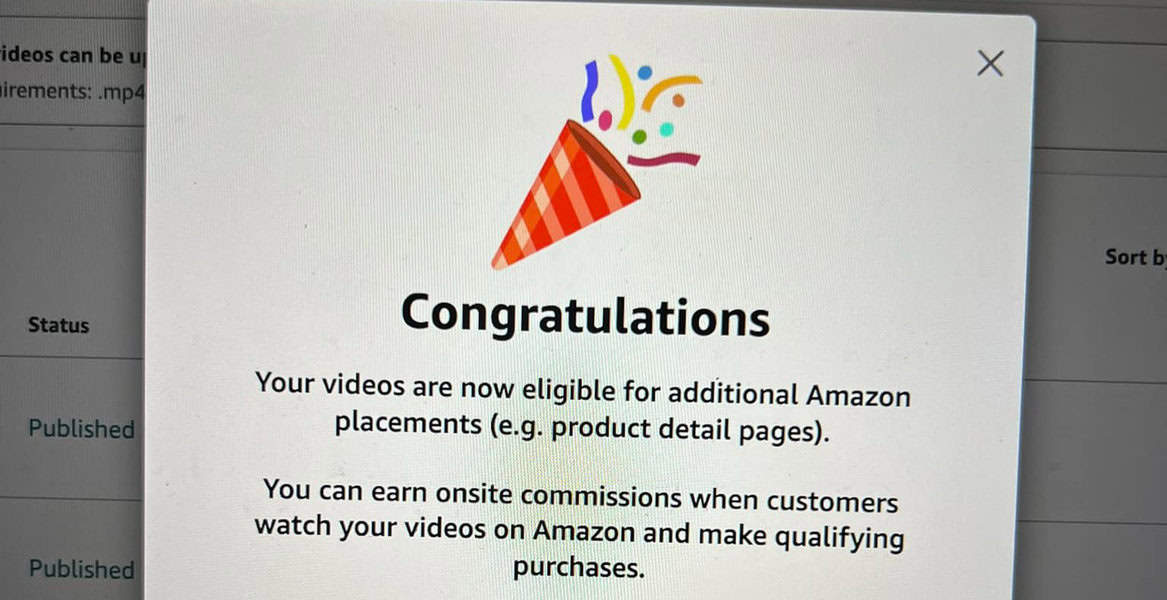 Tips for Getting Approved
Getting approved for the Amazon Influencer Program is not always a walk in the park. Amazon is selective about who they admit to the program, so here are some tips to increase your chances:
1. Focus on Niche Relevance: Make sure your content and niche align with the products available on Amazon. If you have a fashion-focused Instagram account, it wouldn't make sense to apply for the program and promote kitchen appliances.
2. Quality Over Quantity: While having a substantial follower count is important, engagement matters more. It's better to have a smaller but highly engaged audience than a large following with little interaction.
3. Professionalism: Present your online presence in a professional manner. Use high-quality images and maintain a consistent posting schedule.
4. Content Originality: Create unique and original content. Avoid copying others and strive to offer something different to your audience.
5. Audience Trust: Build trust with your audience. Promote products you genuinely believe in and that would benefit your followers.
6. Clear Profile Description: On your social media profiles, provide a clear and concise description of your niche and the type of content you produce.
7. Consistent Branding: Maintain a consistent brand image across all your online platforms, including your Amazon Influencer Page.
Using the Amazon Influencer Program
Once you are approved for the Amazon Influencer Program, it's time to start using it effectively. Here's a guide on how to make the most of this opportunity:
1. Set Up Your Amazon Influencer Page
Your Amazon Influencer Page is your storefront, so take the time to create an appealing and organized layout. Add a profile picture, header image, and write a brief bio that explains your niche and what your followers can expect to find on your page.
2. Curate Products Thoughtfully
Choose products that align with your niche and that you believe will genuinely interest your audience. Amazon provides a tool called the "Influencer Shop" that makes it easy to search for and add products to your page.
3. Use Native Advertising
Integrate product recommendations seamlessly into your content. Avoid spammy or pushy promotion. Instead, show your audience how the products you're endorsing fit into their lives.
4. Disclose Affiliate Relationships
It's essential to maintain transparency with your audience. Disclose your affiliate relationship with Amazon on all posts where you promote products. This helps build trust with your followers.
5. Monitor Performance
Use the analytics tools provided by Amazon to monitor the performance of your affiliate links. This data can help you understand which products resonate most with your audience, allowing you to fine-tune your recommendations.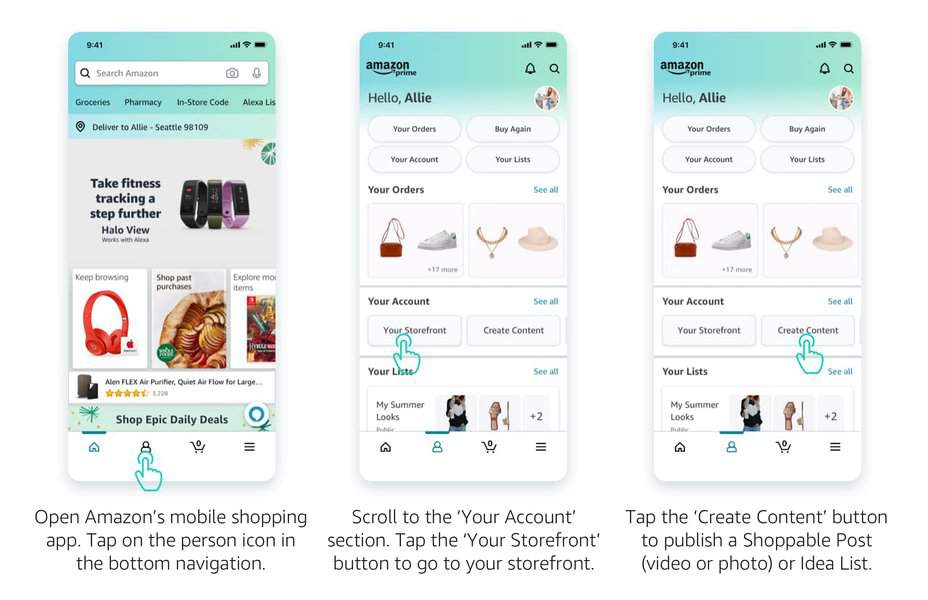 Finding Products to Review
One of the key aspects of being a successful Amazon influencer is finding products to review and promote. Here are some strategies to help you discover the right products:
1. Amazon's Influencer Shop
As mentioned earlier, Amazon offers an Influencer Shop tool that allows you to search for products by category, keyword, or brand. It's a handy feature to quickly find products that match your niche.
2. Trend Analysis
Stay up-to-date with current trends in your niche. Products that are trending or newly released are more likely to attract attention and generate sales.
3. Product Reviews and Ratings
Look for products with positive reviews and high ratings. Recommending products that are well-received by customers can enhance your credibility as an influencer.
4. Affiliate Program Reports
Regularly review your affiliate program reports to identify which products are selling well through your affiliate links. This can help you tailor your future recommendations.
5. Audience Feedback
Engage with your audience and ask them for product suggestions. Sometimes, your followers can provide valuable insights into products they are interested in.
FAQs About the Amazon Influencer Program
Let's address some common questions that influencers often have about the Amazon Influencer Program:
1. Is the Amazon Influencer Program the same as the Amazon Affiliate Program?
No, they are separate programs. The Amazon Influencer Program is specifically designed for social media influencers, while the Amazon Affiliate Program is open to anyone with a website or blog.
2. Can I promote any product on Amazon as an influencer?
You can promote most products available on Amazon, but some restrictions apply. Amazon has specific guidelines on prohibited content, so make sure to review their policies to avoid any issues.
3. How do I get paid as an Amazon influencer?
You earn commissions on qualifying purchases made through your affiliate links. Amazon pays out these earnings through various methods, including direct deposit, Amazon.com gift cards, or checks, depending on your location and preferences.
4. Can I use multiple social media platforms for the program?
Yes, you can promote products on multiple social media platforms, but you'll need to apply separately for each platform during the application process.
5. Are there any fees associated with joining the Amazon Influencer Program?
No, there are no upfront fees or costs associated with joining the program. It's free to join.
Tips for Success as an Amazon Influencer
To make the most of the Amazon Influencer Program, consider these additional tips:
1. Diversify Your Content
Don't rely solely on product promotions. Create a variety of content, such as tutorials, reviews, and lifestyle posts, to keep your audience engaged and interested.
2. Build Strong Relationships with Brands
Collaborate with brands that align with your niche and values. Strong partnerships can lead to exclusive promotions and better deals for your audience.
3. Stay Updated with Amazon's Policies
Amazon's policies can change, so it's crucial to stay informed about any updates that may affect your participation in the program.
4. Experiment and Adapt
Be open to trying new approaches and adapting to changes in your niche or the online landscape. What works today may not work tomorrow.
5. Engage with Your Audience
Respond to comments and messages from your followers. Building a strong community can lead to higher engagement and trust.
Conclusion
The Amazon Influencer Program presents an exciting opportunity for social media influencers to monetize their online presence while providing valuable product recommendations to their followers. By following the steps to sign up, adhering to best practices, and continually engaging with your audience, you can build a successful and sustainable career as an Amazon influencer. Remember, authenticity and trustworthiness are key to long-term success in this field, so always prioritize the interests and needs of your audience when promoting products on Amazon.
FREE TOOLS AND RESOURCES FOR AMAZON INFLUENCERS