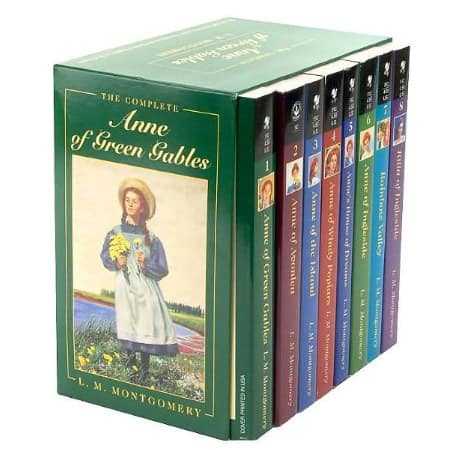 Almost FREE Anne of Green Gables Kindle Books!
Amazon is offering The Anne Stories: 12 Anne of Green Gables Kindle Books for only $1.99 right now. That breaks down to only $0.16 per book…practically FREE!
Included books from the Anne of Green Gables Series (in order):
Anne of Green Gables

Anne of Avonlea

Anne of the Island

Anne's House of Dreams

Rainbow Valley

Rilla of Ingleside

Chronicles of Avonlea

Further Chronicles of Avonlea
Additional material from Lucy Maud Montgomery includes:
A collection of 142 short stories including…

The Story Girl

The Golden Road

Kilmeny of the Orchard

The Watchman and Other Poems
Don't have a Kindle? Download the FREE Kindle App and read these books on your smartphone, tablet, or computer!
What age are these books for?
The Anne of Green Gables books are typically classified as children's literature, but they can be enjoyed by readers of all ages. The novels are written in a simple, straightforward style that makes them accessible to younger readers. But they also contain complex themes and ideas that will resonate with older readers.
Is Anne of Green Gables a true story?
No, Anne of Green Gables is not a true story. L.M. Montgomery based the novel on her own childhood experiences growing up in rural Prince Edward Island, but she took some liberties with the details.
For example, in the book, Anne is an orphan who is adopted by a middle-aged brother and sister. In real life, Montgomery was raised by her grandparents.
Do you have to read all the books to "get it"?
No, you don't have to read all the Anne of Green Gables books. But if you want to get the full effect of L.M. Montgomery's work, it is recommended that you do. The first book in the series, Anne of Green Gables, is by far the most popular and well-known.
However, the subsequent books are just as good and provide more insight into Montgomery's world and characters. If you're a fan of classic literature, then the Anne of Green Gables series is definitely worth reading in its entirety. Who knows, you might even find yourself falling in love with Anne all over again!