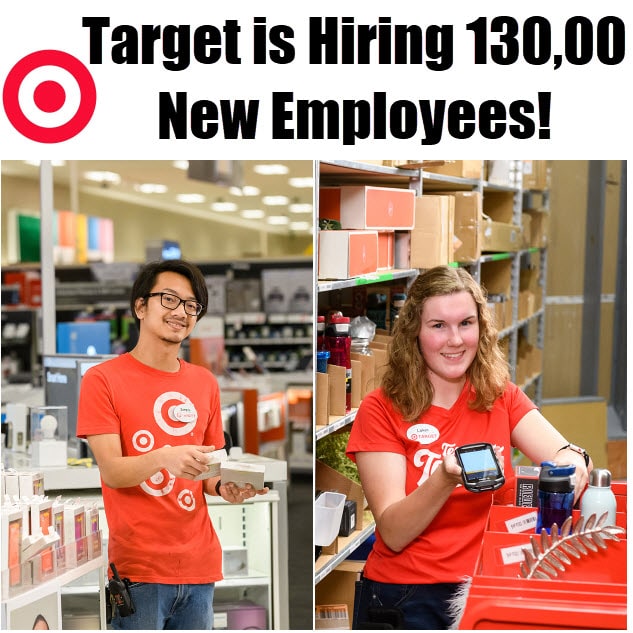 WOW!!! Need to make some extra money this year?
Target is Hiring 130,000 EXTRA Employees for the Holiday Season!
Target just announced that they will be hiring 130,000 people nationwide for this holiday season. If you think you'd be a great fit for their team, now's the perfect time to join. Check out and apply for the available roles over at TargetSeasonalJobs.com.
What kinds of roles are they looking to fill? There's a variety of skills needed, from interacting with guests, to making sure things run smoothly behind the scenes.
At our 1,800+ Target stores
They're looking to hire 125,000 seasonal team members at our stores across the country this year, with all positions starting at $13 an hour or more. Their store team members play a leading role in bringing our guests ease, convenience and inspiration as they shop—from picking out gifts and décor, to keeping all the must-have products in stock. And with more guests than ever using Target's popular same-day services like Order Pickup and Drive Up, they'll double the number of team members focused on fulfilling orders from our stores.
At the distribution centers
This year, they'll hire about 8,000 seasonal team members at their 39 distribution and fulfillment centers across the country. These important roles include processing freight to stores and fulfilling Target.com orders, including receiving, packing and loading, to make sure products reach guests quickly.
What's in it for you?
So much good stuff. In addition to their competitive wage, all hourly team members—including seasonal hires—enjoy a range of benefits, such as:
A 10% discount at Target stores and on Target.com
An additional 20% wellness discount off fresh and frozen fruits and vegetables, Good & Gather Organic (beginning Sept. 15), C9 and Up & Up tobacco cessation products
The opportunity to earn holiday pay on Thanksgiving and Christmas
Flexible schedules which allow team members to work a variety of hours
Sound like fun? Here's how to apply
Take a look at the full list of available positions to learn more and apply now or anytime you want. Or, stop by your local store or distribution center over the next couple of weeks.
Soon, they will host their fourth annual seasonal hiring events at every Target store. Candidates can stop in at any store Oct. 11-13 and Nov. 2-3, from 10 a.m. to 6 p.m. local time, to meet with store leaders and interview on the spot with the chance to receive a job offer during the weekend events. Those interested in learning more about a distribution role can reach out to their local distribution center with questions
Want to hear more about what life is like inside the Bullseye? Meet team members from across the company on The Pulse blog.