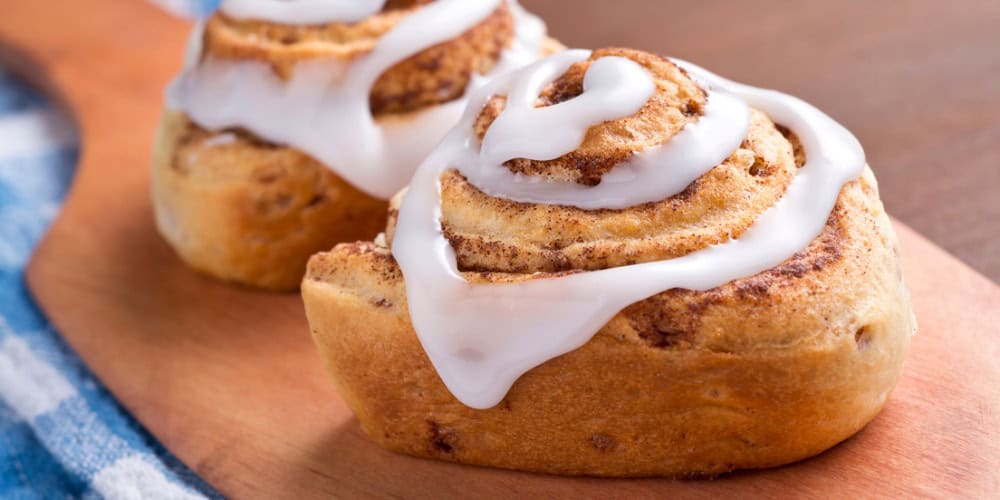 Cinnamon Rolls from Pizza Dough
Did you know you can make cinnamon rolls from pizza dough?
My family loves cinnamon rolls. The problem is the pre-made ones are full of junk and unnatural ingredients. Since we have been eliminating processed food in our life. I went looking for a healthier option. I tried making them from scratch a while ago but that literally took me two hours, not how I want to spend a Saturday morning!
I had a pizza dough that I bought at Trader Joe's that we didn't have plans for so I decide – let's try cinnamon rolls!
Takes about 20 minutes and they are MUCH easier than home made AND they taste awesome!
Ingredients:
For the cinnamon rolls:
2 Tablespoons unsalted butter, melted
2 teaspoons cinnamon
1/3 cup sugar
1 pound homemade or store-bought pizza dough, at room temp
For the glaze:
2 Tablespoons unsalted butter, at room temp
1/2 cups powdered sugar
1 teaspoon vanilla extract
3 to 6 Tablespoons hot water
Directions:
Make the cinnamon rolls:
Preheat the oven to 375ºF. Grease an 8×11-inch baking dish with unsalted butter.
In a small bowl, stir together the cinnamon and sugar.
Lightly flour your work surface then roll out the dough into a 16×10-inch rectangle. Brush the dough all over with the melted butter then sprinkle it with the cinnamon-sugar mixture. Starting at the long end closest to you, tightly roll the dough into a log. Cut the log into 12 rolls, about 1 1/2-inches each. Arrange each roll in the prepared baking dish about 1 inch apart.
Bake the rolls for 20 to 25 minutes until the dough is fully cooked. Remove the rolls from the oven and let them cool slightly while you make the glaze.
Make the glaze:
In a medium bowl, stir together the butter, powdered sugar and vanilla extract. Whisk in the hot water 1 tablespoon at a time until the glaze reaches your desired consistency. Drizzle the glaze over the slightly warm cinnamon rolls and serve immediately.
Note – the original recipe called for a LOT more butter and powdered sugar. We ended up a ton of waste so I reduced the amounts.