FREE $4 Amazon Credit Using This Awesome Dash Button Hack **New Button**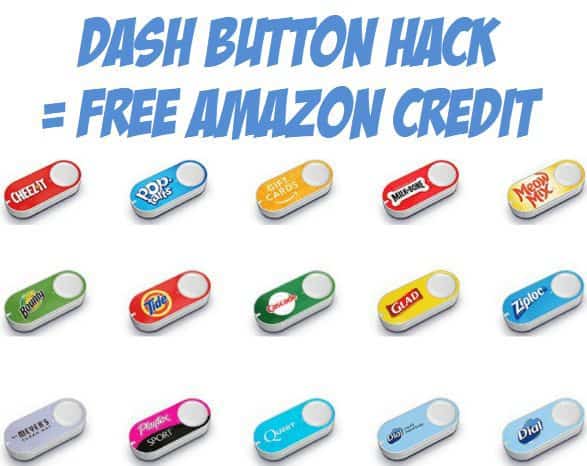 If you have a Prime Account you NEED to read about this awesome Dash Button Hack!
Amazon has been offering Dash buttons for $0.99 and they come with a FREE $4.99 credit. Using the hack below you can use that $4.99 credit on anything sold by Amazon – not just the dash button item!
They will be offering this promotion until 12/21/17 so you could end up with $12 in FREE Credit. Even more if you get duplicates!
Here's how to get this super awesome amazing deal:
GO HERE and order today's deal – the Charmin Dash button for $0.99
When your Dash Button arrives, you link it to your Amazon account in two steps:

First, you get the device on your WiFi network and link it to your account using the Amazon App
(My Account – Dash Buttons – Manage Devices) **NOTE – there are instructions in the Dash button box
After you connect quit the setup process by hitting the top-right X when asked to select an item. DON'T SELECT AN ITEM!

Amazon will give you the credit when you push the button, but it's not configured to order anything so you end up with free credit
Click the button
Then GO HERE and select an item – Amazon Basics work great!
Add it to your cart and you should see the credit like this….

NOTE: if you previously ordered dash buttons, you CAN do this hack on those as well. The only one I haven't been able to use it on was the Sweet Surprise because that is actually linked to that product. As long as there are multiple product options you can do it!
---
Today's Dash Button Deal:
FAQ:
If you do complete the second step and order something by mistake, you can cancel the order and the credit will remain in your account.
You can use duplicates of the same type of button, and they will all give you credit.
Your account can store an unlimited number of Dash credits for future use. Only one credit will apply to an order at a time; they must be used in sequence.
These credits can only be spent on items that are marked "Shipped and sold by Amazon". If you order an item sold by anyone else (even if "fulfilled by Amazon"), the credit will not apply to that item. Note that "Shipped and sold by Amazon" is not the same as eligible for Prime shipping – there are many items that have Prime shipping that are not sold by Amazon.
An order can only have one Dash credit apply. If you have $50 in Dash credits, you'll need to spend them over at least ten different orders.
Your account can store an unlimited number of Dash credits.
If you apply a credit to something less than $5, the remainder will apply to your next eligible order.
What are dash buttons?
A Dash Button is a small device sold by Amazon. You are supposed to link them to items you use and then they reorder for you when you press the button.
More Deals You Don't Want to Miss...