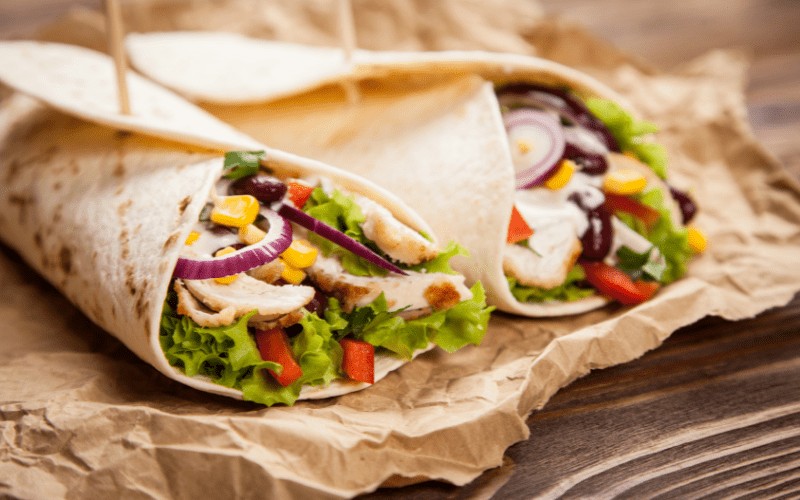 As a huge fan of all things low carb and keto, I am always on the lookout for new and interesting recipes that I can use to make my favorite dishes. Since bread isn't allowed, low carb tortillas have pretty much replaced them in our house. Luckily, there are quite a few options that are inexpensive and easy to find.
These tortillas are soft and pliable, and they hold together well when filled with your favorite fillings. I have used them to make both sweet and savory dishes, and they have worked perfectly every time.
If you are looking for a good low carb / keto tortilla recipe, look no further! These are the best I have found, and they will definitely become a staple in your kitchen.
Best Low Carb / Keto Tortillas to Buy

These can be difficult to find, I have only seen them at Walmart and they are usually out of stock. If you see them, stock up! These gems are zero carbs!
Price: $2.52
0g net carbs* per serv.
*Calculating the effective carb count per tortilla.
5g Total Carbs – 5g Dietary Fiber = 0g Net Carbs per Serving
Only 20 Calories per Serving
Made with Extra Virgin Olive Oil
Good Source of Fiber
Keto – Net Zero!
---
These cost a little more but they are only 1 net carb and really good!
Price: $9.95
These 4″ 1 Net Carb Street Taco tortillas are low on carbohydrates and fat. They're cholesterol-free too! With the shells, you can make delicious keto tacos, tostadas, quesadillas and more!
---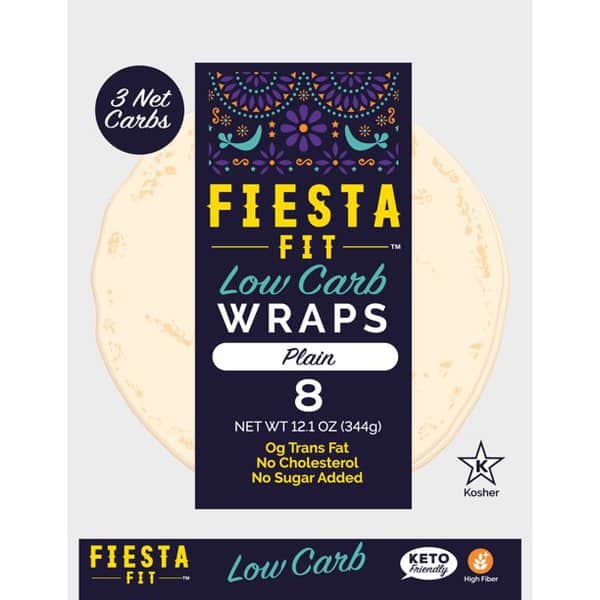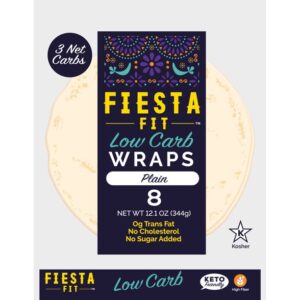 These are some of my favorites and pretty easy to find.
Price: $3.38
3 net carbs
FIESTA FIT Low Carb Flour Tortilla Wrap. Very low in carbs has 3 Net Carbs in a 43 gram 8″ Tortillas Wrap. Contains High Fiber with a low glycemic index and lower sodium than most national brands. Soft and Flexible for creating tasty tacos, burritos and wrap sandwiches. Start your day with a Low Carb egg and sausage wrap! Keto Friendly. Low Net Carbs, only 3 per 43 gram 8″ Tortilla Wrap
---
Another that is SUPER easy to find. Pretty much all of my stores have these in stock and you can make just about anything with them!
Price: $4.79
4-5 net carbs
Mission Carb Balance Soft Taco Flour Tortillas have the super soft texture and great taste you crave, but without all the carbs you don't. You can feel good about treating your friends and family to our tortillas because they contain only 4g of net carbohydrates and zero sugar per serving. Our flour tortillas are also an excellent source of dietary fiber, and they don't contain any trans fat or cholesterol. Versatile enough to use in all of your favorite low carb recipes, our tortillas help you feel balanced to the extreme. We recommend filling them with seasoned chicken breast, avocado, and ranch-spiced yogurt for a quick and easy dinner. Includes two 8 ct packages of Mission Carb Balance Soft Taco Flour Tortillas.
---
Recipes that Use Low Carb Tortillas
Birria is a Mexican food that was traditionally made with goat meat. The meat is cooked in a mix of spices and chiles for many hours until it becomes very savory. In this recipe, the taco shell is filled with the meat and then the tacos come with a small bowl of sauce on the side to dip them into.
---
This lettuce wrap recipe is a keto friendly weeknight dinner that can be on the table in just 20 minutes. Using fresh ingredients and a flavorful blend of spices, these tacos are a healthy and fun twist on a family favorite. What I love most about this keto taco is that it's healthy for almost all diets. Some keto dishes are heavy in saturated fats, which is fine for a keto diet but maybe not great for everyone else.This is a keto dish the whole family should try.
---
Bulgogi Korean BBQ Beef is one of the most well-known Korean dishes. Made of thinly sliced beef sirloin marinated in a mix of soy sauce, sesame seeds, garlic, sugar, pureed pear, and other spices, this extra flavorful beef is easy to prepare and goes perfectly with rice, wrapped in lettuce wraps, or in a delicious bowl of Korean Bibimbap.
---
Chicken enchiladas with white sauce feature shredded chicken mixed with sautéed onion, jalapenos, hatch chilies and cheese. Roll filling in soft, low-carb tortillas and line in a baking pan. Cover with creamy, homemade sauce, top with additional shredded white cheddar and bake. Delicious, quick, and keto friendly (with approximately only 10 net carbs per enchilada). Perfect for an easy weeknight meal!
---
Pizza night is one of the best things in the world, don't you agree!? Our family loves ordering in on a Friday night, but sometimes we don't feel like spending extra money or want to eat healthier. These small, personal pizzas are a great way to fulfill our cravings. The best part? this easy recipe is customizable: choose your favorite toppings is the name of the game. It's fun to set up a little pizza bar with some different options!
---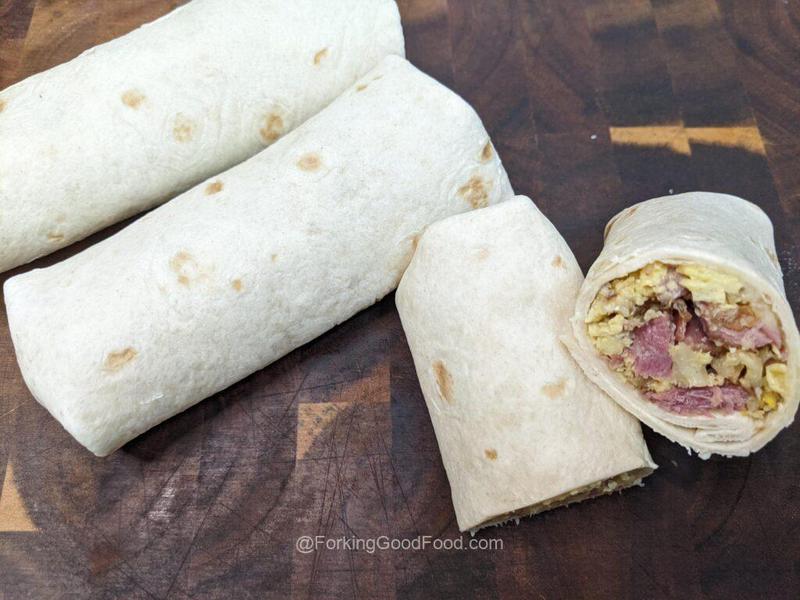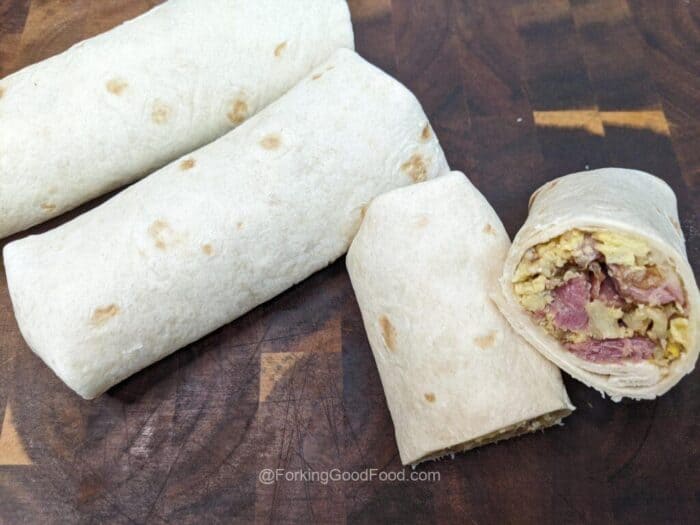 This Corned Beef Hash Wrap is a fantastic way to use up any corned beef you may have, and it makes for a delicious and hearty breakfast! Looking for something great to cook using leftover Corned Beef? You can use leftovers to create fantastic wraps in minutes!
---
Keto Chicken Enchiladas are super easy and a crave-worthy dinner great for any occasion. Perfect for eating low carb, these enchiladas are great to fulfill your Mexican craving! Mexican food always has a special place in my heart and is always welcome at our dinner table. Filled with melty cheese, homemade low carb enchilada sauce, juicy chicken, and low carb tortillas, what could be better? I say there isn't a whole lot that's better!
---
These Turkey & Cheese Roll Ups (w/ Avocado) are the perfect mini sandwich for a crowd. Thinly sliced turkey breasts layers with cheese, avocado slices, lettuce and a thyme dressing, your guests will devour these tortilla pinwheels!
---