Halloween Ghost Treats
Are you looking for a creative way to celebrate Halloween this year? We've got some spooky ideas for your next party! These ghost treats are perfect for any kind of Halloween celebration. Try one or try them all, but make sure you don't miss these recipes:
Nothing is as much fun as decorating and preparing for your Halloween parties! Our Easy Ghost Cupcakes for Halloween are just part of the preparation. This semi-homemade treat is easy, fun, and ideal for class parties or your own family party. A few simple additions to a classic cake mix will create a cute treat everyone will love.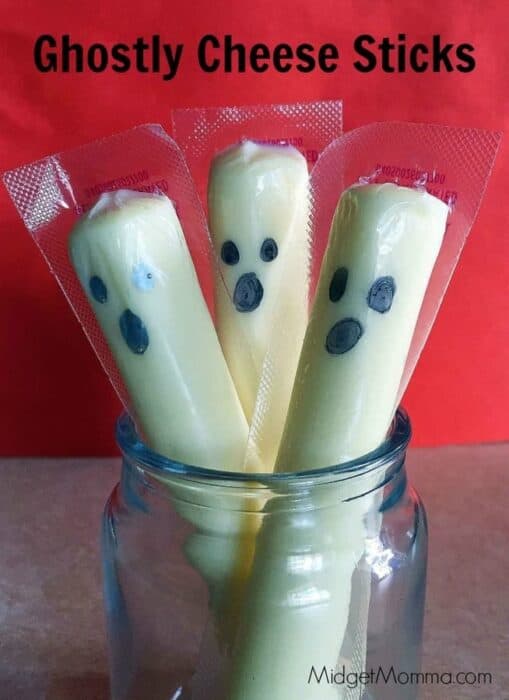 Sometimes you want to make a special treat without all the work. I think sometimes I go though so much work to make something special and then they get it and five seconds later its all gone. They love it but not to the point that they realize what went into it. Then as a mom we feel like we wasted time doing something that they didn't really care about as much as we did and there are other things that we could have been doing.
These cute ghost Twinkies are super fun and easy Halloween treats to make with the kids or to serve at a party. So simple to make and your kids are going to love them! Plus, they are yummy.
These fondant ghost cupcakes are absolutely adorable and they are SO EASY! I love a cute treat that doesn't take a lot of effort! Make these with some chocolate covered pretzel pumpkins, some mini donut spiders and some pretzel and cheese string broomsticks and you'd have a pretty awesome spread for a Manly Halloween party!
If you love this easy halloween recipe, be sure to check out these 13 wickedly fun Halloween treats! You're sure to find the cutest and most fun Halloween party snacks.
One of the things that's so fun about holidays and food is that you can have a WHOLE lot of fun making fun and festive things to eat. From simple to over the top gourmet and everything in between, there's a way to add a little holiday to almost any recipe. Two things added to plain old, regular graham crackers can make a BOO-tiful Halloween snack! Ours is a sweet snack using frosting and icing gel, but you could just as easily take Club crackers, top them with some cream cheese and use black olives (or raisins) for the eyes and mouth. Not so spooky, but they'll be thrilled with your efforts!!
White chocolate dipped pretzels are made into ghosts with candy eyes and a little bit of imagination.
These Ghost Meringues are sweet to eat! A perfect ghostly treat for Halloween parties and celebrations! Made of four simple ingredients you probably have on hand they are easy to make – even for kids.
These little Yogurt Banana Ghost Pops are sure to scare you little ones into eating them quickly! If you have any small mouths eating them you can cut them in half so they can eat the Yogurt Banana Ghost Pops easier.
These Ghost Cupcakes are super fun to make and just perfect for Halloween! A chocolate frosted cupcake with a fondant ghost atop it; these are treats that adults and kids alike will love!
Buy a package of cookie dough and add candy eye balls to the dough before baking – VOILA! Instant halloween cookies.
These Ghost brownies are the perfect solution for a Halloween party! They start with a boxed brownie mix, or your favorite brownie recipe, top them with a large marshmallow covered in white chocolate, and decorated with black frosting to make a cute face!
These Krispie Treat Ghosts are adorable and really easy to throw together. They're also peanut and egg free if allergies are a concern in your school!
Just whip up a quick batch of treats and using a cookie cutter cut them into ghosts…
These Ghost in the Graveyard Halloween Pudding Cups are an easy to make dessert perfect for the kiddos (or adults!) in your life! Starting with a simple Snack Pack pudding cup, these treats are sure to be a hit!
These coffee filter ghost lollipops are a cute and easy twist on classic kleenex tissue ghosts. A nostalgic and fun Halloween treat that's sure to be a big hit with kids of all ages!