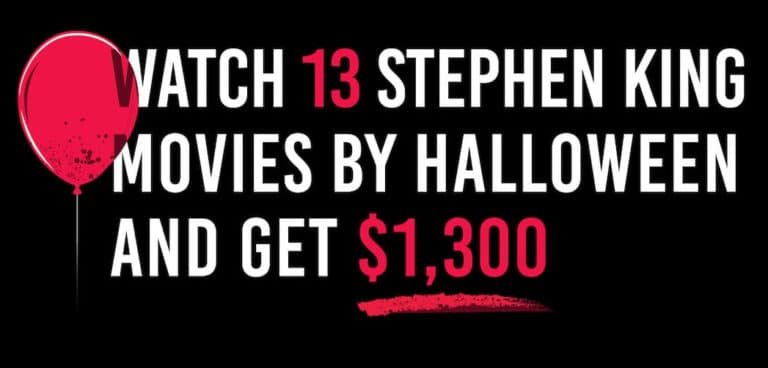 Get Paid $1,300 to Watch 13 Stephen King Movies by Halloween
Get your popcorn ready and your coziest blanket near—USDish.com is looking for one (un)lucky fan to watch 13 movies based on Stephen King's most chilling novels.
With It: Chapter 2 and Doctor Sleep hitting theaters soon, they want to pay you $1,300 to witness 13 horror classics in preparation for Pennywise and Danny Torrance.
Halloween is just around the corner, so it's fitting you get cozy with Carrie or play fetch with Cujo. Maybe take Christine for a spin and see where it takes you.
In the process, tell them how everything's going. How's your heart rate during the scary scenes? Which movie's your favorite or least favorite? Are you watching these flicks alone, or bringing a friend along so you can have night terrors together? You tell them and they will pay you $1,300. Simple! Scary, but simple!
Applicants must be 18 years old or older and a U.S. citizen or permanent resident to apply.
WHAT YOU'LL WATCH
"Carrie" (the original or the 2013 remake)
"Children of the Corn"
"Christine"
"Creepshow"
"Cujo"
"Dreamcatcher"
"It" (the original or the 2017 remake)
"The Mist"
"Pet Sematary" (the original or the 2019 remake)
"Salem's Lot"
"The Shining"
"Thinner"
"Misery"
This is actually a job application and ONE person will be selected. The winner will be notified by email and/or letter within 5 business days of the closing date. The deadline to submit your application is Tuesday, October 15, 2019 at 5:00 pm MST.