Swag Hunt for a Swag Box Happening TODAY!!!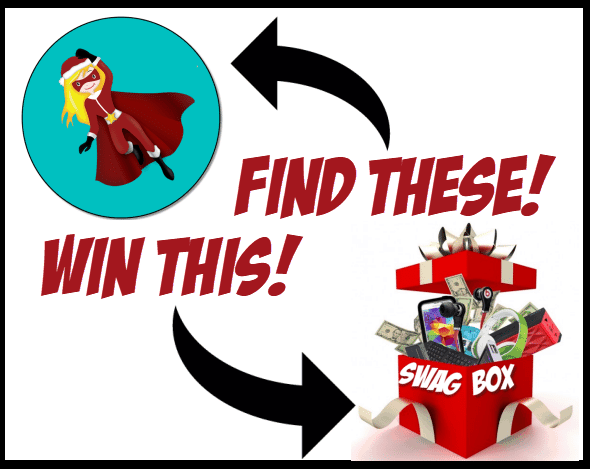 It's back!!!
We will be hiding the Swag Girl symbol with code words on random posts throughout the day today (12/5) from 8am to 8pm. Find all five code words and you can enter to win a Swag Box Worth $200 with a guarantee of a Fingerling Inside!!!
Here's how to play:

Watch for this symbol on posts/deals – Note the code word next to it. Like this….

There will be five code words total so keep hunting until you get them all. FUN is not one of the code words – it's just an example.
When you have all five code words GO HERE and enter them by Midnight 12/5/17. MAKE SURE YOU HAVE ALL FIVE AS YOU CAN ONLY ENTER ONCE!
One winner will be randomly selected from all of the correct answers and announced by 9AM on 12/6.
Fine print – This is being sponsored by SwagGrabber.com and not Facebook or any other company. The boxes will be mailed by SwagGrabber by December 17th to arrive in time for Christmas. We will be asking for basic details about your family (kids, married, likes/dislikes) so we can customize the box a little. You may opt out of this if you want. Box contents will include gift style items like toys, accessories, household items, electronics, and more worth at least $200 retail. The limit is two boxes per winner.
The winner of the Swag Hunt challenge will be randomly selected from the pool of valid entries – all five words must be correct to be eligible. All entries received after 12:00 on 12/6 will be ineligible.
More Deals You Don't Want to Miss...