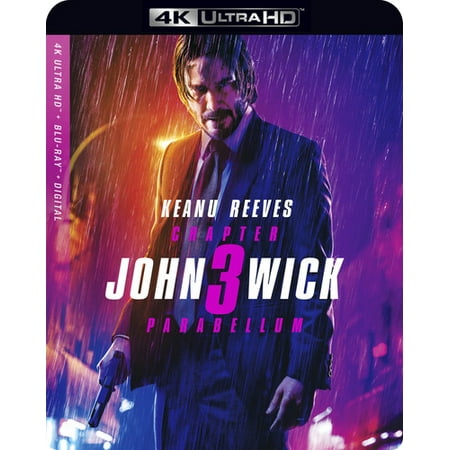 Walmart has the 
John Wick: Chapter 3 – Parabellum (4K Ultra HD + Blu-ray + Digital) (Walmart Exclusive)
marked down from $42.99 to $24.96 with free shipping to your home!
Super assassin John Wick (Keanu Reeves) has a $14 million price tag on his head after killing a member of the High Table, the shadowy international assassins guild. Now excommunicado, and with an army of the world's most ruthless hit men and women on his trail, John must find a way to survive in this third chapter of the adrenaline fuelled action series. In the underworld of John Wick, it's the role of an Adjudicator to heal any fractures in the order of things. As a living, breathing extension of the High Table, the Adjudicator judges and arbitrates on their behalf. The Adjudicator's medallion is their calling card, a symbol of authority that allows them all-access, smoothing the way for them to find the answers they seek. Walmart is proud to bring you this replica of the Adjudicator's Medallion from the Lionsgate film, John Wick: Chapter 3 — Parabellum with the purchase of the Exclusive 4K set while supplies last. The medallion's blackened surface features a golden Ouroboros surrounding the seal of the Department of Adjudicators, with the Latin precept, "Actiones secundum fidei" emblazoned above it.
Check out all of the Walmart Deals we have posted recently!