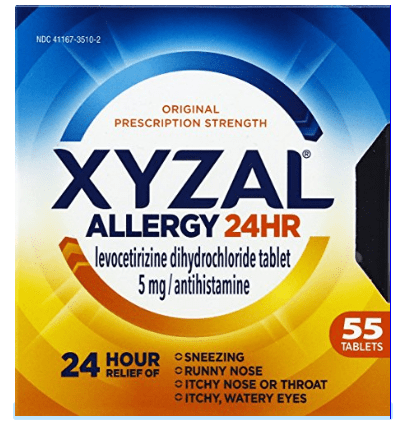 Amazon has the Xyzal Allergy 24 Hour, Allergy Tablet, 55 Count, All Day and Night Relief from Allergy Symptoms Including Sneezing, Runny Nose, Itchy Nose or Throat, Itchy, Watery Eyes marked down from $27.99 to $11.42. Check out using Subscribe & Save to get this for $10.85 with free shipping!
ALL DAY & ALL NIGHT ALLERGY RELIEF: Xyzal Allergy 24 Hour can help provide a full day & night of relief from allergy symptoms, indoors & outdoors. Say goodbye to sneezing, a runny & itchy nose, itchy, watery eyes, & a scratchy throat. Say hello to Xyzal.
PRESCRIPTION STRENGTH ALLERGY RELIEF: Now you can get prescription strength allergy medication over the counter, no doctor visit required. Don't let allergies make you miserable or stop you from doing the things you love. Stay active with Xyzal Allergy.
XYZAL ALLERGY RELIEF: Do allergies to pollen, dander, mold, ragweed or other airborne allergens leave you miserable? Do you go days without relief from sneezing, or an itchy & runny nose, throat or eyes? Xyzal Allergy 24 Hour may offer the relief you need.
A WELL ROUNDED MEDICINE CABINET: When you or a family member is in pain, sick, hurt, or just generally feeling under the weather, you don't want to run to the pharmacy. A well stocked home medicine cabinet helps ensure relief is at hand when you need it.
DAY & NIGHT RELIEF: Xyzal offers all in one solutions for sneezing, runny nose, itchy throat, nose, & eyes. Try our 24-hour allergy tablets for a relaxed day and all day relief.
Instructions: GO HERE and click on the "Subscribe & Save" option on the right side of the item page. Check out for ENTER FINAL PRICE with free shipping.
Amazon pricing changes frequently, so this deal may expire at any time.
Learn more about Subscribe & Save!
Remember: If you have five items for one month you save 15% instead of 5%!
Find More Products Eligible for Subscribe & Save: