May 4th is known as "Star Wars Day," a day dedicated to the epic film series and the characters that have captured our imaginations for decades.
On this special day, we celebrate all things Star Wars! From the iconic films to the beloved characters, there is so much to love about this sci-fi saga. Join us as we honor George Lucas' creations with some fun treats and crafts and "May the 4th" be with you always!
Star Wars Treats
These fun Wookie Cookies are perfect for a Star Wars themed party or for the Star Wars fan in your house.
---
All Star Wars fans can appreciate the cuteness overload that we received when we were first introduced to "the child." Made from Nutter Butter cookies, these are so easy to make and perfect for a themed Disney+ streaming night or for a party.
---
These cosmic treats are an out of this world experience for your taste buds. Best of all, they're delicious and fairly simple to make. Keep reading below for the recipe!
---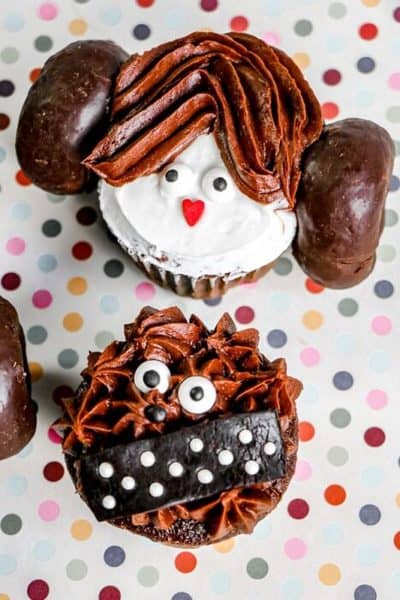 Looking to whip up some cute and easy star wars cupcakes? We got you covered. This tutorial will show you how to make your own Princess Leia and Chewbacca cupcakes faster than the speed of light.
---
If your looking for a fantastic Star Wars party food idea then these light saber pretzel rods may be the perfect solution! Whether you're celebrating May the 4th, enjoying a Star wars movie marathon or watching the latest Star Wars movie, it's always fun to create fun themed star wars party food. These are great Star Wars party ideas – they could even be used as Star Wars Party Favors!
---
Star Wars anything is popular around here, so any Star Wars recipe is always well received. These Chewbacca Rice Krispie Treats are just adorable are sure to bring a smile to everyone's face!
---
These Baby Yoda Deviled Eggs are an adorable appetizer, snack, or lunch! We like to make them when we watch Star Wars!
---
Whether you're throwing a May the 4th party, planning a birthday party for a Star Wars fan, having a Star Wars family movie night, or just want a super fun and yummy treat, we have the perfect Storm Trooper Cupcake Recipe!
---
Star Wars Crafts

Any fan of the Star Wars films knows what a Jawa is. They are small humanoids that are usually only about 3 feet tall. They inhabit the desert planet of Tatooine and are known as scavengers of machinery, so be sure to keep your droids close! These Star Wars Jawa rocks are just one of the easy crafts for kids that you can make this summer.
---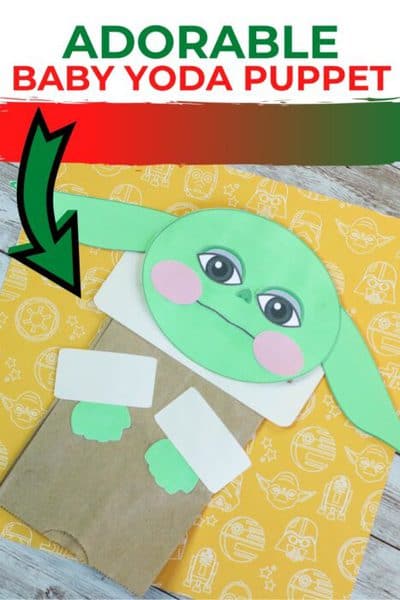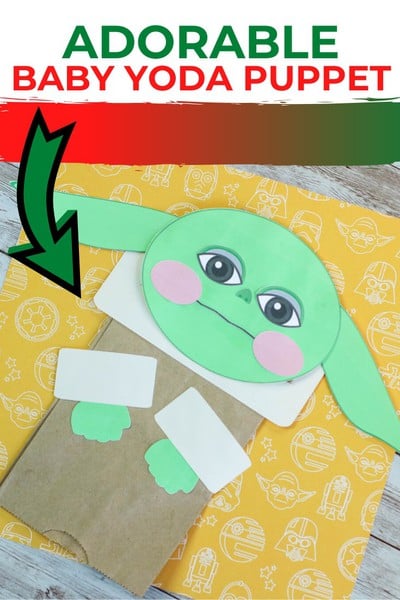 This Baby Yoda Paper Bag Puppet is such a cute craft and an easy way to make your very own DIY puppet. Plus, who doesn't love all things baby Yoda right now?! Let your children give their best Yoda voices and impressions with this adorable homemade puppet is the perfect baby yoda craft.
---
If you got a little Baby Yoda fan, hook them up with this insanely cool Grogu gift Basket! This was created using things we found at Dollar Stores and other discount stores so keep an eye out next time you are out. We found this bin at Dollar Tree for a few dollars. Then after Easter they have a cool basket to store toys, games, or anything else in!
---
What do you do when your kid has a lot of t-shirts that they love but they have outgrown them or there are hideous stains? You turn them into something cool, like a Star Wars canvas art!
---
Are you and your kids Star Wars fans or do you know someone who is? R2-D2, that lovable droid that's been appearing in movies since the beginning, is a fan favorite. With kids heading back to school, and the new Star Wars movie coming out in December, now is a great time to make this R2-D2 pencil can straight out of my new book, Star Wars Mania!
---
This Darth Vader paper bag puppet craft is perfect for kids who love Star Wars because it helps bring their favorite characters to life. It's also a great way to celebrate May the 4th, which has become known as Star Wars Day.
---
These super simple Star Wars Papercraft puppets are perfect for kids of all ages to make! They will love creating these fun Star Wars puppets in no time!
---
This Princess Leia paper plate craft only requires some construction paper, glue, scissors and a paper plate. I love easy crafts for kids that don't require specialty items – you probably already have most of this around your home. Princess Leia is definitely a Disney princess in my mind and this is a fun way to honor her.
---
Upcycle some old toilet paper rolls and provide the kids with endless fun with this adorable Star Wars Toilet Paper Roll R2D2 craft! It is simple and made from materials you most likely already have around the house!
---
Looking for a fun Star Wars craft? We've got a fun one for you! A Chewbacca paper bag puppet! This fun craft is one the kids can make and play with!
---
As Tadashi Mori says, this is an intermediate level design.  Not one for complete beginners, but if you've got a small amount of experience of origami, it shouldn't be that much of a problem to make. The instructions are pretty clear, so if you've done any origami before and you can fold accurately, I suggest you give it a go. As Yoda would say "Do or do not. There is no try".
---
Kids love making these BB-8 Paper crafts and with the template  it makes it the perfect craft project for kids of all ages!
---
These Star Adventurers Playdough Mats are perfect for your little Star Wars fans to practice their fine motor skills while working on letters and counting! These are geared toward Preschool – Kindergarten readers. Includes letters that correspond with the image and numbers 1-10.
---
This DIY Yoda Plushie is incredibly easy to put it together. This cute Yoda craft is great for kids or adults. Plus, it's perfect for giving as a gift too.
---
This fun Baby Yoda Mason Jar Bank Craft is as easy to make as it is delightful! It would be perfect for the kids to use as a piggy bank or adults to use as a fun jar to collect spare change. Regardless, it is sure to bring a smile to all that see it!
---
Star Wars fans rejoice because you will fall in love with this baby Yoda craft made out of a toilet paper roll. So simple to make with the free template download.
---