2022 Freebies for a Good Report Card
Good report cards should be rewarded and lots of restaurants do just that – freebies for good grades! Here's the list we know of, leave a comment if you know of any others!
Baskin Robbins – Free cone with report card showing good grades.
Bob Evans – Select locations offer a free scoop of ice cream for students that received good grades.
Burger King – At select locations, students are able to get one free hamburger or ice cream cone for good grades.
Cheryl's Cookies – Get up to 3 FREE Cookies for A's.
Chick-fil-A – Bring in your all A's and B's report card and receive a FREE 8 pack nuggets! Call ahead to your location to see if they are participating
Chuck E. Cheese – Chuck E. Cheese believes in the value of a good education. Choose from the Super Student Award or Graduation Certificate and receive FREE tokens for being a good student.
Cold Stone Creamer – A good report card may very well earn your kiddo a free scoop of frozen, creamy ice cream from Cold Stone Creamery.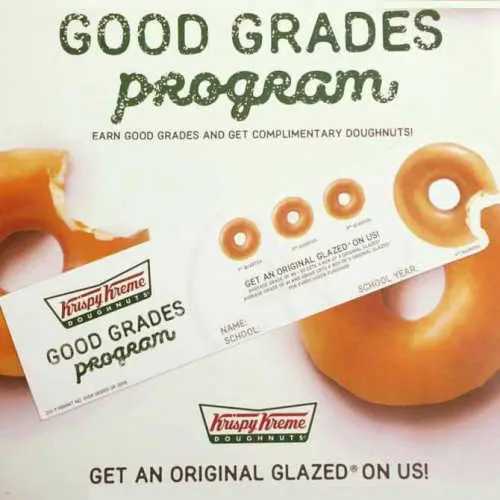 Krispy Kreme – Get a free original glazed donut for each A (up to 6 A's). PLUS Graduates can get a Free dozen donuts.
IHOP – Get a free kids meal with a good report card grades. Available at select locations.
Pizza Hut – Each marking period, any child who has 3 A's or the equivalent thereof, will receive one Personal Pan Pizza and a small soft drink or carton of milk by presenting his or her report card to the manager. This offer is good for Elementary and Middle School students. Dine-in only. Student must be present and the original report card must be presented. Available at participating locations.
Kudzoo App – Middle school and college students can download the FREE Kudzoo app and build Kudzoo cash to use in your favorite places, from restaurants to concerts. Earn the grades, scan the report cards then spend your Kudzoo cash! There is also a daily challenge round and coupons to help college students boost their savings!
Marco's Pizza – If you have a Marco's Pizza nearby, you may be able to exchange your child's A's for a free one-topping pizza!
McDonald's – If your child has a straight "A" report card, he/she can receive a FREE Happy Meal. This may vary by location so call ahead first!
Family Video – Throughout the month of June, Family Video gives a FREE overnight movie or game rental to students for every 'A' they receive on their final report card in any core subjects designed to ensure that we are an active, participating member of the community in which our store is located.
Wendy's – A report card with A's and B's earns a treat. Show the cashier your report card before ordering.