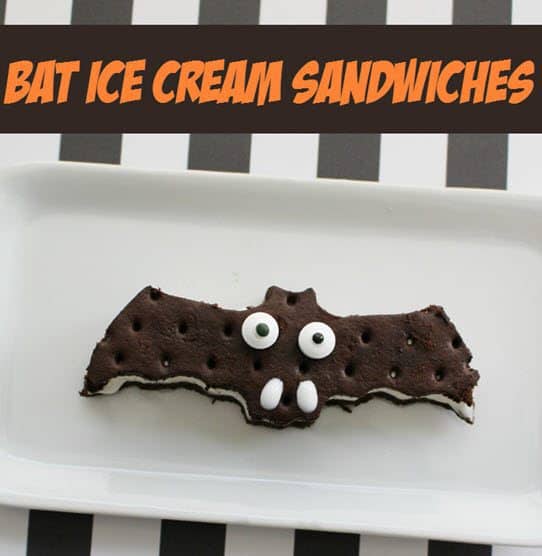 Here is a FAST and easy Halloween treat for the kids!
SUPPLIES
Box of ice cream sandwiches
Bat cookie cutter – Get one on Amazon from $2.35
Bowl of cold water
Sharp knife
Wilton candy eyes
Wilton white icing gel
DIRECTIONS
1.  Make sure the ice cream sandwiches have been in the freezer for at least a few hours. If they are too soft, they will not cut evenly with the cookie cutter.
2.  Place a frozen ice cream sandwich on a cutting board. Dip the cookie cutter lightly into the bowl of water. Shake off any excess water.
3.  Place the bat cookie cutter on top of the ice cream sandwich and press down firmly till you feel the cookie cutter reach the cutting board.
4.  Use a sharp knife to cut away the excess ice cream sandwich from the cookie cutter.
5.  Pick up the cookie cutter with both hands and use both thumbs to push it thru the cutter. Be sure to do this gently so the sandwich part does not break.
6.  Cover with foil and re-freeze. Repeat steps 1-5 until you have the desired amount of bat ice cream sandwiches.
7.  Before serving, dab a small amount of the icing gel on the back of two candy eyes and place on each bat.
8.  Squeeze 2 small lines of the white gel to resemble fangs.
9.  ENJOY!