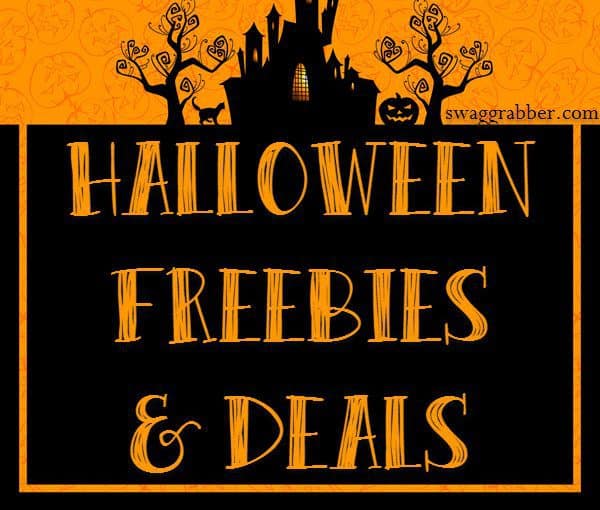 It's coming!!! Halloween is a few weeks away here is our list of the 20121 Halloween Freebies & Deals.
Hopefully this list helps you plan to snag a ton of freebies!
Halloween Freebies and Deals:
Applebee's
Get up to two free kids meals for every adult entrée purchase. Kids must be 12 and under. Call your local Applebee's to make sure they are participating.

A&W
The Apple Crumble Sundae features the chain's signature vanilla soft serve topped with caramel sauce, apple crumble, whipped cream and a classic cherry. Available at participating locations through Nov. 25.
Baskin-Robbins – $1.50 Scoop
Enjoy any scoop for $1.50 at participating Baskin-Robbins shops nationwide on Halloween.
Beef O' Bradys
Kids in Costume eat free with any Adult entree purchase. Participating restaurants only – call first.
Bertucci's
Host your Halloween party with Bertucci's Halloween Party Packages starting at $39.99. Treat your ghouls and goblins to salads, pastas and pizzas. Available Oct. 26-31.
Bubba Gump Shrimp Co.
Kids eat free with the purchase of an adult entrée.
Chipotle – $3 Burrito
Come into any Chipotle dressed in costume from 3pm-close to get a burrito, bowl, salad or tacos for just $3. Yummy!
Cheryl's
Through Oct. 31, get 50% off the Halloween Trick-or-Treat pail, which is filled with cookies decorated in spooky designs. Great gift idea!
Chili's
The $5 Great Pumpkin 'Rita combines Monin Pumpkin Spice Syrup, Lunazul Silver Tequila, Triple Sec and a splash of Captain Morgan. Get it through the month of October.
Denny's
Enjoy these pumpkin-flavored treats for a limited time: Pumpkin Pie Milkshake, Pumpkin Spice Pancake Puppies and Pumpkin Pie.
Dunkin' Donuts
Try the new Halloween Oreo Donut and enjoy the return of the the Spider Donut. These specialty donuts are available through the month of October.
IHOP – Free Scary Face Pancake
All kids 12 and under receive a free Scary Face Pancake on October 31 from 7am-10pm.
Joe's Crab Shack
Kids in Costume eat free with any Adult entree purchase. Participating restaurants only – call first.
Krispy Kreme – Free Doughnut
Come in costume to Krispy Kreme on Halloween for a free doughnut of your choice! No purchase necessary; limit 1 doughnut per customer.
McAlister's Deli
Kids in costume get a free kids meal with the purchase of an adult entrée.
McDonald's
For only $1, get a Halloween Treat Pack with 12 coupons that add up to about $10 worth of free food just for kids. Coupons can only be redeemed by customers 12 and younger from 10/31 to 12/31/17.
Mimi's Cafe
Free kids meal with the purchase of an adult entrée.
Papa John's
The jack-o'-lantern pizza is back. Shaped like a pumpkin and decorated to look like a smiling jack-o'-lantern, the pizza costs $11 and is available until Oct. 31. To order, use the code JACKOLANTERN on the Papa John's website.
Ruby's Diner
Kids in costume eat free in October (4 p.m. to close), with purchase of adult entree at participating locations. One free kid's meal per adult entrée.
Sonic
50¢ Corn Dogs all day.
Tijuana Flats – Kids Eat Free
Kids eat free on Halloween with the purchase of an adult entree.
Wendy's – $1 Coupon Book for Jr. Frosty Treats
Buy a $1 Halloween Coupon Book now through October 31. For each coupon book purchased, Wendy's will donate 85¢ to the Dave Thomas Foundation for Adoption. Each coupon book contains coupons for either 5 or 10 free Jr. Frosty treats (prices and participation may vary.)
Halloween Store Events Freebies and Deals:
Bass Pro Shops – Free Halloween Events
Go to your nearest participating Bass Pro Shops and enjoy the free Great Pumpkin Celebration (Oct. 20 and 21,and Oct. 26 through 31). The event features free crafts, free pictures with the Peanuts gang and more.
Chuck E. Cheese's
Guest who show up in costume during the month of October get 50 free tickets.
Halloween ComicFest – Free Comic
Walk into any participating comic shop on Halloween and you'll get a free Halloween ComicFest comic. Find a participating comic shop before you head out.