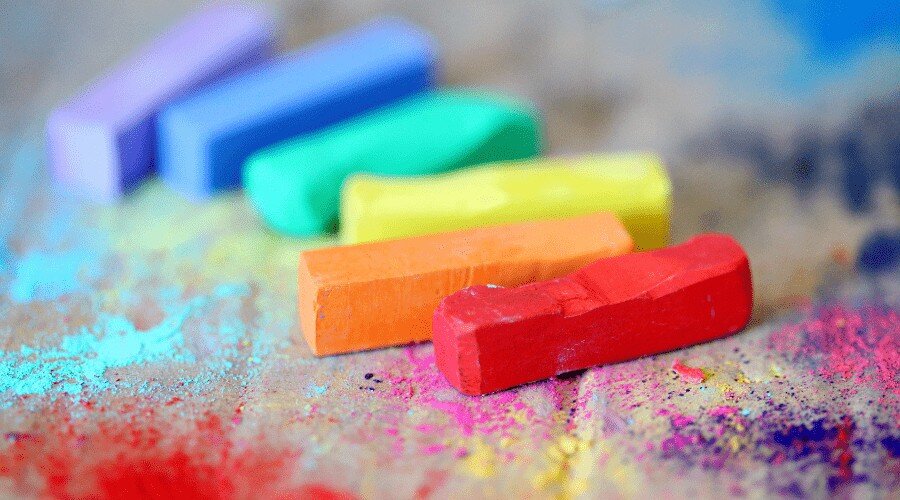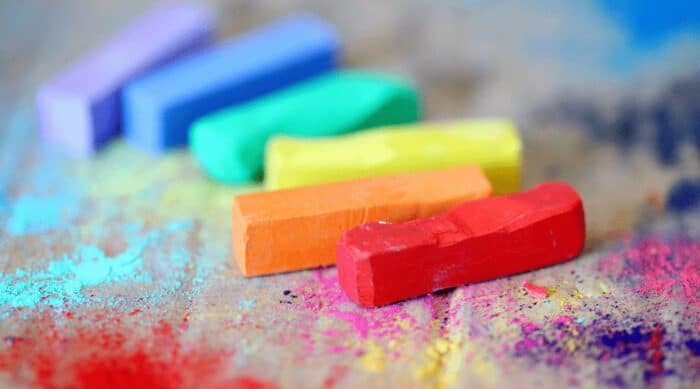 Gotta love chalk. It's amazing how a piece of chalk and a piece of pavement and keep a kiddo entertained for hours!
Here's 7 different ways to make your own chalk…Have fun!
---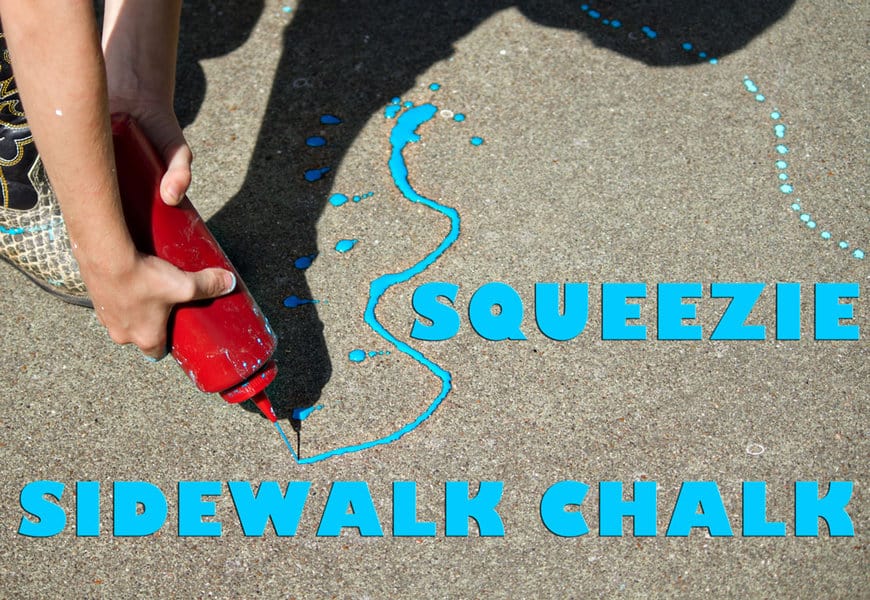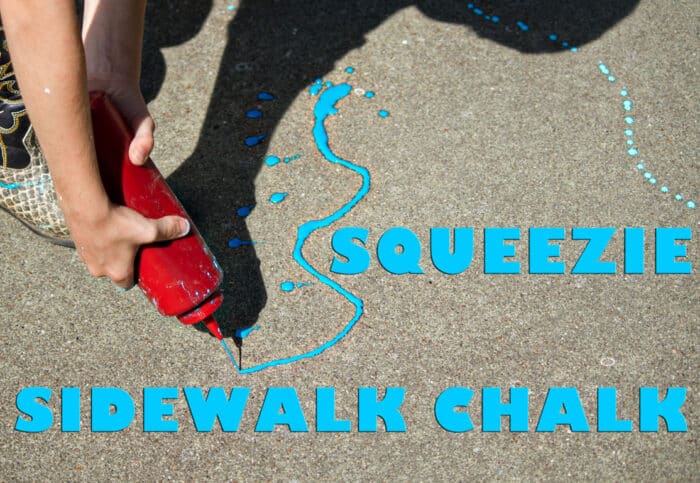 Sidewalk chalk is fun. You can make sidewalk chalk paint and brush it on. You can even use balls in sidewalk chalk paint to create some real fun (and fun learning). But we like to put another twist on it, too. Squeezie bottle sidewalk chalk!
---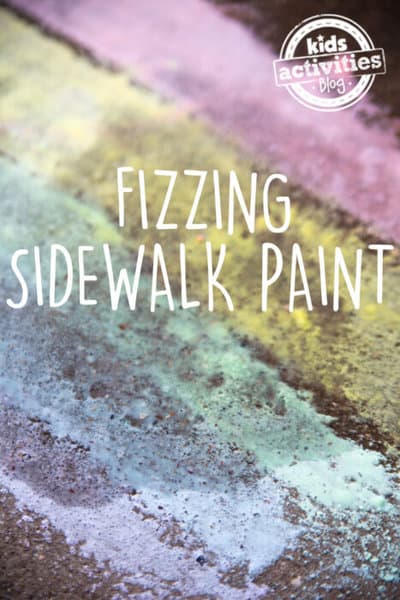 ---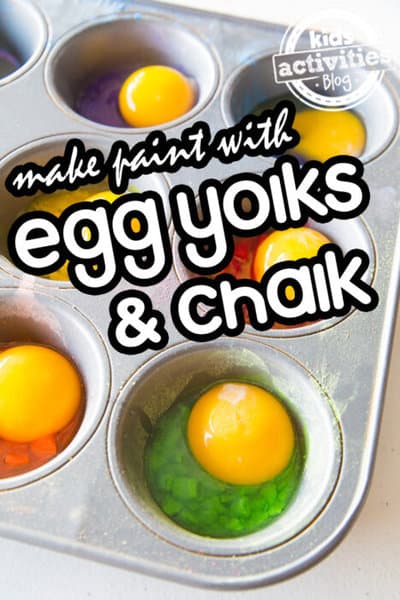 ---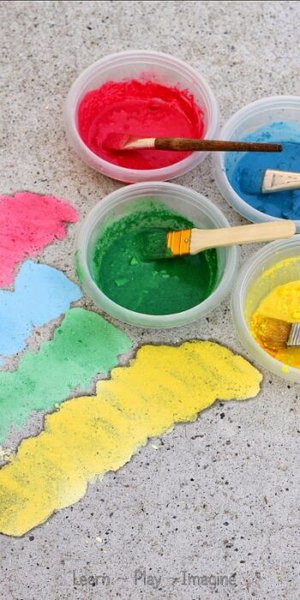 Cornstarch Free Sidewalk Chalk Paint Recipe
I am bursting with excitement over this new sidewalk chalk paint recipe!  It's safe to say we are obsessed with making sidewalk chalk paint.  Who can blame us?  A recipe for play that is easy to make, provides hours of entertainment, and washes away clean with just water?  Yes please!  If I had one teeny, tiny complaint about sidewalk chalk paint, it's that it's hard to spread.
---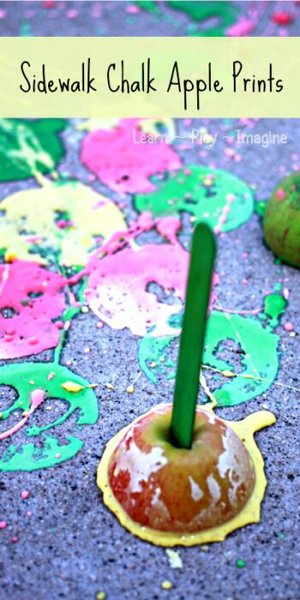 Erupting Apple Sidewalk Chalk Paint Recipe
You've probably noticed by now that we love erupting sidewalk chalk paint.  With fall in full swing I decided to put a seasonal twist on one of our favorite play recipes and do some apple printing on the sidewalk.
---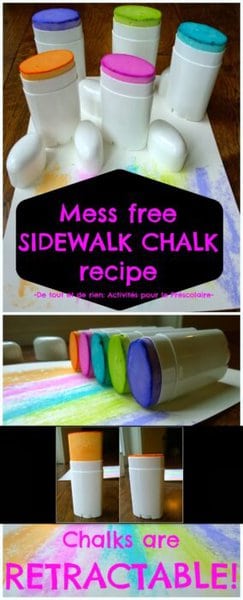 My two children have sensory processing disorder, and they both hate getting dirty. I always try to find a way to get them to explore sensory and craft materials that will not make messy hands. I had the idea to make my sidewalk chalks in empty deodorant containers. My first test was unsuccessful, but the second test worked and I am very proud! Chalks are retractable and you can take it anywhere without fear that they will make a mess in your car or purse.
---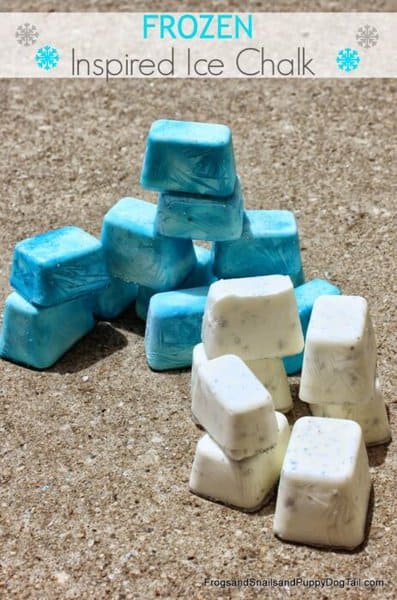 FROZEN Inspired Ice Chalk
Once Disney's FROZEN came out to DVD we bought it to see what all the fuss was about.  I still love watching Disney movies until this day.  Having kids is a good reason to keep up with all the new movies coming out. We give the movie 2 thumbs up. The other day while in the kitchen (where most inspiration seems to hit) I thought Frozen inspired ice chalk would be a fun activity for the kids.  I saw frozen chalk on Reading Confetti last year and have wanted to try it since then.  This seemed like the perfect time.  I could not wait to see how the kids would react.
---
Save