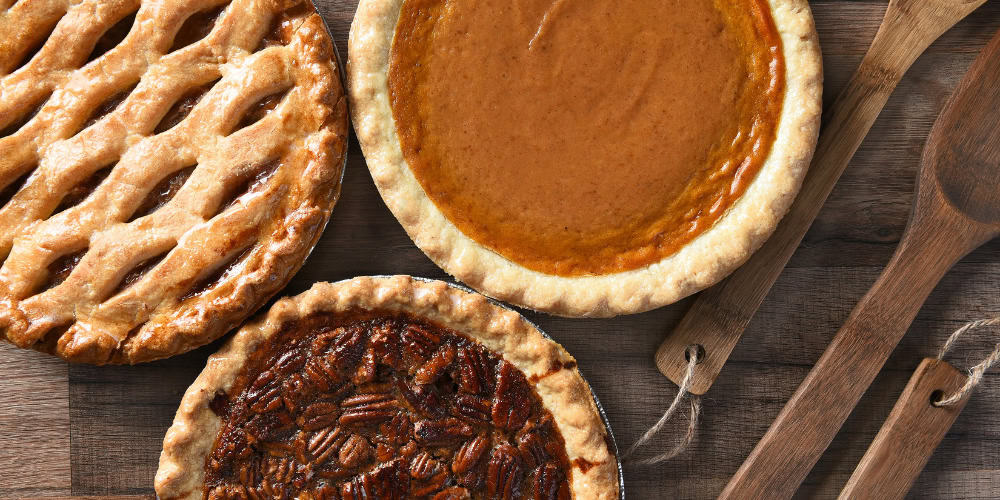 January 23rd is National Pie Day (gotta love that holiday!!) and lots of restaurants are offering a FREE Slice of Pie or discounted pie to celebrate!
Here's the ones we know of…
Eckert's Country Store & Farms, located in Belleville, IL, will be celebrating National Pie Day with a buy one pie, get one of equal or lesser price for free on Jan. 23rd. Plus, all other desserts will be a buck a piece, too!
Village Inn Slice – Get a free slice of double-crust fruit, Lemon Meringue, Blackberry Bavarian Bliss or Blackberry Lattice pie – with dine-in purchase – at participating Village Inns on National Pie Day.
The Doughbox Bakery in Sauder Village will be servin' up free samples and $1 discounts off pies on Jan. 23 from 7:00 a.m. – 5:00 p.m., while supplies last.
Will be celebrating National Pie Day as well. Check out their Facebook page for details.
Lauretta Jean's will be serving up delish specials and festivities at both locations on Jan 23, 2014. Stop on by for some handmade pie, ice cream, cold beer and live music. And be sure to take part in the first Lauretta Jean's Dream Pie Contest, too!
Noble Pies
If you're looking for a family-friendly activity to do this weekend, head on over to Noble Pies in Warwick, NY, for free samples, drawings and pie-eating contests for kids and adults on Sun., Jan. 26 starting at 3:00 p.m.
Norma's Cafe Free Slice
For the fifth year in a row, all three Norma's Cafe locations will be offering one free slice of its famous Mile-High Cream Pies on Jan. 23rd, from 6:00 a.m – 8:00 p.m. for dine-in customers. No purchase is necessary.
Every day is pie day at Baker's Square! Get a free slice of pie every Wednesday for Pie Rush Weds. And in honor of National Pie Day, participating locations will be offering $2 discounts on whole pies for in-store orders between Jan. 20 and Jan. 24th.
Once again, the Grand Traverse Pie Company will take part in National Pie Day by offering free slices of fruit pie – with purchase – on Jan. 23rd.
Sample more than 45 different pies at various historic inns and restaurants throughout the city. Tickets are $25 for adults and $10 for children 10 and under. But you'd better hurry – tickets sell out fast.
The Lawrence County National Pie Day Pie Cooking Contest will be held on Jan 23rd. The public is invited to taste test and vote for their favorite pie. All pies must include a recipe, which will be compiled in a cookbook. All entrants will receive a free copy of the cookbook.
Pie-in-the-Sky Prize
Paramount Pictures and the American Pie Council are working together to promote "Labor Day," a new film.